The release number of next release VMware vSAN is 6.6. A first thing to mention is that VMware vSAN is no longer tightened to major VMware vSphere releases, which means that starting vSAN 6.6 we will see the progress of vSAN independently on vSphere. VMware vSAN entered already its 6th iteration (correct me if I'm wrong). We are following this exciting technology since the beginning, and the readers of our blog certainly remember the excitement we keep, about this technology, going forward.
UPDATE: VMware vSAN has been released. Release Notes. Users currently on 6.0 Update 3 – upgrade to vSAN 6.6 is NOT yet supported.
Today's post will report on recent blogger briefing from VMware vSAN team which detailed all new features which will make it into the upcoming vSAN 6.6 release. So far we have no exact date when it will happen, but be assured that when it will happen, we will not only update this post, but we'll report with a detailed post from our lab how the process goes and take some screenshots from the UI.
Not that all pictures were provided by VMware. It was a great pleasure to re-watch this presentation (with a live demo) from Jase McCarty. It's been a very long time since we assisted such a great presentation with great features. VMware has done a very good job on the enhancements of vSAN 6.6 which continues to be leading vSphere integrated HCI solution on the market today.
The information about VMware vSAN 6.6 is provided as is. So far we have no information about when this release will hit the VMware site and it will be available for testing, but one thing is sure. The product becomes, even more, admin friendly with 1-click install assistant and nice enhancements which are really useful.
Without further wait, let's get started.
Secure Data with vSAN Data-At-Rest Encryption
This has nothing to do with VMware VM Encryption detailed in my post here. This is native encryption within the vSAN datastore. This happens at the vSAN datastore level which can be enabled for all VMs stored on the vSAN datastore.
However, encryption as such is usually a resource hungry so it might be interesting to see tome numbers from VMware showing an overall resource utilization (CPU, RAM) with encryption On and OFF.
When you're not using vSAN (you might use traditional storage or VVOLS) then you probably will use VM encryption.
On the image below you can see that vSAN encryption activation is done through a simple checkbox. This is it. (You'll have to set up the KMS server before doing that).
Image showing the enabling vSAN Encryption. (img. courtesy of VMware).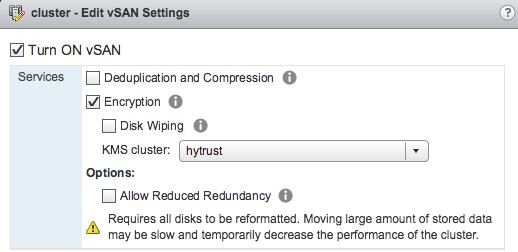 VMware VSAN encryption:
Works with deduplication and compression
Works for hybrid, all-flash and stretched cluster configurations
It is data-at-rest encryption
It integrates with all KMIP compliant key management technologies such as SafeNet, Hytrust, Thales, Vormetric…
The configuration is also done through the same tool, vSphere web client. Below you can see the screen where a KMS from Hytrust is configured as a solution.

Compared to VM encryption where vCenter is needed (Online) vSAN encryption does not actually need vCenter server to be Online.

It means that in case your vCenter server is down, you're not affected, as each ESXi host talks to the key management server (KMS) without going through a vCenter server.
HTML 5 Host client for vSAN Monitoring and config changes
You'll be able to use HTML5 host client in case your vCenter server has a failure or is offline. This is also new, as we were seeing voices saying that some competitors can manage their hyper-converged solutions even without central management point. So this is VMware's take on that. It is the first (modest) step I believe as there is nothing you can really modify, only monitor.
I'd bet that it will be further enhanced in next release as we need second way of management, in case vCenter is down.
You'll be able to monitor critical health status and details. Note that this will also be available via command line interface via ESXCLI.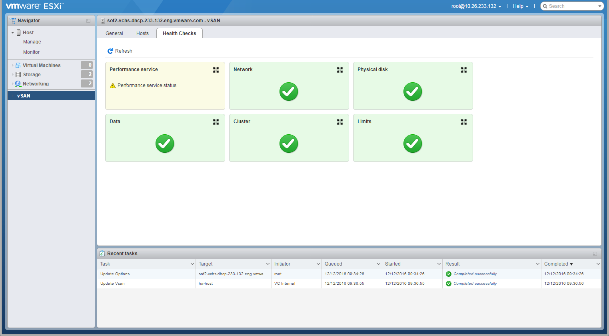 Intelligent Rebuilds Using Enhanced Rebalancing
Allows to break larger components into smaller chunks and proceed with rebalancing.
Better balance by splitting large components during redistribution
Smarter decision making on component placement decisions reduces overhead, resulting in faster recovery times
Improved visibility in rebalancing status in Health Services
New customizable "throttling" of resync activity using slider bar.
VMware recommends keeping the defaults…

Partial Repairs
It is more resilient repair process which will repair as many degraded or absent components as possible even if there are not enough resources to fully repair the cluster.
In fact, you can imagine the repairs as building a wall where you know at the beginning that you don't have enough sand to build the complete wall, but you can at least start building the wall with the sand already available.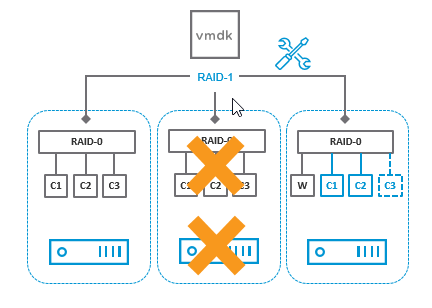 The remaining components will be repaired as soon as enough resources will become available
This feature works with non-stretched and stretched clusters.
Degraded Device Handling (DDH)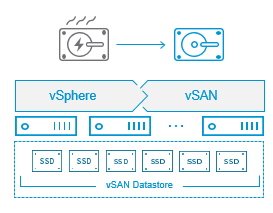 This features watches the exact state of a disk. Will the disk have a failure? If yes, then let's move the data elsewhere before the disk fails.
Smarter intelligence to detect impending drive failures (Impending Drive Failure (High Data Availability Risk))
If there is a replica, then the "almost failed" device is marked as "absent" and standard repair process kicks in.
If it is the last replica, then proactive evacuation of components will occur.
Any failures on evacuation will show through the UI
Health Monitoring – decommissioning host improvements
There will be what if scenarios. You'll see what will happen if you want to decommission certain hosts, disk groups or individual disks.
The UI will basically show you what are your options and possibilities through different scenarios based on your current setup, current capacity etc.
Precheck is done for free space before to go to maintenance mode decommissioning.
Dialog and report showed before entering a maintenance mode
Decommission check happens for disks or disks groups removals
There will be increased granularity for faster and more efficient decommissioning
The temporary space needed to decommission will be reduced to minimum
Enhanced Local and Remote protection for Stretched clusters
A torage redundancy which protects failures of components within a site but ALSO across sites. You can specify single site location of components if the site level protection is not necessary.
Driven by policy. While previously, for stretched clusters, the only option was FTT=1, now there is a possibility to set "primary FTT" (0 or 1) and "secondary FTT"(0,1 or 2). The secondary FTT is for protecting within a site where primary project within a cluster.
Yes, we can configure FTT=2 for stretched cluster now (if we have 6 hosts on each site).
You don't have to change anything in your stretched cluster configuration.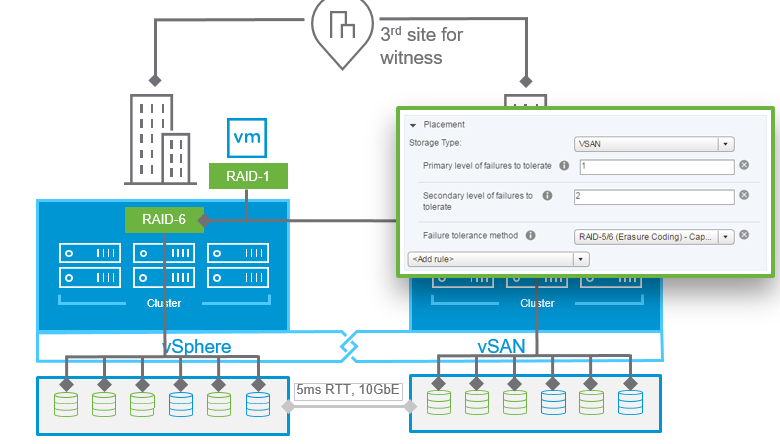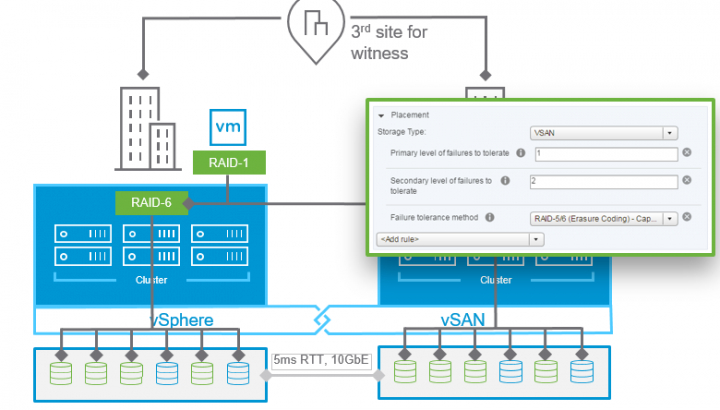 All Flash (AF) configurations only are the only configuration possible to support Raid 5/6.
VMware calls it Site Affinity for Stretched clusters
Allows configuring (for example for test/dev) an environment where only some workloads are protected at the primary site, not all.  Policies can be applied to keep data in only a single site of the vSAN Stretched Cluster.
 No more multicast…
Multicast No longer used
Much easier configuration for single site and stretched cluster
When cluster upgrade to 6.6, vSAN changes to Unicast
No compromises in CPU utilization

Witness change easier (with few clicks)
The new assistant to change witness host. Previously you had to disable stretched cluster to add replace witness appliance.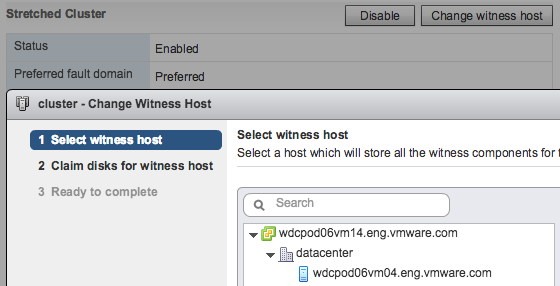 Enhanced Health Monitoring
Will allow you to do advanced HCL checks and do some interesting options when it comes for example to verify the right version of Firmware and Drivers on your device controller.
Remember that I had the issue in my lab and I had to find the right driver otherwise I had experienced PSOD? I actually built a custom ISO via VMware Image builder within Autodeploy, before the upgrade process.
So now, with Health check assistant, the system will check what's your firmware/drivers on your vSAN config and will:
Propose to download the tool for firmware upgrade from the hardware manufacturer and execute the firmware upgrade within the vSAN health check assistant (for selected partners only, I think they mentioned 4-5 of them). But how cool is that?
Update the NICs driver within the same UI as well.
Quote from Virtual blocks blog:
customers impacted by new support recommendations or best practices will be alerted with new, real-time information and actionable insights.
Now, this reminds me a little bit Runecast Analyzer.
Additional PowerCLI cmdlets and host level vSAN APIs
S.M.A.R.T drive data available in API
vSAN view cmdlets
vSAN upgrade cmdlets
vSAN performance cmdlets
vSAN iSCSI cmdlets
Up to 50% better performance
Yes, compared to vSAN 6.5, for All Flash systems. Mostly due to:
Reduced overhead of checksum
Improved deduplication and compression
Destaging optimizations
Object Management improvements
iSCSI for vSAN performance improvements
Automated Operations with vSAN Easy Install
For green field environments where vCenter server appliance will be used and installed on VSAN datastore. You'll be able to specify and create vSAN cluster before actually having VCSA installed and all the cluster being set.
The assistant will allow you to select and tag disks for cache tier and for a capacity tier.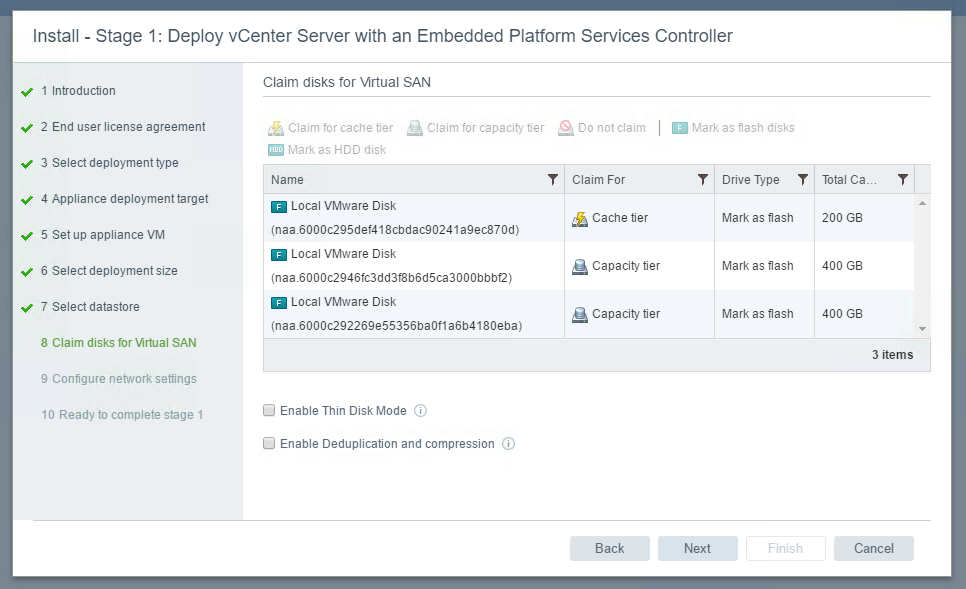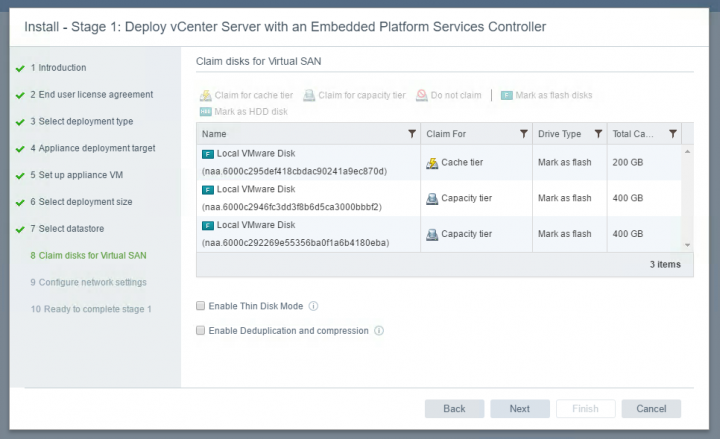 Then you'll be able to specify the cluster name and datacenter name.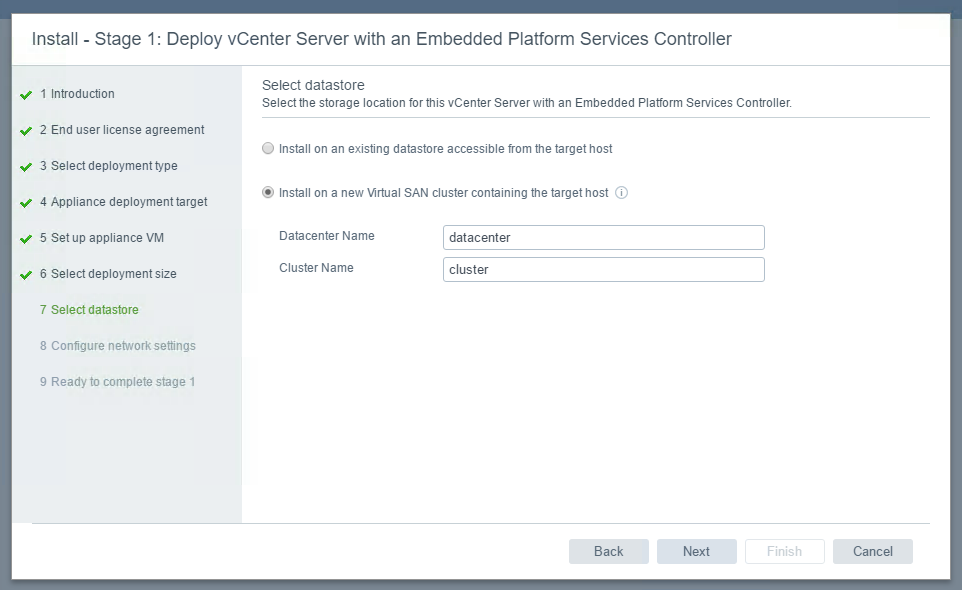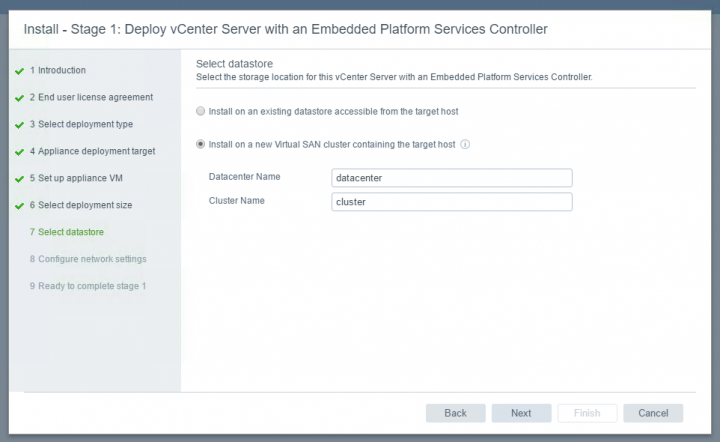 And after a review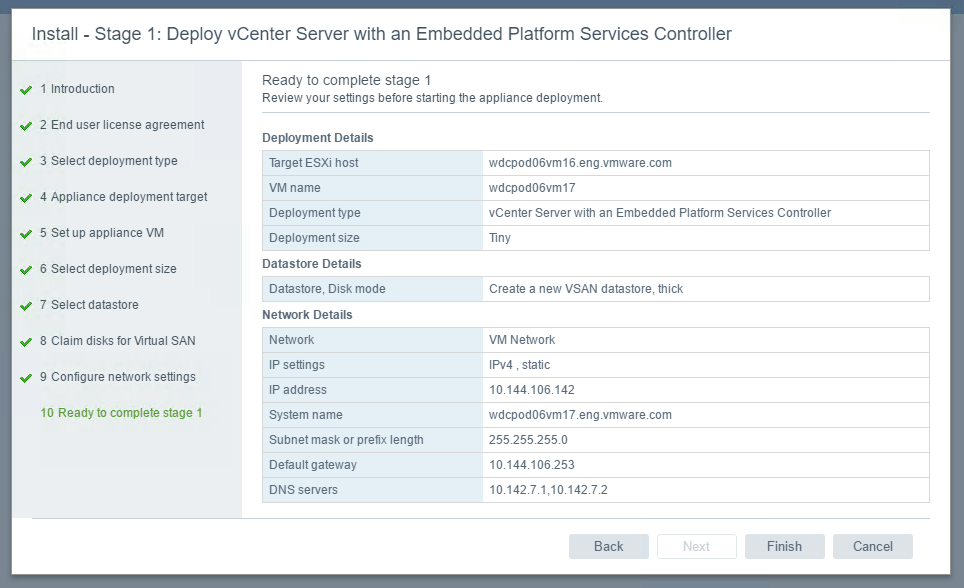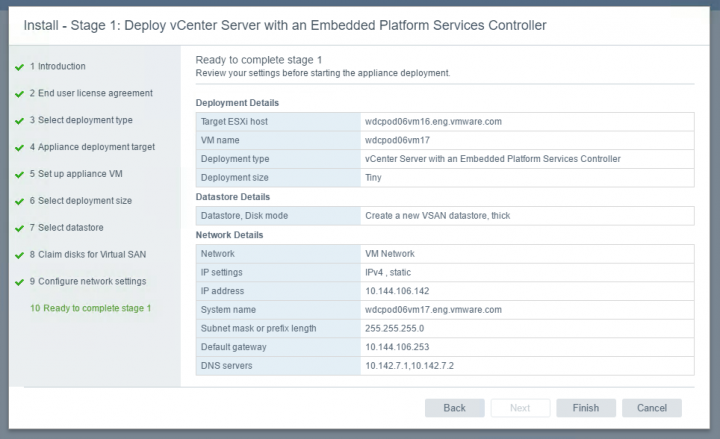 You'll see the process to build up the cluster for you. All this via the assistant of the installation of VCSA. Pretty impressive for green field installation where the things will set up things for you on a single host where the other hosts will just need to be added to the cluster manually later on.
The process can't be easier.
VMware vSAN Performance Improvements
VMware claims several ways that they improved the performance of vSAN.
Reduced overhead of checksum
Improved deduplication and compression
Destaging optimizations
Object Management improvements
iSCSI for vSAN performance improvements
More accurate cache sizing guidelines
Next-generation applications that are sequential-write intensive such as big data up to 250% with latest flash technologies, like the new 3D Xpoint NVMe drives from Intel.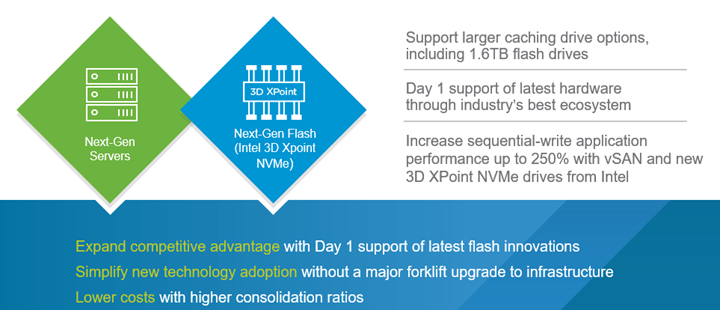 Wrap up:
VMware vSAN 6.6 is a big step forward. While the base architecture of vSAN stays the same, it becomes more and more performant and more efficient. Things are getting better. It is that the way VMware replies to their competitors in the HCI market? Probably yes. So the benefits to the customers are quite significant.
As a customer, with prices of flash going down, you have more money to spend on licensing, to get more features. Whether before you had to keep the dollars to buy flash cache tier, now you can probably spend the money on capacity tier and also to pick up Advanced or Enterprise version of vSAN to benefit RAID 5/6 with Erasure Coding and space savings features such as nearline deduplication and compression, introduced with vSAN 6.2.
Worth to note that deduplication and compression were further improved in this release where a destaging process is handled in log order to be able to get more predictable performance. Compression has now new efficient data structure to compress metadata writes.
More posts from ESX Virtualization:
Stay tuned through RSS, and social media channels (Twitter, FB, YouTube)