VMware vSphere 6.7 brings vSphere Update Manager (VUM) accessible with H5 client (HTML5 web client). Not everything is covered, not all functions made it in. But VMware is working on it, to incorporate those features as fast as possible. We all know about the very frequent updates of the H5 client through the year, so a little bit more patience here to be fully operational.
Which features are not implemented yet by the H5 client? Let's have a look.
For example, the VUM configuration changes need still to be done through the legacy vSphere Web client (Flash). Also, VMware Tools and VM hardware updates, or viewing events and notifications from the VUM. Also, to see the indication of which hosts are Quick Boot capable or disabling Quick boot.
VMware says that in general, 90% of everything is already covered by the H5 client.
Note: Some images within this post were taken from the RC release of vCSA 6.7, and some of the images are also from the VMware Early Blogger access program presentation. All images are clickable, so you can see all details. Images opens in an overlay pop-up.
Screenshot from VMware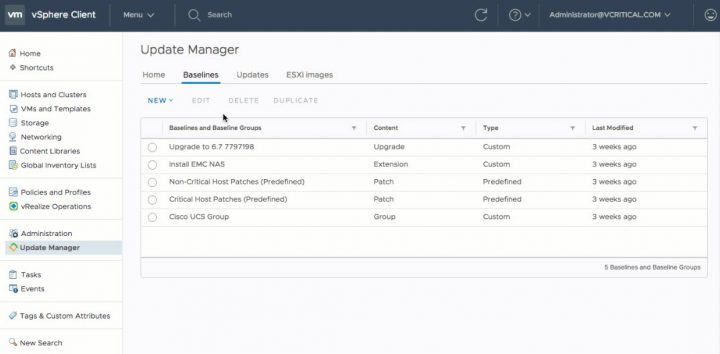 VMware also tried to simplify the VUM workloads, in collaboration with other VMware partners. The UI is a little bit different, more user-friendly. The update tab will be showing the overall view on VUM, see compliance.
You can run pre-check remediation which will show you which host will need a reboot. If you have any issues putting a host into a maintenance mode. (let's say you have a VM with a CD ROM attached which cannot be vmotioned elsewhere).
Host patching, Quick Boot, Reboots faster
There is a couple of ways that you would like to reboot as quickly as possible, after applying patches. VMware allows now, for all ESXi 6.5 hosts faster upgrades to ESXi 6.7 as there is only one reboot. This is the new way to go forward. It applies to upgrades from 6.5 to 6.7. (6.0 still needs to reboot twice). Note that there is nothing to configure, a single reboot is used automatically.
Also, VMware Introducing something called Quick Boot. What is it? It applies only to ESXi 6.7 hosts and allows faster patching of ESXi 6.7 hosts. It basically minimizes the time you need to patch those hosts. However, it only applies to ESXi 6.7 and later. Not to ESXi 6.5.
A quick boot will boot your host into ESXi 6.7 without going through the hardware initialization. Quick boot needs to be integrated with OEM and it's supported by OEM manufacturer. You'll be able to see it through the UI.

However, it has to be also supported by OEM manufacturers. HP and Dell are on the list so far. VMware works with all vendors, but so far those two were ready.
Host Profiles Web Client Interface (HTML5)
With vSphere 6.7, there is also changes to host profiles. However, as previously, the function is not fully finished. It's only the bare minimum what an admin needs. VMware will catch up with the updates this year to provide a fully functional product.
The base tasks which works are:
Attaching/detaching host
Remediation
Check compliance

New RESTful APIs
VMware has added a certain number of vSphere RESTful APIs in this release. vSphere 6.7 brings more capabilities. New features such as backup job scheduling, restore job creation, storage policies, VM cloning tasks etc…
RESTful APIs were introduced in vSphere 6.5 but every release brings more capabilities.
Here is a screenshot from VMware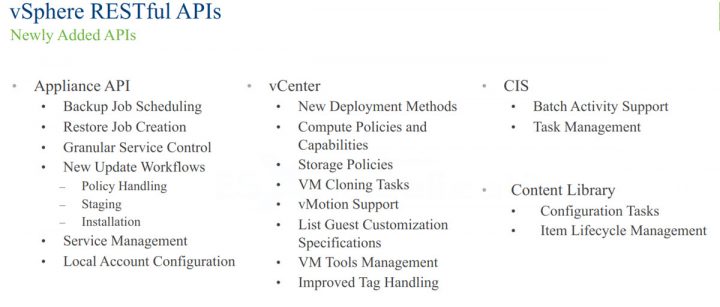 VMware API explorer which has been introduced in vSphere 6.5 can also be used to interact and see what's available. Also to test API calls. It is a built-in utility of VMware vCSA.
VMware PowerCLI 10
PowerCLI is separate of vSphere 6.7 but allows some interesting interaction with vSphere 6.7. It's a multi-OS product now. (MAC, Linux, Windows).
Note that the default certificate behavior is to DENY.
Secure by default.
By default, self-signed certificates are not trusted.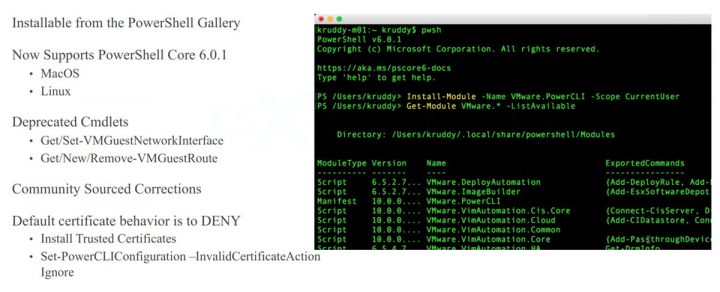 VMware Datacenter CLI (DCLI)
Allows Automation of vSphere and VMware Cloud on AWS. It is accessible via Windows, Linux or MAC OS. Also through VCSA shell or Windows vCenter Server CMD prompt. It supports tab completion and is able to save history across sessions.
There are many supported output formats such as table, simple, JSON, XML or HTML.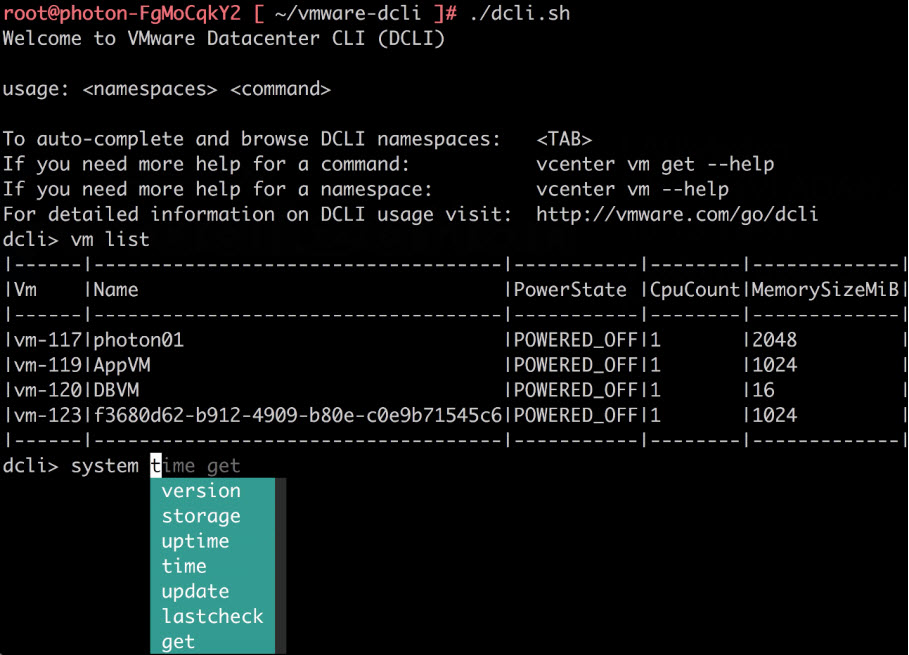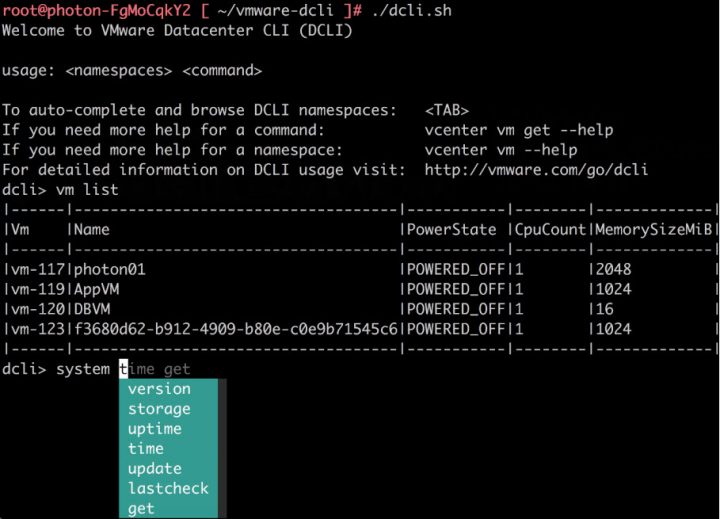 The DCLI isn't new, but there are many enhancements and new features, especially the ones for VMware Cloud on AWS.
More about vSphere 6.7
VMware vSphere 6.7 – vSphere Update Manager (VUM) HTML5 and Quick Boot [This Post]
More from ESX Virtualization
Subscribe to RSS, and social media channels (Twitter, FB, YouTube)