In case VDP appliance has problem and cannot boot up there is still a way to recover your backups even if your VDP appliance was not backed up (the system) or copied elsewhere. This is because the actual backups are stored at the data disks.
Normally the best practice is to deploy the VDP appliance's system to one datastore and the data disks on another datastore so even if there is a datastore failure, you can still recover the backups. Another option would be to have a second VDP where you replicate your backups from the first VDP appliance, but this in another post.
The VDP architecture is like this. System disk and Data disks.

So How to Reattach Data Disks?
You need to first deploy a new VDP Appliance and when you come to the point of storage, then you'll choose the existing data disks containing backups. However the backup jobs has to be re-created.
Here is a screenshot showing the moment when you chose the existing disks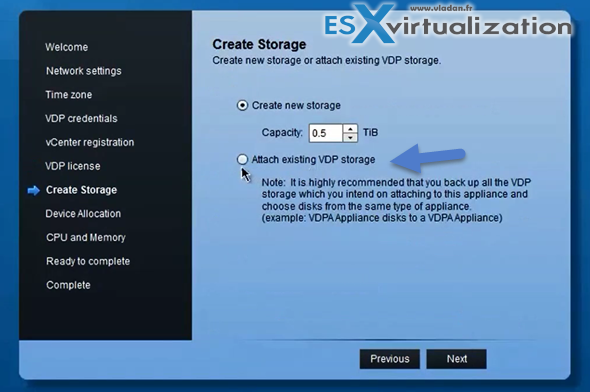 I have documented the process with this video from my lab.
This video shows a deployment of new VDP appliance with the system diss only and the re-attaching of the existing data disks. Those disks are imported and mounted to the VDP appliance. The existing backups shows up through the UI after 15-20 min of initialization.
You should also check those posts about VDP and VDP advanced:
Feel free to grab our RSS feed or follow on twitter (@vladan).