Some great news today – The new vSphere Pro Video Training is Available.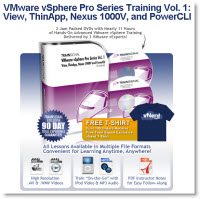 There is new video learning course available from TrainSignal. It's completely new Professional Video Training course which is focusing on some advanced management techniques via Power CLI for VMware vSphere 4 and also some deep diving into PowerShell some other Vmware products like VMware View and Thinapp. It's an Additional course which can be purchased Separately for 297$, or together with vSphere Training course for 594$ saving you some 100$.
The authors of those courses are three in total. All of them are vExperts and they covers different topics. Each of the authors is specialist of his own topic because virtualization get's more and more narrow in terms of knowledge, so to stay on the edge one has to choose the way …. Some experts are more on scripting, some others are more into storage for example etc….

I don't have to introduce David Davis – which is the autthor of the First (and the best 😎 ) vSphere 4 training course. David is (vExpert, CCIE #9369, CWNA, MCSE, CISSP, Linux+, VCP). David will teach you what's good for VMware View and  ThinApp. Desktop virtualization with VMware View 4  and  Application Virtualization solutions with ThinApp after the official release few months back puts VMware back in the race …… The new protocol – PCoIP used in VMware View is able to dynamically detect and adapt to the end users network connection

Hal Rottenberg is the second person which will introduce you to some scripting via VMware PowerCLI. Hal is vExpert, Microsoft MVP: Windows PowerShell, 2009-2010.
PowerShell is an implementation of Windows Powershell by VMware. By Using PowerCLI you will be able to automate quite a lot of tasks from command line and Hal's experiences will save your time when doing some daily repetitive administration tasks.

The Third person is Rick Scherer. Rick is vExpert, VCDX, VCP and he will walks you through the Cisco Nexus 1000V, which is the distributed virtual switch present in Enterprise Plus version of vSphere 4 and which definitely helps you with creation, migration or administration of vSwitches and networking in general in vSphere 4.
Those 3 guys will teach you the best they know in management and mastering VMware products in the enterprise environment today. In the real life.
VMware vSphere Pro Series Training Vol. 1 has a lot to offer:
There is 20 Videos in very high quality (10 hrs: 39mins: 50 secs).  You can watch and learn on you own pace with the instructor notes and screen shots from the lab environment.
As usual, there are iPod video files – also 20 – included to watch Train Signal on the road! This is very popular in blogosphere since during the travel you can watch on your iPod.  These are compressed videos in M4V format and the size of those files is 320×240. You can take them anywhere….

Then also there is 20 MP3 audio files to which you can listen. I usually burn them onto a CD and listen in the car while go to work…
Then in the pack there are Instructor Notes – in PDF format, can be printed to study out. Those documents were used by the instructors while making the videos, so every note showed in the video can be found there. You can find quickly the reference to the instructors' notes on the slides.
VMware View & ThinApp  from David Davis
Virtual Desktop Infrastructure Overview – Understanding the Options
Introduction to VMware View
Installing VMware View 4
Deploying Virtual Desktops with View
Automated Virtual Desktop Deployment with View Pools
Adding a Terminal Services Pool in View
Understanding View Composer Linked Clones
Introduction to ThinApp 4
Installing ThinApp
Virtualizing Applications with ThinApp
Managing VMware vSphere with PowerCLI mastered by Hal Rottenberg
Introduction to Power CLI
PowerShell Basics
PowerCLI Concepts – Part 1
PowerCLI Concepts – Part 2
Power CLI in the Real World
PowerCLI Cmdlet Deep Dives
Cisco Nexus 1000V VMware vSphere Third-Party Virtual Distributed Switch by Rick Scherer
Getting Started with the Nexus 1000V
Integrating the Cisco Nexus 1000V with vCenter Server
High Availability Option for the Cisco Nexus 1000V
Configuring Port Profiles on the Cisco Nexus 1000V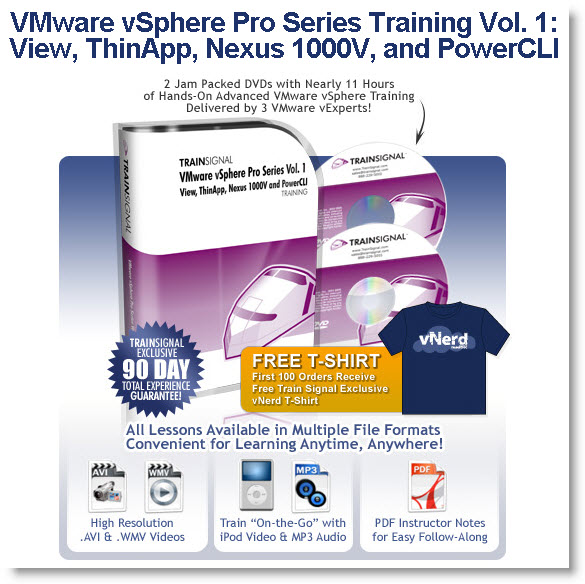 Check this courses out on Trainsignal's website and profit the limited time introductory offer!!! Buy the whole package of VMware vSphere 4 Training and save 100 $.