VMware vSphere 7.0 is the next version of vSphere! Now we can talk about it. We were under strict NDA on this until now, but today, Tuesday 10 AM Pacific time all the NDA was lifted so this page is finally live. Enjoy your read…
We were playing a little bit with the beta version of vSphere 7, however not much as our lab is only a nested lab atm running VMware Workstation 15.5. The underlying hardware is a Workstation with Xeon CPU and 128 GB of RAM with All-Flash local storage.
So far the vSphere 7 has been announced and we do not have the details when the RTM code will be available for download. When it will, we will do a post to make sure you can download a trial or the v7 for your environment.
VMware vSphere 7.0 Blog Posts on ESX Virtualization
My Posts about vSphere 7.0 and VMware in general, on 4Sysops.com Partner Site
It's been for over a year and a half since vSphere 6.7 has been released and the next major version, the v7 is the logical next step for VMware. It is a version where yet another layer has been added to the ESXi hypervisor.
I don't know if you remember when VMware vSAN has been added, the simple checkbox within vSphere client to activate it for a cluster…. Imagine something similar for Kubernetes as the v7 will have Kubernetes management "baked in".
However, to be able to "play" with Kubernetes within vSphere, you must have vSphere Cloud Foundation.
You can't simply "activate" Kubernetes on your On-prem datacenter. That's quite a drawback.
Kubernetes management, containers management is something big (at least for certain), and VMware with Project Pacific announced during last year's VMworld, has made sure that Kubernetes and container management are fully integrated into vSphere 7.
*********************************************************************
Shop for vSphere licenses at VMware Store:
*********************************************************************
The fact that vSphere admins will be able to manage Kubernetes clusters and their resources from within vSphere client is quite exciting for those environments which are working with containers. However, there is something also for environments that do not use containers.
For example, native file services within VMware vSAN. Hearing right, NFS file shares which can be allocated, including quotas, from within vSphere. Quite exciting as well. It will not replace your existing file servers, but it will allow you to consume vSAN space without leaving the vSphere client.
vSAN File Service allows a vSphere admin to provision a file share from their vSAN cluster. The file share can be accessed using NFS.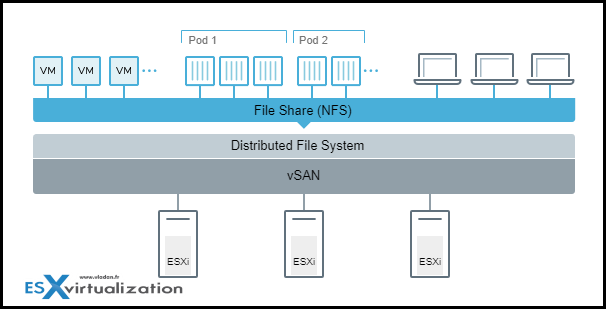 Don't forget to check other articles and also our vSphere 7.0 WordPress page below. Content creation is hard work too, so make sure to support our sponsors and partner by visiting their websites and products. There are not many up-to-date blogs that are able to push almost daily content with quality, regularity, and expertise that we do.
We have many articles covering the current and previous releases of vSphere.
Check the following pages:
Study Guides:
VMware Tech Support Summit at Broomfield
VMware just published a tweet talking about VMware Tech Support Summit at Broomfield where we can clearly see the sessions about "What's new in vSphere 7.0" and "vSphere 7.0 upgrade considerations".
So far we only can say that vSphere 7.0 will be covered at VMware Tech Support summit where you will be able to learn from the experts. April 22-23 | Broomfield, CO.
Meet and learn from our Global Support Services experts, who will be leading technical talks across a range of areas and products. Opportunities to attend exciting keynote sessions each morning and in-depth breakout sessions for specific products you are interested in. We will also have expert bars staffed, Hands-On Labs, 1:1 Sessions with tech experts and GSS Leadership!
Cloud
VMC, NSX-T and AWS Networking
Understanding and Using AppDefense
vSphere with Kubernetes
vRealize Automation and Orchestrator
SDDC
HCX Migrations and NSX
NSX-v to NSX-t Migrations
Daily Life with vSAN
iSCSI and WSFS on vSAN
vSphere
Advanced VM Performance
What's New in vSphere 7.0
PSC Convergence and Maintenance
vSphere 7.0 Upgrade Considerations
Site Recovery Manager and vSphere Replication
EUC
Horizon On-Premise
Workspace ONE and SSO
Date : April 22 – 23, 2020
Time: 9:00am – 5:00pm MDT
Location: Omni Interlocken Hotel, 500 Interlocken Boulevard, Broomfield, CO 80021