Veeam has recently released a new product called Veeam Availability Orchestrator (VAO). During a Long time in beta, the product has finally reached the GA stage and has been released. In this post, we'll have a look what is Veeam Availability Orchestrator (VAO) and how it can be useful for backup administrators.
Veeam's VAO is a DR orchestration product which connects via API to the Veeam Backup server and allows creating, testing and documenting DR plans for Veeam Replicas, including all documentation procedures. Veeam VAO also interacts with Veeam ONE, Veeam Business View so you can think of VAO as a central piece of software talking together to all those products and interacting via APIs.
VAO's role isn't only the orchestration of DR plan but can fulfill also the tedious task which is documentation. As every admin knows, the production changes, but the documentation, once written, nobody wants to rewrite… VAO can dynamically include new VMs added or older VMs removed within its documentation processing as it's generated on-the-fly.
VAO will also report on any errors, warnings or failures when doing a failover test or a real failover even occurs. You might find some similarity with VMware SRM, the notion of DR site is one of them.
Screenshot from Veeam.

Installation
The installation is pretty much detailed on the Veeam's Site, so we'll not detail that, but we'll talk a little bit about the architecture of the solution. The whole Veeam VAO server is composed of several servers and the whole solution needs to be installed on a "clean" Windows server. It means that you cannot install it on existing Veeam backup server or a server running other Veeam products.
Depending on your architecture, there can be several deployment scenarios:
Install VAO at Production and also at DR site (2 copies).
Install VAO at Multiple Production sites and at the DR site.
Install VAO at both DR Sites
Test environments and POC – Single installation at DR site.
The first option would install Veeam VAO at the Production site and also at the DR site. (Note: for testing and POC you can install VAO on single site but single VAO site is defined and must be designated the DR site.)
If you have a single vCenter server which manages the production and DR site, you must register the vCenter with the VAO server at the Production and also at the DR site.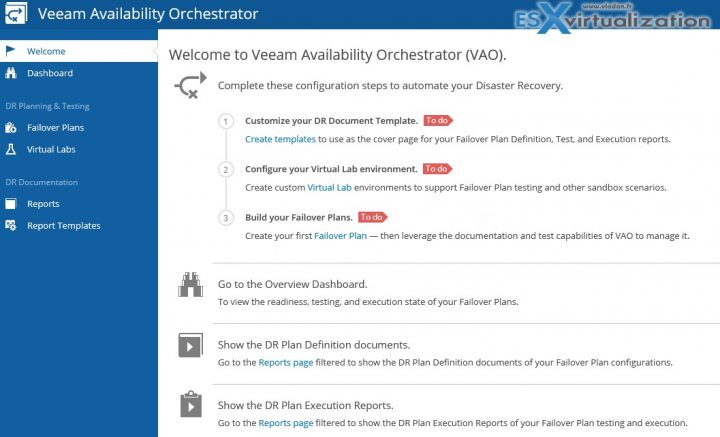 The VAO server is comprised of the following components:
VAO Server Service

 —  is responsible for synchronizing data across VAO sites, managing failover plans and administering user roles and permissions.

VAO Agent Service

 — is responsible for communication with Veeam Backup & Replication servers. It is automatically deployed in a VAO server to communicate with the embedded backup server. It can be also deployed to remote Veeam Backup & Replication servers from the VAO UI.

VAO UI 

— is a web-based UI that allows users to interact with the VAO Service and perform various configuration and administration actions.

Veeam Backup & Replication Server (embedded)

 — an be orchestrated directly by the VAO Service without further configuration, and may also be used as a fully functional Veeam Backup & Replication server (for example you may create and run replication and backup jobs).

Veeam ONE Server (embedded)

 — handles the ONE Business View engine to gather VM inventory and collect VMs into VM groups for use in failover plans. The embedded ONE server should not be used for other monitoring or reporting functions.

SQL Server

 — is used to host configuration data, VM inventory, and failover plan definitions. A SQL Server Express instance may be installed locally with other VAO components. However, for best performance and scalability SQL enterprise edition is recommended, which may be a remote server.
All VAO components may be deployed on a single Windows-based physical or virtual machine using the unified installer.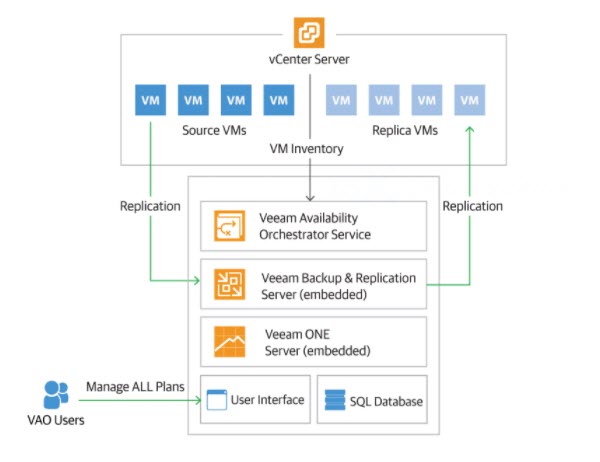 Packaging and pricing
The licensing is per-VM and per year. With the minimum 10 VM pack. All lic includes support.
Quote:
Veeam Availability Orchestrator is licensed on a one-year or a discounted two to five-year subscription basis, with one Veeam Availability Orchestrator license orchestrating one VM. You only need to purchase licenses for the number of replicated VMs you want orchestrated (minimum 10 VM purchase), not the total number of VMs licensed in Veeam Availability Suite or Veeam Backup & Replication. The license fee includes maintenance (enterprise-class technical support and product updates) equal to the term of the subscription.
Details at Veeam Pricing and Packaging page. 
Where to get started?
After downloading the product trial (or perhaps a little bit before) you should check the online help documentation center for VAO. Everything is there. Step-by-step, architecture, explanations. Everything.
Trial download of Veeam VAO here.
More from ESX Virtualization about Veeam
More from ESX Virtualization
Stay tuned through RSS, and social media channels (Twitter, FB, YouTube)