When preparing to pass a VCP (or VCA) certification exam and learn about new VMware products, all resources are good. Some of them are free, some of them are paid. Most of the time, paid resources are paid because they've been done with more resources and more money, but free resources are good too since they can get sponsored. Today's post is about What is VMware Learning Zone?
VMware Learning Zone is access to online videos, to online resources, which are targetting VMware admins willing to learn directly from VMware. Directly from the source. Yes, that's usually the best way when a company who produces a software can also produce learning videos with some how-to knowledge.
It's 24/7 access to training that spans the VMware product portfolio including VMware NSX, vRealize Suite, vSphere and more. After learning directly from your own desk, you'll be able to configure, deploy and troubleshoot your VMware solutions.
The access to those resources is paid and there are two different subscription options. We'll have a look in a sec, but I'd like to point out that VMware Learning Zone (Free, Standard or Premium subscriptions) can prepare you to learn about different VMware products, but in order to pass a VCP exam, you'll have to take an additional On Demand training which is a hard requirement to pass VCP Certification. We'll touch on this at the end of this post too, but for now, let's focus on VMware Learning Zone first.
VMware Learning Zone Subscription details:
The VMware Learning zone has lots of videos
As being said, you have 2 different subscription options:
Standard Subscriptions – Access to a complete video library with over 60 hours of training including walk-throughs, demos, and tutorials.
Premium Subscriptions – You get all the content in the Trial and Standard subscriptions PLUS access to all Certification Exam Prep courses (for VMware certified associate – VCA). You can review the latest technical content and get help to prepare for some of VMware's most popular certification exams.
Free Trial Learning Subscription – Sample what Learning Zone has to offer with sixty days of 24/7 online access to over 100 technical videos, 35 short self-paced courses, and VMware Certified Associate (VCA) training.
How To subscribe to VMware Learning Zone?
First, go to a VMware Store and select Training > VMware Learning Zone.

You'll get then to a page where you'll be able to take one of the two options, where the premium offers more and prepares you to pass VCA exam. VMware Certified Associate is an entry-level certification, which does not have required training, however, it's always good to go through at least some training before heading and registering for this exam, still.
So I'd recommend having a look.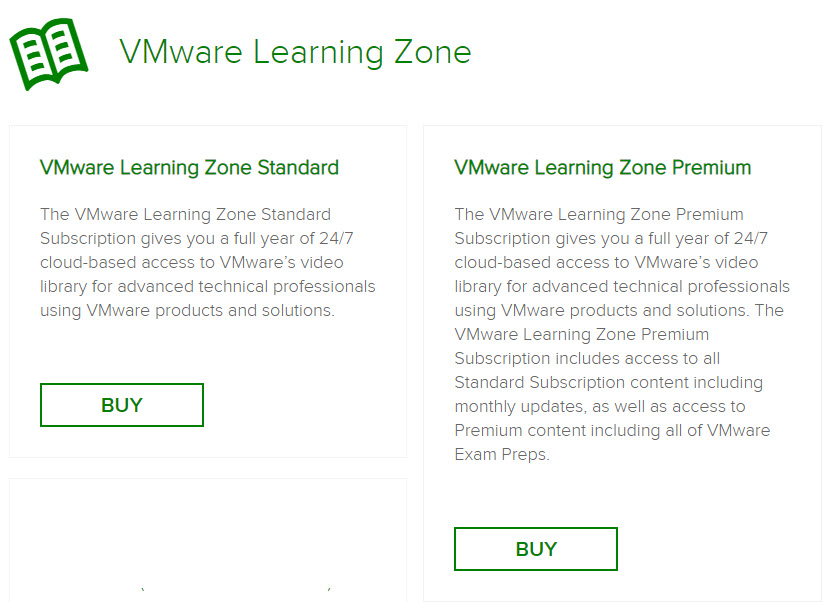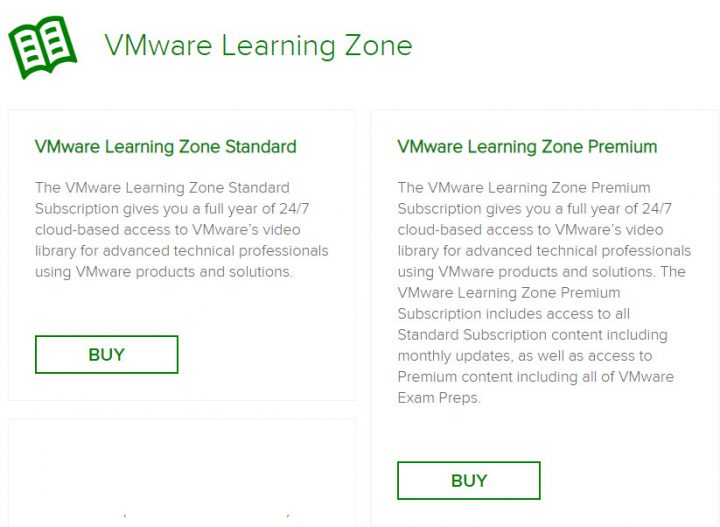 Where I can get a VCP certification preparation?
If you want to prepare for a VCP certification, for the datacenter level, there are some required training. It means that you first have to attend the training and then only go and pass the VCP exam.
One of the most popular training courses is VMware vSphere: Install, Configure, Manage [V6.5].
There is an option to either attend a physical class or do an On Demand training. The On Demand training is accessible through VMware store.
You'll need to go to VMware Store and select Training > View All > On Demand Courses.
There you'll see a link for On Demand courses. Each one of those courses prepares and entitles you to pass a VCP exam. You have to either do an On Demand course or attend a VMware class near your location.
Sometimes, due to long travel times to locations the On Demand training might be a way to go.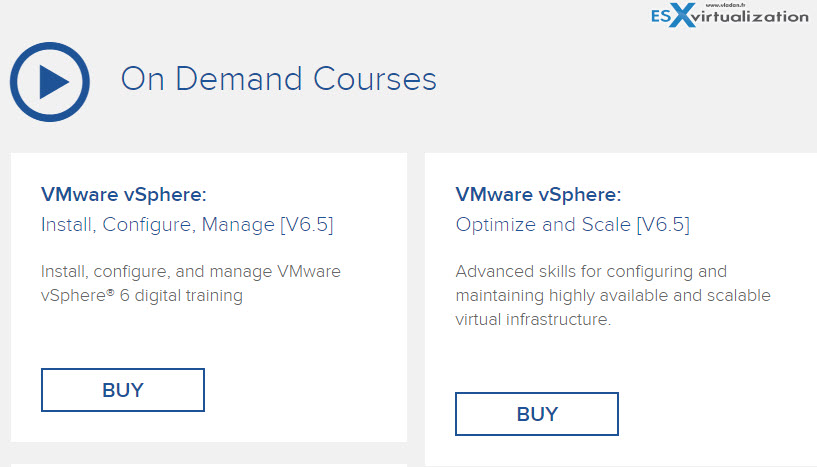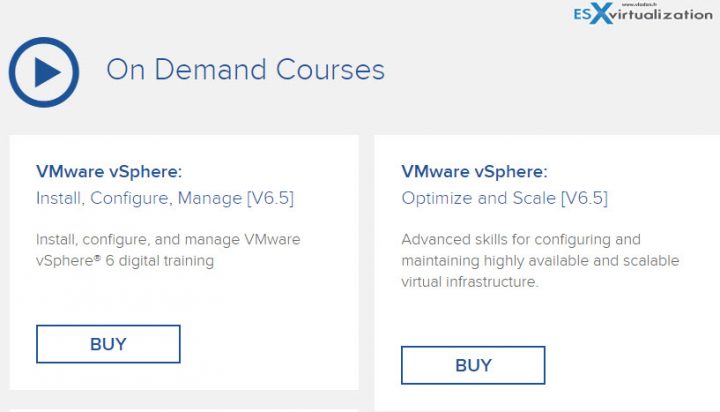 Here are the objectives covered by the Install, configure, Manage course:
Describe the software-defined data center
Explain the vSphere components and their function in the infrastructure
Deploy an ESXi host
Deploy VMware vCenter® Server Appliance™
Use a local content library as an ISO store and deploy a virtual machine
Describe vCenter Server architecture
Use vCenter Server to manage an ESXi host
Configure and manage vSphere infrastructure with VMware Host Client™ and VMware vSphere® Web Client
Describe virtual networks with vSphere standard switches
Configure standard switch policies
Use vCenter Server to manage various types of host storage: VMware vSphere® VMFS, NFS, iSCSI, and RDM
Examine the features and functions of Fibre Channel and VMware vSAN™
Manage virtual machines, templates, clones, and snapshots
Create, clone, and deploy a vApp
Describe and use the content library
Migrate virtual machines with VMware vSphere® vMotion®
Use VMware vSphere® Storage vMotion® to migrate virtual machine storage
Monitor resource usage and manage resource pools
Use esxtop to identify and solve performance issues
Discuss the VMware vSphere® High Availability cluster architecture
Configure vSphere HA
Manage vSphere HA and VMware vSphere® Fault Tolerance
Use VMware vSphere® Replication™ and VMware vSphere® Data Protection™ to replicate virtual machines and perform data recovery
Use VMware vSphere® Distributed Resource Scheduler™ clusters to improve host scalability
As you can see, the course covers all topics related to ESXi, vSphere and vCenter server, including clustering, replication, DRS, HA etc.
this post wanted to highlight the possibility to start learning via video training material provided directly by VMware. It is just another vector of learning VMware technology. The possibility to have a choice is important.
Stays to be motivated to learn and go through all this material.
It might be a good way for IT teams to learn when they are geographically separated but needs to acquire the necessary knowledge.
Make sure to check our vSphere 6.7 page and some other links below. Enjoy…
More from ESX Virtualization
Stay tuned through RSS, and social media channels (Twitter, FB, YouTube)