There is a new whitepaper from VMware. It is a technical PDF called What's new in VMware vSphere 6.7, which covers all new features within vSphere 6.7. The 6.7 release is the release where we see many improvements already within the VCSA 6.7 which is 2x faster with memory consumption reduced 3x. This release also has 3x faster operations using vSphere DRS. (according to VMware).
We have covered many of the new features and new additions in many blog posts already. You can find them on our dedicated vSphere 6.7 page. 
The PDF details all new features and walks you through all this. A significant part is about VCSA, but not only. The authors are well known from the virtualization community – Emmad Younis, Mike Foley, Eric Gray, Kyle Ruddy and Sudhir Balasubramanian.
If you want some deep info about what's new in vSphere 6.7, this PDF is a must.
Quote:
vSphere 6.7, with its improved VMware vCenter Server® Appliance™ system, delivers an extraordinary user experience. It introduces several new APIs that improve the efciency and experience of deploying multiple vCenter Server Appliance instances based on a template. These new APIs also make management of vCenter Server Appliance systems significantly easier while facilitating a more complete backup-and-restore solution.

vSphere 6.7 also simplifies the VMware vCenter Server topology through vCenter Server systems with an embedded Platform Services Controller™ instance in Enhanced Linked Mode. This enables administrators to link multiple vCenter Server instances and have seamless visibility across the environment without the need for an external Platform Services Controller instance or load balancers.
I like the way we can conduct upgrades. If you made the move to VCSA, now when upgrading from the previous release you can use vSphere Upgrade Manager (VUM), now built within the VCSA.
In order to be able to use VUM, you'll need to have at least vSphere Essentials (or Essentials Term) license which entitles you to use a vCenter server. vSphere 6.7 has brought HTML 5 web client interface which now handles VUM so we'll show you the step-by-step process of upgrading VMware ESXi 6.x to 6.7 via this new HTLM5 UI.
You can upgrade ESXi from 6.0 to 6.7 or from 6.5 to 6.7 directly. However, If you are still on older vSphere installation, let's say 5.5, you have to first upgrade to 6.0 and then to 6.7. So it will be a two-phase process, which can also be, however, handled by VUM.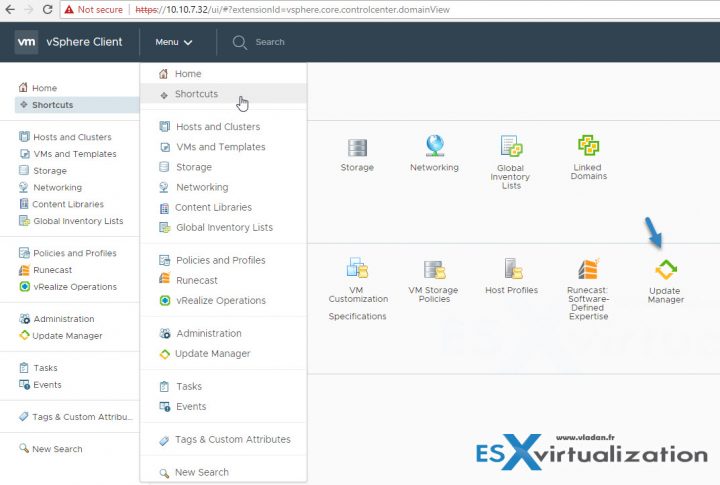 Quick links to other blog posts about vSphere 6.7
Wrap Up:
Before upgrading it's important that your environment is not only compatible with latest VMware vSphere 6.7, but also that all your backup/monitoring software is. For admins which are still on vSphere 5.5 make sure to make your decisions before September 19 which is the end of support for vSphere 5.5. As being said first, you'll need to upgrade first to 6.0 and then to 6.7.
Check out our new WordPress page for vSphere 6.7 too. You'll find there all articles being published.
Download the PDF What's New in VMware vSphere 6.7 from This Link.
More from ESX Virtualization