Just a few days ago, VMware has released a VMware Workstation 2018 Tech Preview which allows you to test new features and enhancements fro the upcoming VMware Workstation Pro 2018 release. This tech preview does not need a serial to enter when using it but it's a time-limited version. It means that sometimes in the future, it will stop working.
Workstation allows the software developers to implement and test new features, which might (or might not) make it to the NEXT release of VMware vSphere. That's why the VM creation process has this option for VM hardware version as "NEXT".
The current and latest VM hardware version is VM hardware version 14 (VMX-14) and it has been released as part of the vSphere release several weeks back. We have thoroughly reported on this and created our dedicated VMware vSphere 6.7 Page.
One of the best enhancements is certainly the DirectX 10.1 which allows users to run games that require DirectX 10.1, and improves performance for DX10.0 games and apps. But there is not only that in this release.
What's new in VMware Workstation 2018 Tech Preview?
DirectX 10.1 – Available for Windows and Linux hosts. DX10.1 introduces several subtle differences over 10.0. Now supported with Workstation 2018 Tech preview. DirectX 10.1 improves and has the following graphics enhancements:
Full MSAA (Multisample anti-aliasing) support
Shader Model 4.1 support
Cubemap array support
Windows 10 High DPI support – improved support for High DPI configurations from both a Host and a Guest perspective:
Host-level high DPI support – Workstation UI will auto-detect the host level DPI and auto adjust the layout to meet this DPI. For example, if the original DPI scaling of your host display is 100% and you change it to 200%, Workstation UI will automatically update its layout.

This is extremely useful for multimonitor scenarios when you have different DPI settings for each monitor, when you move Workstation UI from one monitor to another monitor with different DPI, the UI will automatically adapt to DPI of the monitor it's being drawn on.

Guest DPI sync with a host. When there is DPI change on the host side, the guest OS will be able to adjust its DPI to match the host DPI.
Note: You'll need both host and guest to be Windows 10
Hosts and Clusters view – You can see it when using Workstation to connect to a vCenter Server. You can navigate also to a non-VM objects (ESXi hosts, Resource Pool and vApp) and their respective relationship hierarchy (i.e. Datacenter > Cluster > Resource Pool > vApp). You have a possibility to get a simple view which is available via a single click.
Screenshot from the installation…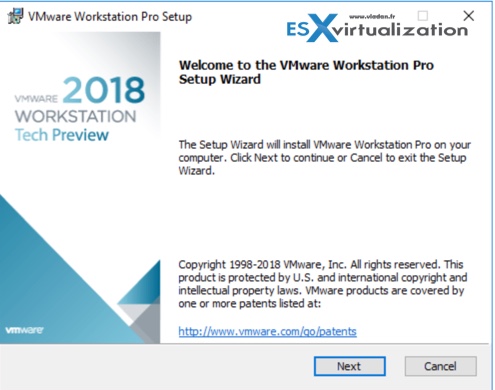 USB Auto-Connect to a virtual machine – Workstation 2018 Tech Preview provides a long-requested feature for managing USB device access.  When users plug in a USB device, (a USB storage device for example) this USB device can be automatically connected to a powered-on virtual machine without having to manually add the device. This is currently available only to Windows hosts.
Linux Host Wayland Support – Workstation can now run on Linux hosts using the new Wayland desktop architecture. We expect full coverage here, so we encourage users to try this out and let us know in the Tech Preview community if you experience any issues.
New RESTful API – RESTful API interface for automating virtual machines management. With the REST API you can perform VM operations like VM inventory management, VM power management, cloning, networking, IP and MAC address gathering, and more.
Note: this is currently available for Windows hosts only.
As being said, the technology preview has new stuff tested inside (changes to the underlying virtualization platform) but those features might not be in the final release. So, a quick quote which says that:
This Technology Preview includes changes to the underlying virtualization platform, which is under active development. There are no guarantees that changes in this preview will be forward-compatible with other VMware software, nor that these changes will be present in future supported releases of VMware Workstation.
This is a good thing as it will bring us a possibility to test new upcoming release of this wonderful product. And VMware wants us to test it. You can share your feedback within VMware Workstation Technology Preview 2018 community.
Source: VMware blog
Download from this location:
https://my.vmware.com/group/vmware/get-download?downloadGroup=WKST-TP-2018
Note: During the installation, you'll get a prompt by your Windows, about non-signed drivers. You can safely intall those…
More from ESX Virtualization
Stay tuned through RSS, and social media channels (Twitter, FB, YouTube)