Altaro is organizing a contest where you can win Oculus Rift + Touch Virtual Reality System. In fact, World Backup Day is a day for people to learn about the increasing role of data in our lives and the importance of regular backups.
Without regular backups, your data are at risk. Ransomware, cryptolockers… all kind of threads are spreading multiple ways today. Your work network, your home PCs, everything shall be protected if you store valuable data.
10 years ago there were much fewer threads and there was much less risk and fewer data to protect.
The size of data explodes and the criticality of backups is a question of life.
Celebrate World Backup Every Day and WIN the CONTEST!
World Backup Day is something we're used to mark as an event every year, as a reminder we need to take good care of our data. But this year Altaro challenges us to change our mindsets and start considering the value of a good backup solution not just once, but every day.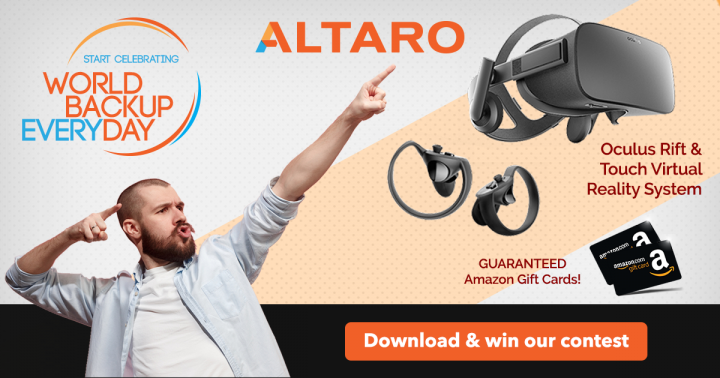 On this occasion, they're launching this contest where you might win an Oculus Rift & Touch Virtual Reality System! Let's hope you'll be the lucky winner, but if not, they're giving free eGift Amazon cards as well for all the valid entries. So, for those who want to give it a try, this seems to be a good time to do it.
To enter the contest, click here. Good luck and happy backup!
Download TODAY and WIN
Altaro VM Backup for Hyper-V and VMware creates the smallest backup size when compared to other backup software, reducing backup space requirements and backup time. Once downloaded, you can try Altaro VM Backup on unlimited VMs for 30 days. After that, you get 2 VMs for free, forever.
Download Altaro VM Backup by filling in the form above
Install Altaro VM Backup (will take less than 15 mins)
You will receive an email with a link where you must upload a screenshot of the main dashboard view of your installation of Altaro VM Backup. Make sure we can see at least 1 of your VMs added for backup!
Click here, download Altaro, install it. Take a screenshot of your dashboard. Each valid submission (screenshot of the main dashboard running + at least 1 of your VMs added) is automatically rewarded with a €20 Amazon eGift Card.
check also the social media channels:
More posts from ESX Virtualization:
Stay tuned through RSS, and social media channels (Twitter, FB, YouTube)