So far we have demoed a clean installation of VMware vCSA 6.7, also upgrade of ESXi 6.x to 6.7 via ISO or via VUM, but what we haven't covered just yet, it is the Upgrading VCSA 6.5 to 6.7. This process is supported by VMware and we'll show within this article, that the upgrading an embedded PSC deployment of 6.5 vCenter appliance to 6.7 is dead easy.
The upgrade process is basically migrating data from 6.5 to 6.7. For architectures with external PSC, you must first upgrade all PSCs first, then upgrade your vCenters.
While the post title says Upgrading VCSA 6.5 to 6.7 it is also valid for vCenter running on Windows so we can apply this procedure to vCenter 6.5 running on Windows Server which will be migrated to VCSA 6.7.
The upgrade process will deploy a clean new VCSA 6.7 appliance and then copy over all the necessary information from the VCSA 6.5. You might wonder why not upgrade the 6.5 directly? Well, VMware says that it is safer and that it's easy to rollback to 6.5 if necessary because if you have problems you can easily stop the new appliance and start the old one. (Note that they both have the same IP after upgrade).
In fact, it's two-phase process:
Stage 1: Deploy a new vCenter Server 6.7 appliance (side-by-side to the old one)
Stage 2: Transfer the services and configuration data from the old to the new appliance (the old appliance is shut down – not deleted)
Quote from VMware blog:
We deploy a new appliance in case of misconfiguration or error, we have an easy rollback method. During the upgrade process we do not make any changes to the original configuration. If something were to fail with your vSphere 6.7 upgrade, all you do is shutdown the new appliance and delete it, and then power back on your original appliance.
Before we go and jump into the upgrade process, I think it's important to read some VMware KB articles and release notes:
Requirements and guidelines:
Note the possibility to upgrade the vCenter Server Appliance version 6.0 or 6.5 to 6.7. Only.
vSphere 5.5 > 6.0 first.
You'll need to have an enhough capacity to run 2 VCSA at the same time for about an hour.
vSphere 6.7 disables TLS 1.0 and TLS 1.1 protocols for improved security. Some applications might support only the older protocols.
2003 Server and Windows XP are no longer supported.
You'll need existing SSO administrator and root password.
Create a backup of your VCSA 6.x before starting the process.
Disable DRS
Upgrading VCSA 6.5 to 6.7 – The Steps
We have our VCSA 6.5 up and running. We are in a case where we have PSC and vCenter on the same machine.
Check the image below. You can see that external PSCs will follow a different path…


What we do next is that we'll mount the VCSA 6.7 ISO and launch the VCSA 6.7 installer which will bring the upgrade option.
Mount the VCSA 6.7 Iso and navigate to the <CD-ROM-drive letter>:\vcsa-ui-installer\win32\ folder and open the installer.exe, then run the Upgrade option.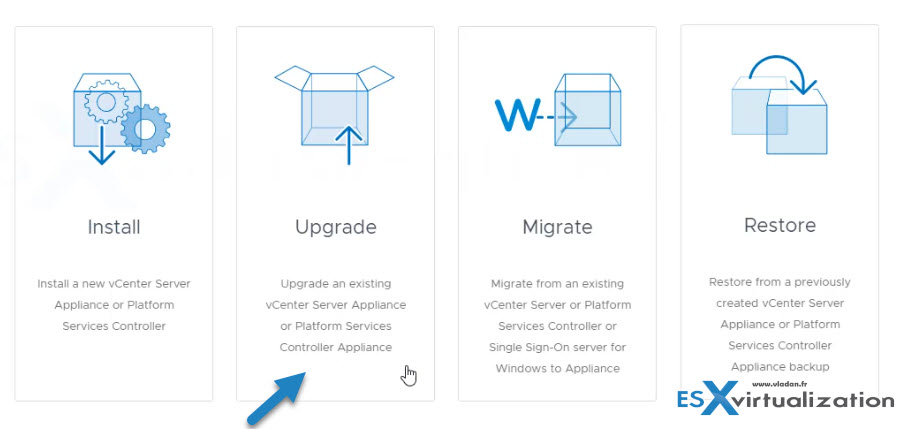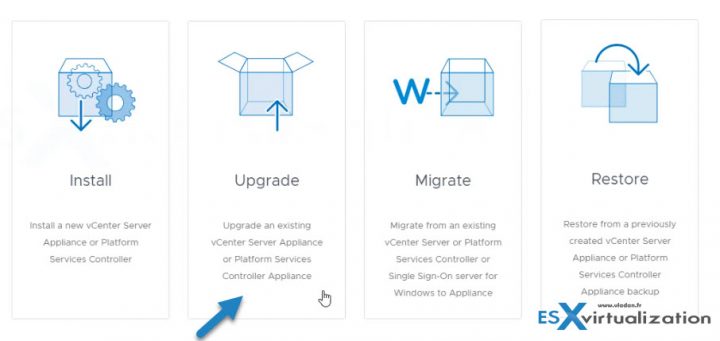 Next, we'll start the Phase 1 and we'll connect to the source appliance.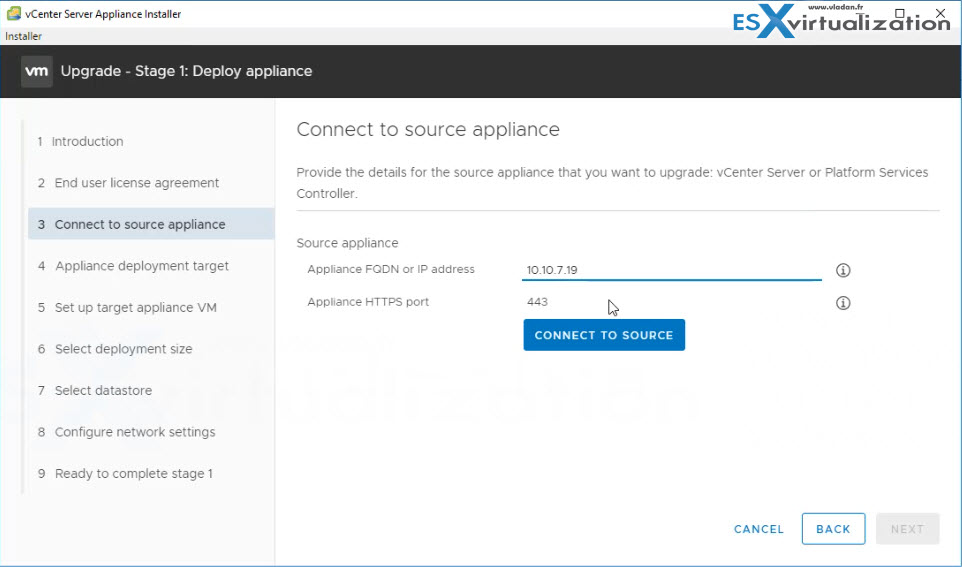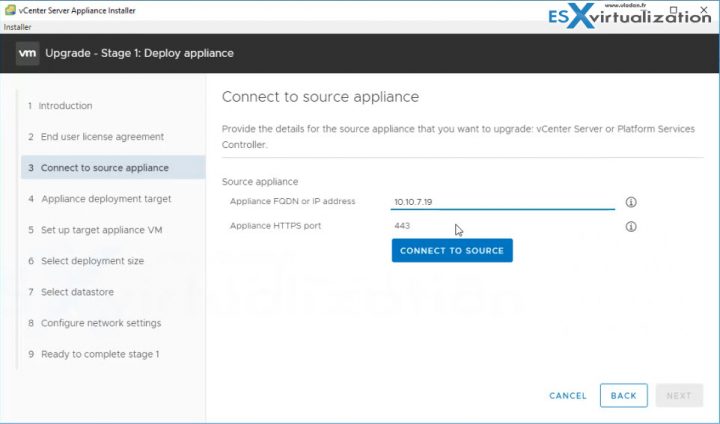 Provide SSO account and password as well as ESXi or vCenter account and password…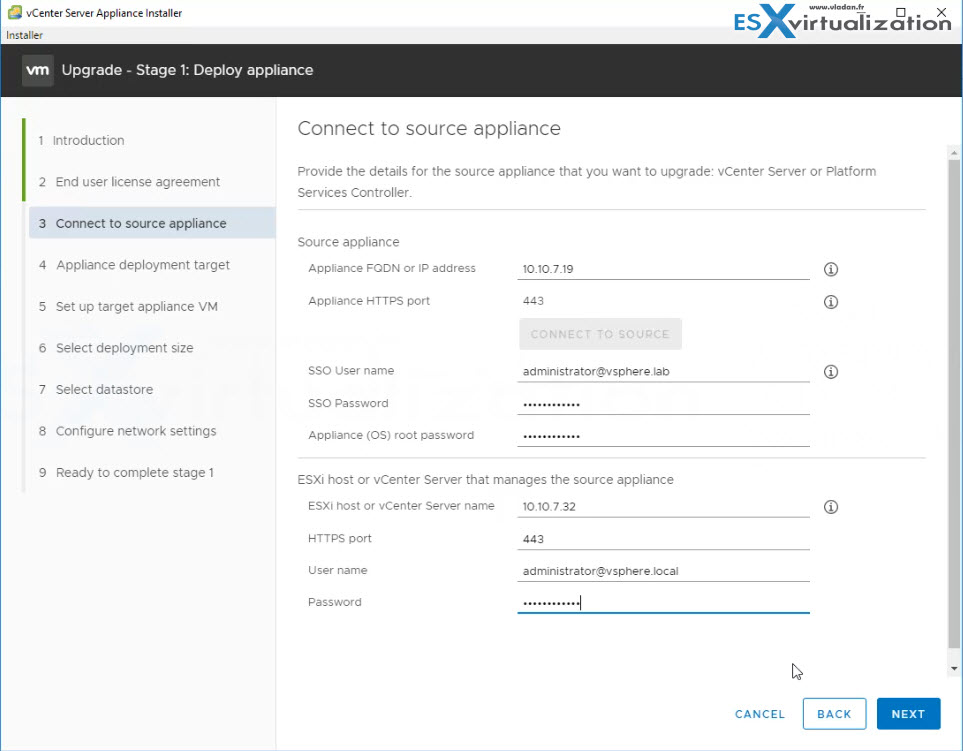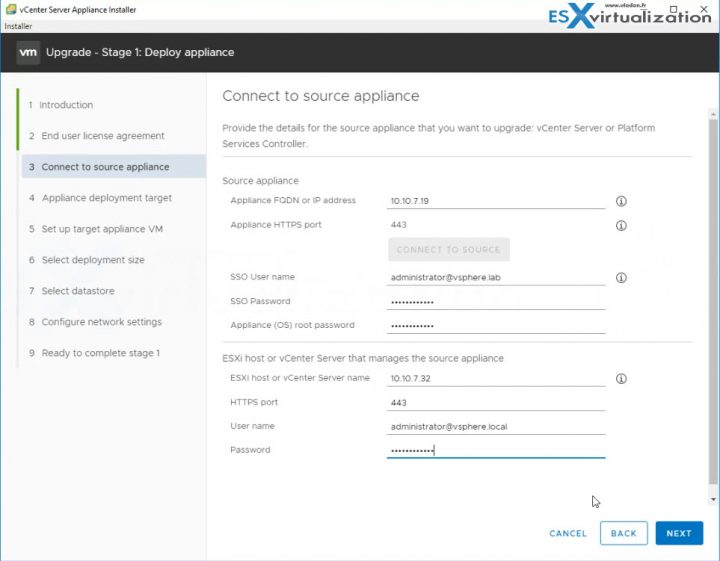 Then provide a target where the new appliance will live…
This can be either vCenter or a single ESXi host.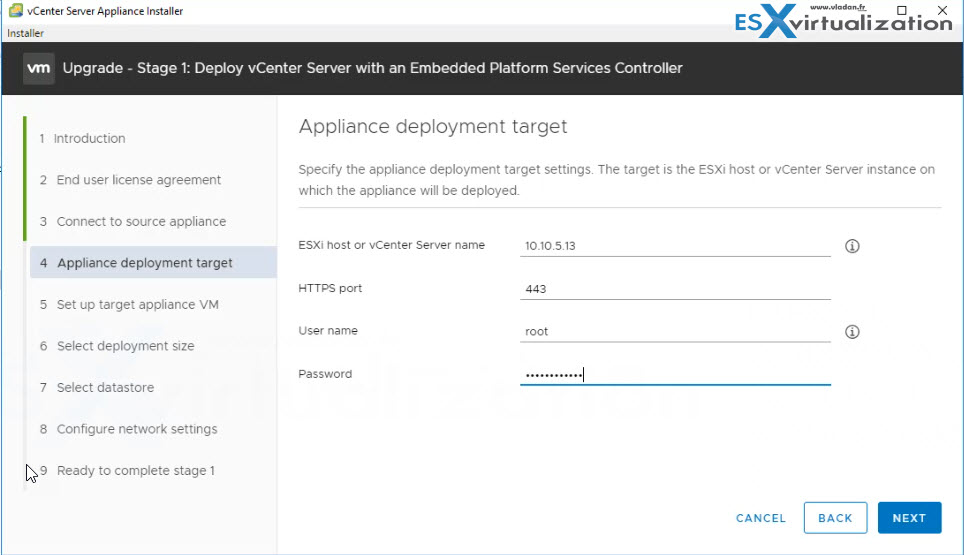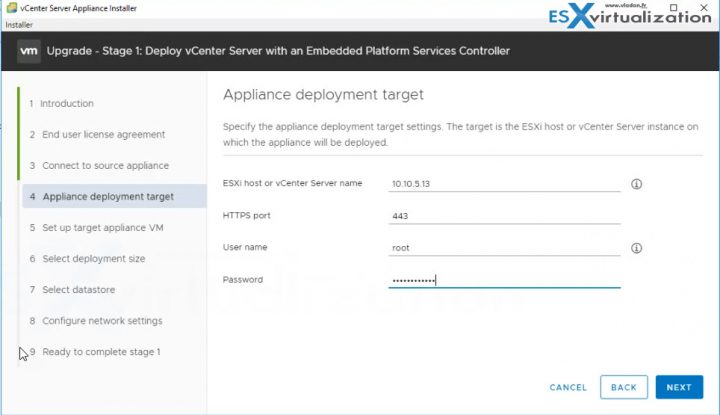 Provide some name for the new VM…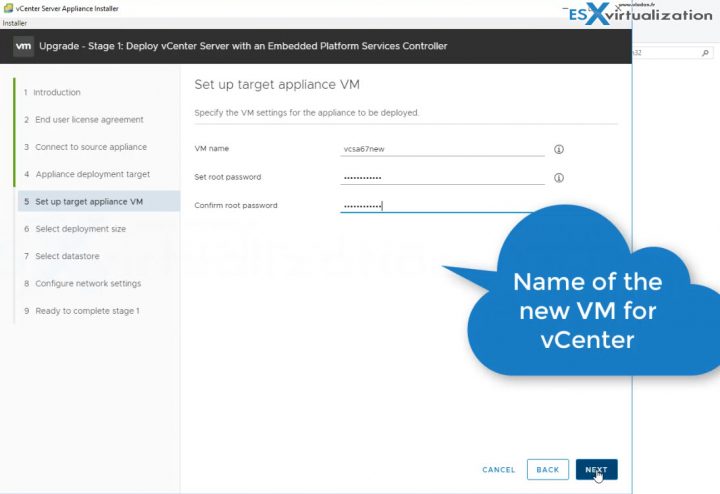 Size…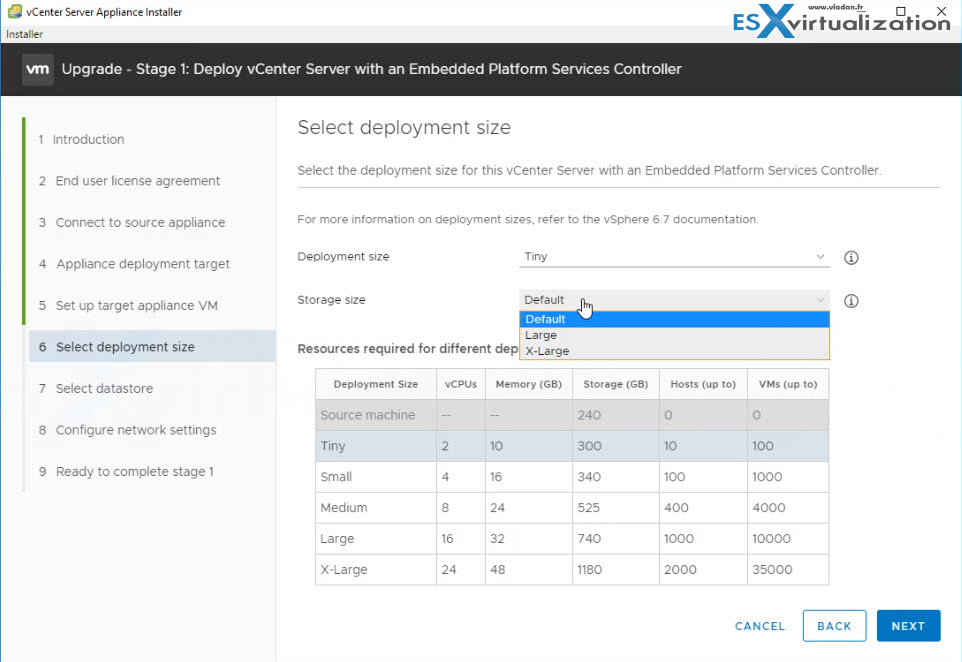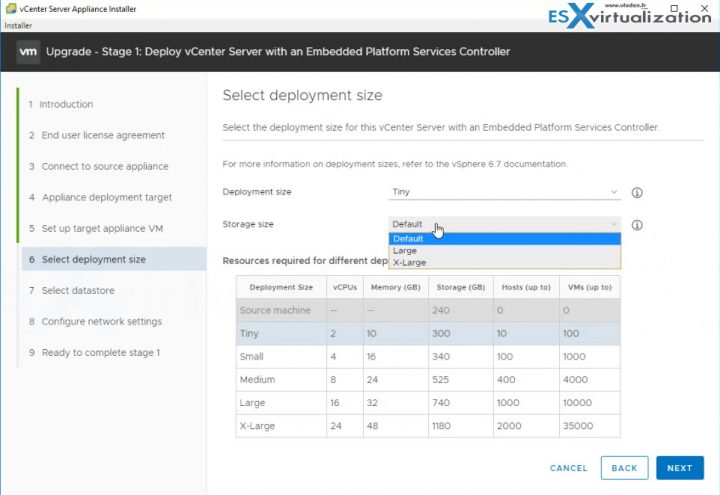 Then you can enable Thin disk mode.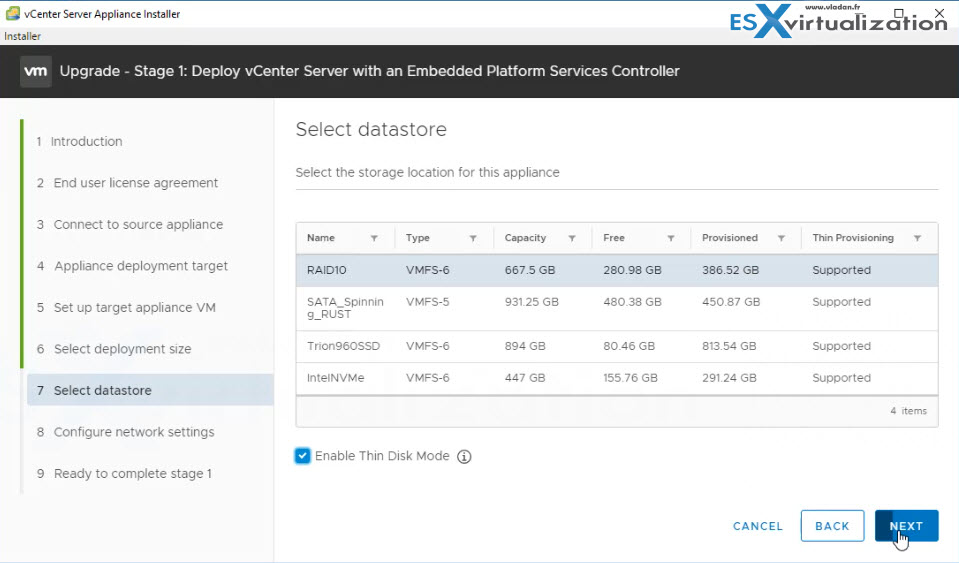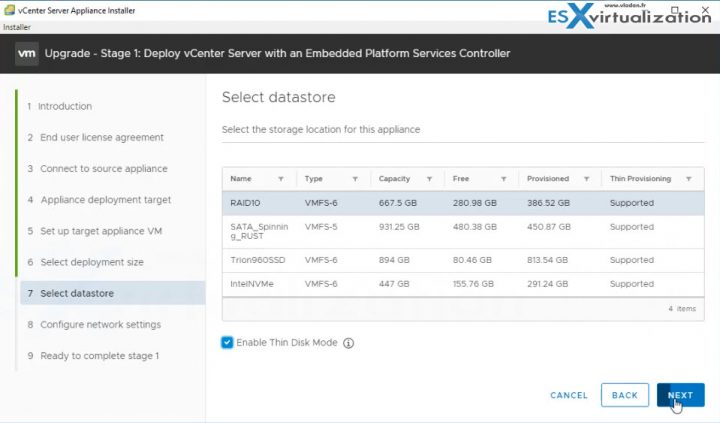 Configure networking details …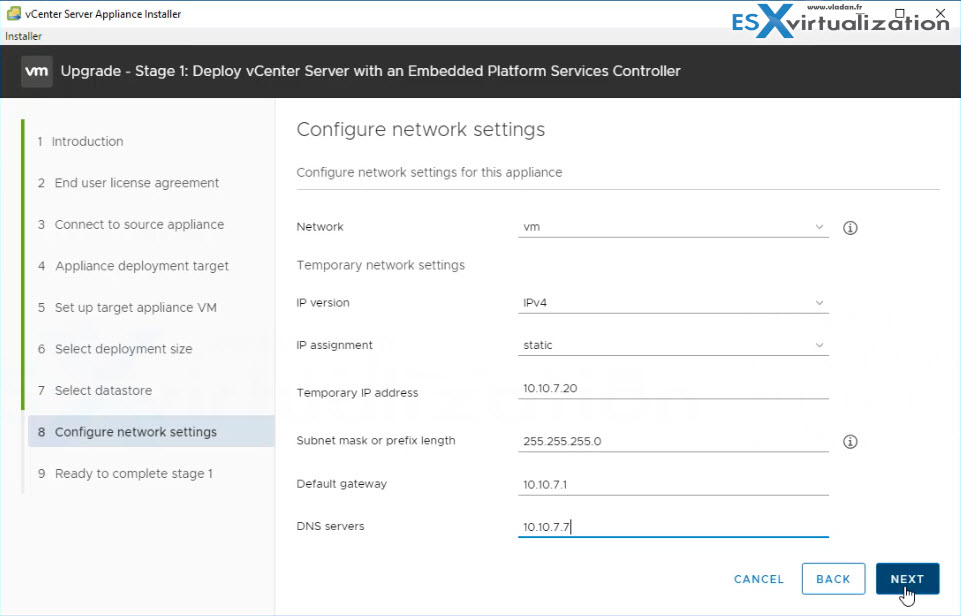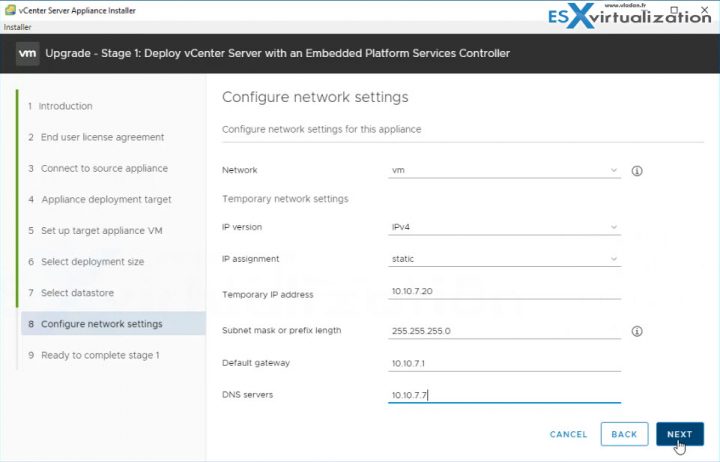 Ready to Rock and Roll -:)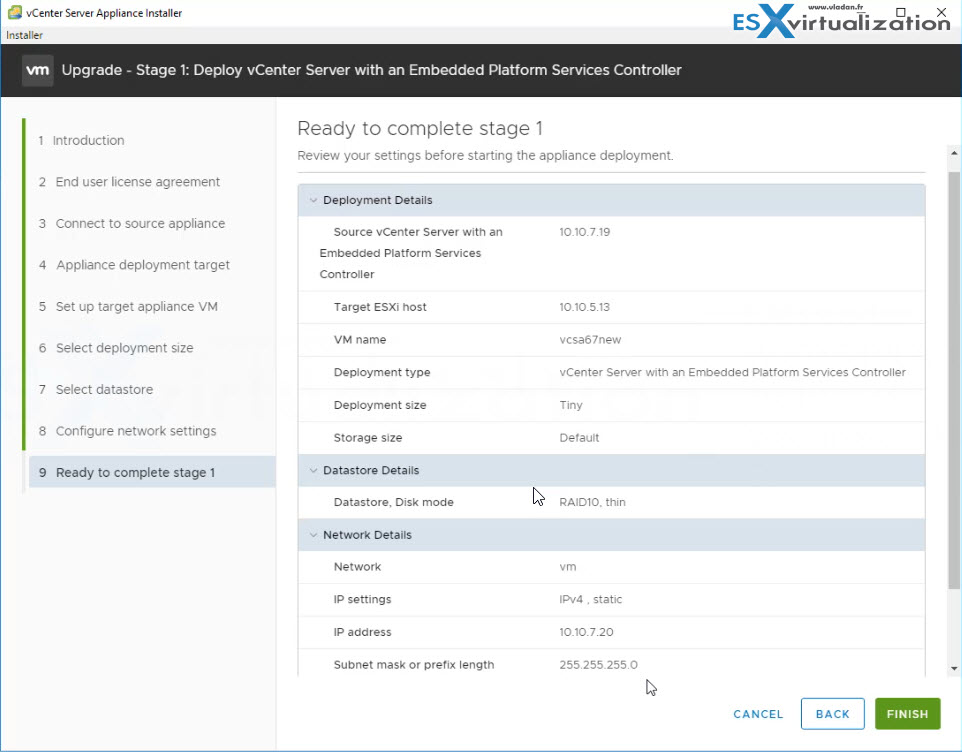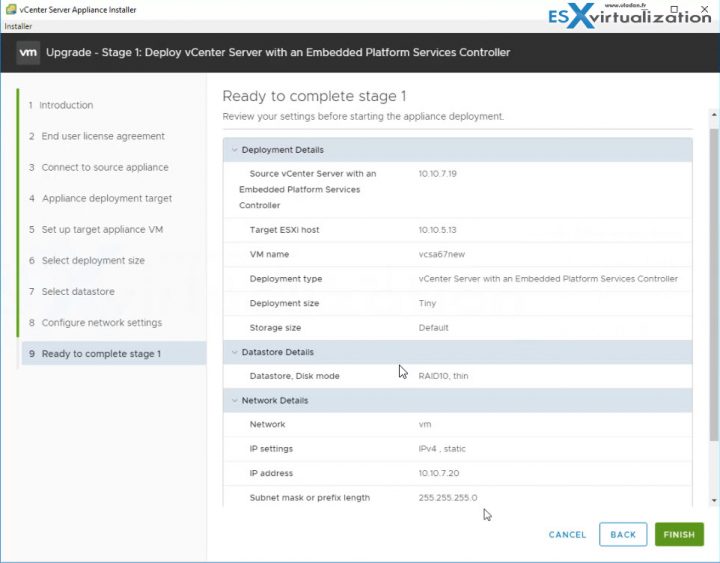 And then sit back and relax.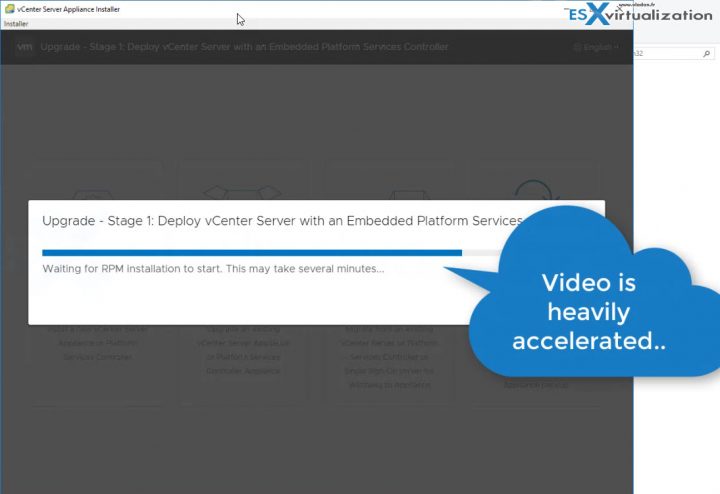 Stage 2 Starts right after. You'll get prompt, what to copy…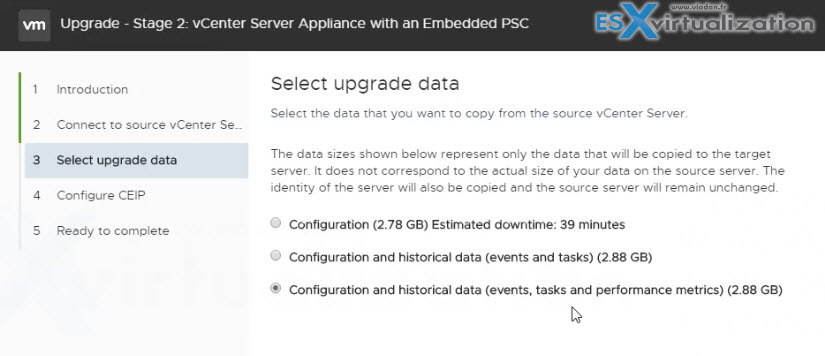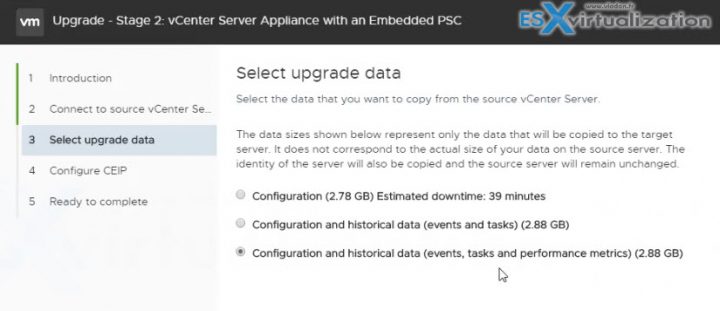 Then again, sit back or come back later. It will take some time.


and then at the end you should see this recap screen. Note the link inviting you to connect to the newly migrated vCenter Server. Same as the old connection…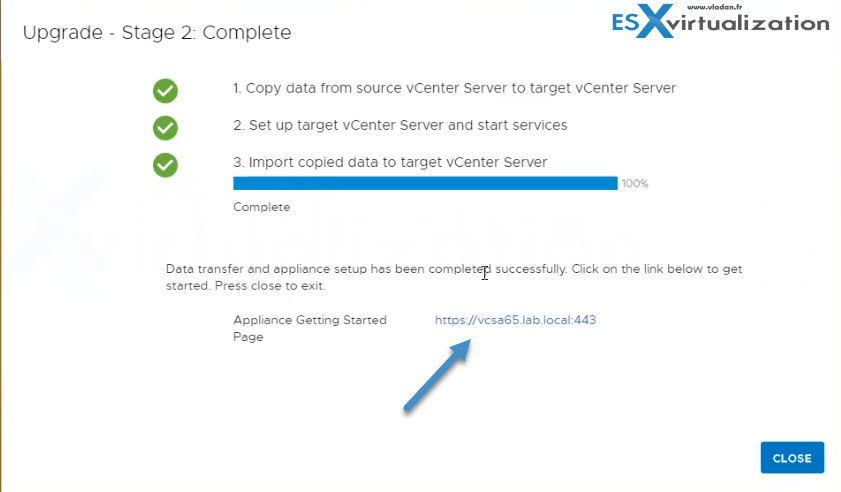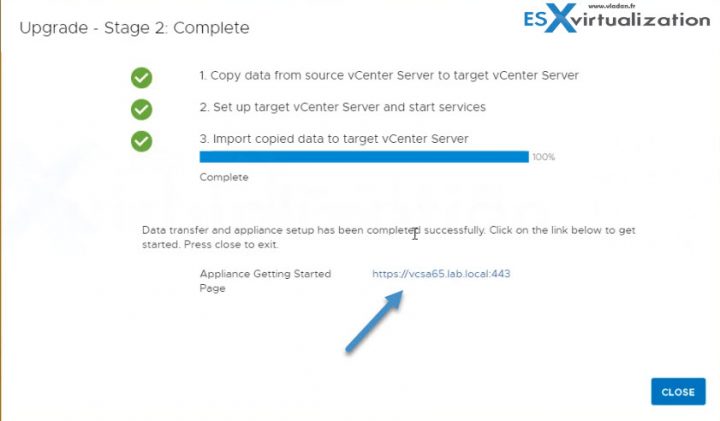 Then we're done. After connection, we can verify that we're running the latest release.


I have created video from the whole process. Note that you can migrate either vCenter running on Windows or on Linux (VCSA). This is pretty awesome.
Here is the video. Watch in HD and in full screen.
This was a lab post where I was running VCSA 6.5 with embedded PSC. This post was about Upgrading a vCenter Server Appliance (VCSA) to version 6.7.
More from ESX Virtualization
Stay tuned through RSS, and social media channels (Twitter, FB, YouTube)