A cool hack which basically allows you to download Windows 10 ISO without passing through the Microsoft Media Creation tool (the Microsoft's way). By using that tool, you can't download the ISO file directly using any 3rd party download manager software so you can't pause and resume the download. However, there is a workaround for that and we'll show you how to Windows 10 Direct download.
The trick is pretty simple. In fact, you're using the same download link, but the remote Microsoft website will think that you're using a different OS or a different browser. You don't need to install any software or any plugin on your existing browser. (In my case I'm using Google Chrome).
Windows 10 Direct download is below, but I'll describe the whole step by step in a min.
The thing is that you can basically download those ISO images on any other computer than the one running Windows 7 and higher. It means you can have a MAC, Linux computer or tablet/phone.
Or even an old Windows XP can do -:). But, If you have Windows 7 or higher, you're automatically redirected to the page where you have to proceed via the media creation tool.
Windows 10 Direct download links – How to
Step 1: First, go to this URL: (this url is different from the one you can usually found, but it still redirects you depending on your OS or if you're using responsive design for your download.
Follow this link: Windows 10 Direct Download ISO
Step 2: Second, hit F12 on your keyboard and click the phone/tablet icon to change to a responsive view. Then Reload the page. (You can also click the phone icon before actually going to that page via the link provided).
If the view is too small, just drag the handle to enlarge the view or chose different resolution via the menu.
Step 3: After choosing your version and validation on the confirm button, you'll also need to choose your language and again click the confirm button. Once done, you have a choice between x32 and x64 ISO images which you can download directly via your web browser.
The page bellow would not be accessible if you have stayed on your Windows computer with default browser settings.
Here is the screenshot.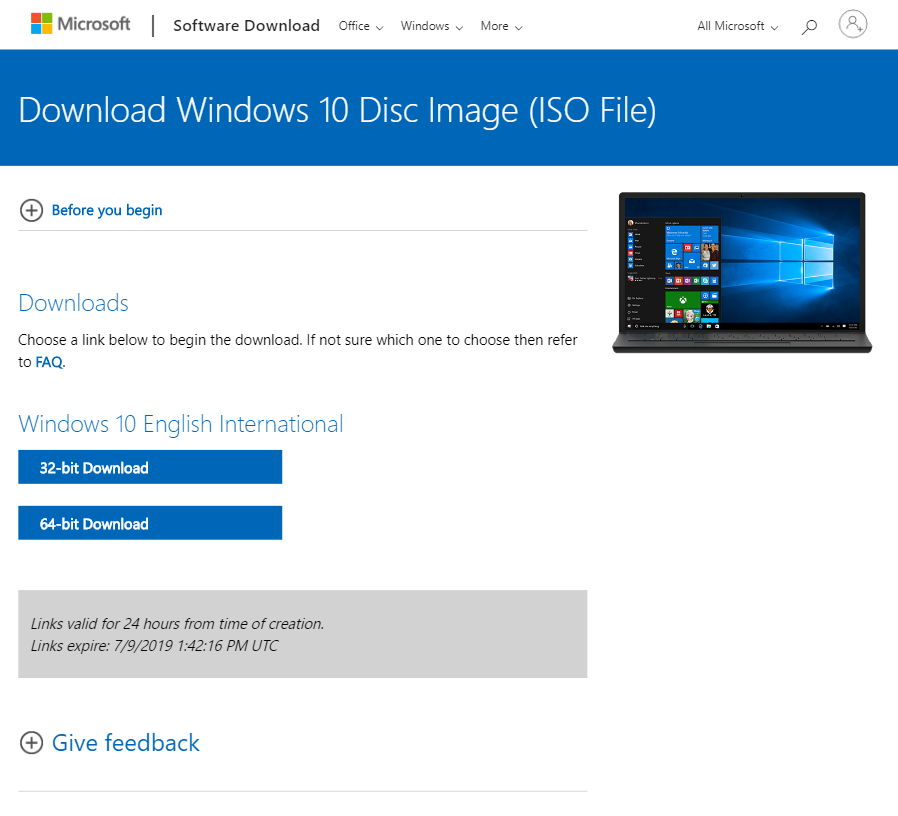 If you're English speaking, you can choose between English and International English language options.
The  English is for EN-US edition and English International is for EN-GB edition.
This is it. You now can download the
Note: If you're usin other browser, look for "developper tools" or "emulation tab". Usuallly an F12 key is to open Developer Tools. You should then see an option where you can click on the Emulation tab and select "Windows Phone" from "Browser Profile" via a drop-down box.
Worth to note that direct download links are valid for 24 hours only. Enjoy…
Alternatively, you could also fire up a VMware Workstation and use one of your Linux distros you're using for your day-to-day browsing, right?
More from ESX Virtualization
Stay tuned through RSS, and social media channels (Twitter, FB, YouTube)