There is another new build of Windows Admin Center for Windows Server. This build, 1806, is the first post-GA preview release. We have thoroughly reported on the GA Release of Windows Admin center in our detailed post explaining the product.
One of the new features in this build is the possibility to view and copy PowerShell scripts which are behind the roles and features. So now, when you click the roles and features you can copy-paste the script, adapt it for your own needs.
Another feature worth to mention is the possibility to manage Windows Servers 2008R2 (limited possibilities here). Other then that you can read below what's new in details.
Note: For those of you who don't know this tool, you might know it under another name – Project Honolulu. We wrote about it here and here.
The Windows Admin center is a free tool for admins willing to manage their servers remotely, from a single console. In addition to the remote management, you can connect directly and launch PowerShell command, or connect via RDP too.
What's new in Windows Admin Center Update (1806)?
View/copy the PowerShell scripts that Windows Admin Center is using under the hood – you can see and adapt the code for your own needs. The Powershell scripts which are used for adding/removing roles and features
Manage Windows Server 2008 R2 connections with a limited set of tools.
New tools to manage your Software Defined Network (SDN) in Hyper-Converged Cluster Manager
New Scheduled Tasks tool – you can create, view, edit enable/disable, start/stop scheduled tasks. Those tasks can triggers daily, once, at logon or at startup. You can create 1 trigger per task.
Other new features include an update notification dialog, multiple extension feeds, and a new option to redirect web traffic from port 80. See below for details.
Improvements to some existing features: gateway settings page, notifications, connection tag editing experience, and extension management experience
This build has a limited support for Windows Server 2008R2. You can read at the product page that:
We have added support, with limited functionality, to manage 2008 R2 servers. Adding a 2008 R2 connections has the same dependency on WMF 5.1 as 2012 and 2012 R2. The remote desktop tool is currently not available due to a bug in the HTML RD client – this should be fixed in a future release. Some other tools will not be available due to platform limitations or architectural differences.
In fact, here are the features which you can use with Windows Server 2008R2:
Overview
Events
Local Users & Groups
Processes
Registry
Services
PowerShell
Screenshot from the lab shows the remote desktop connection to one of my servers.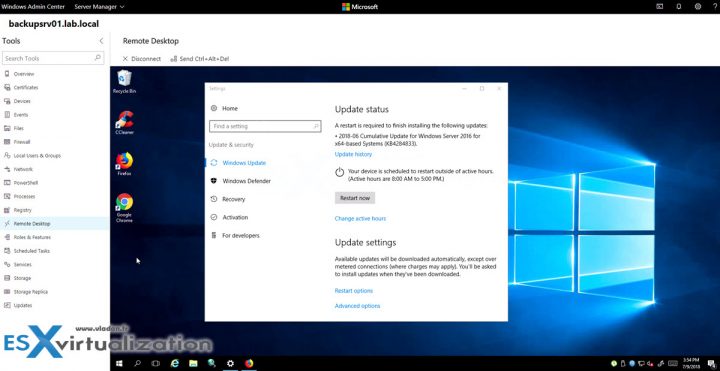 You can install the solution either as a desktop mode on Windows 10 (and use https://localhost:[port]) to access it. Or you can install it as a Gateway mode on Windows Server 2016 (or 1709) where you can access remotely from another machine via a web browser (https://servername)
Installation options:
Local (W10 only)
Gateway (WS 2016)
Directly on Management Server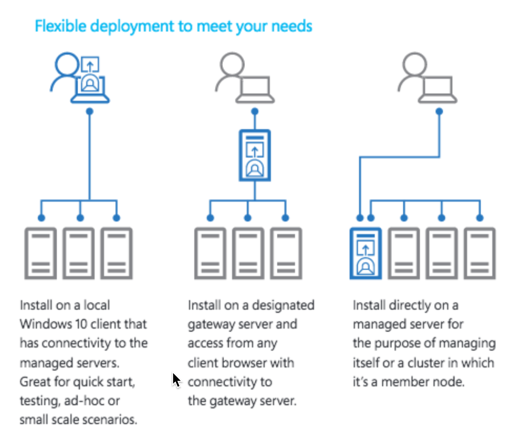 Where to download?
Registered Insiders may download Windows Admin Center Preview 1806 directly from the Windows Server Insider Preview download page, under the Additional Downloads dropdown.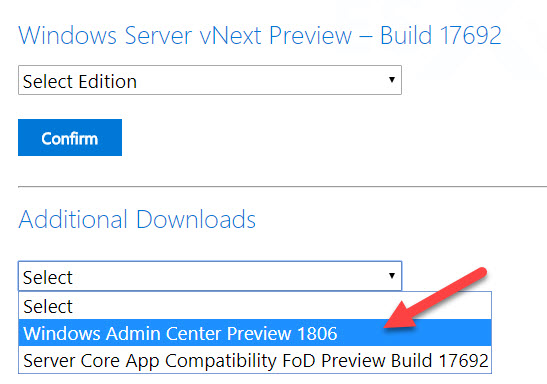 The Installation Process is fairly simple. It's an MSI file (45Mb) which you simply install on your management workstation.
You can change the default port during the installation.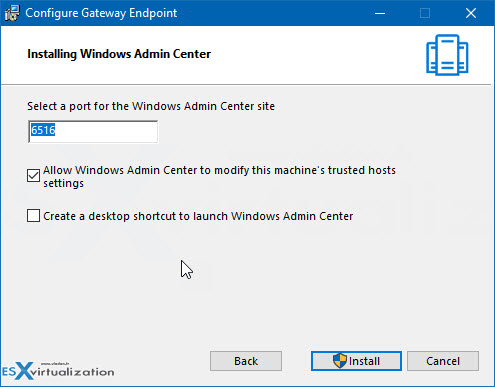 And then you'll at the last screen of the installer shows you that you have to select the right certificate (Windows Admin Center Client).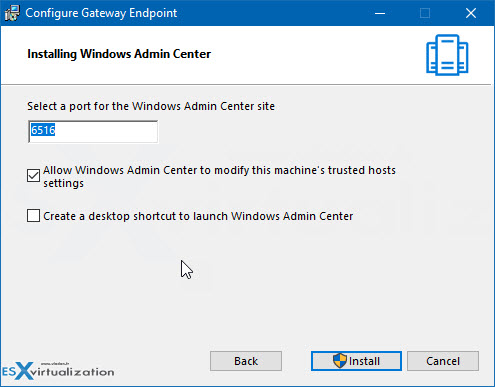 And when you first launch the software, you'll get an intro (a very short one) inviting you to discover new features…. It's clearly "work in progress" but pretty cool.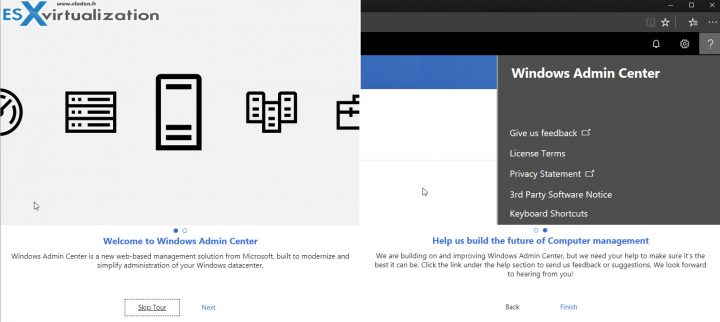 New Extensions
In our previous post, we have reported on the extensibility options, and that there will be more extensions available in the future. Ant it is true as now, in this new build we found many new extensions available.
Check the image below.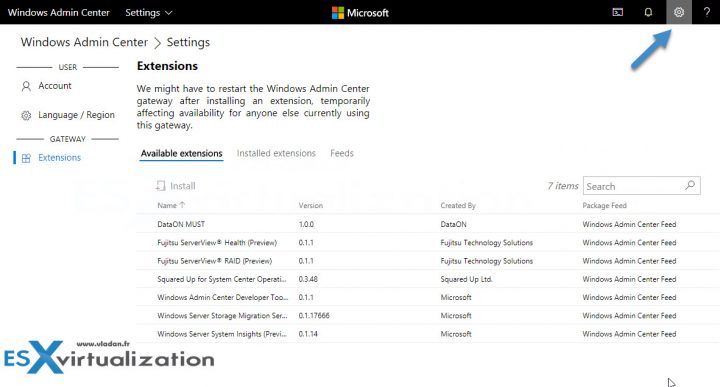 For now, this free tool from Microsoft does not replace other management utilities, but who knows, in the future, they may gonna make it. A single console to rule them all…
It complements but does not replace existing Microsoft monitoring and management solutions, such as Remote Server Administration Tools (RSAT), System Center, Operations Management Suite, Intune, or Azure Stack.
Screenshot showing the possibiltiy of the copy-paste PowerShell code for Roles and Features…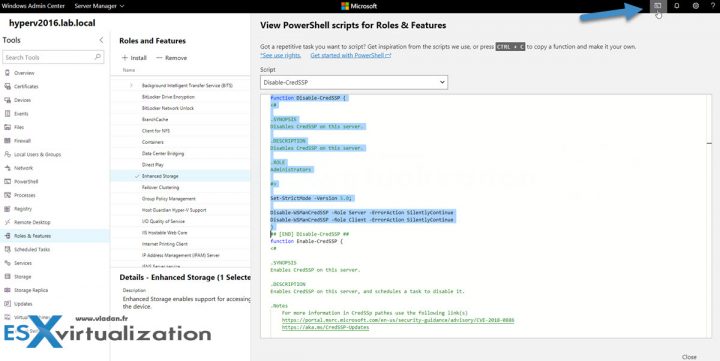 This tool is evolving at a rapid pace. It's really great to see that Microsoft team is working hard on a really cool (and free) tool which allows centralized management of servers and clusters. However, as with VMware flings, this tool is in a preview, so you should not use this in production.
But it's pretty cool for home labs.
Other than that, the lab runs currently VMware vSphere 6.7 and vSAN All flash. The new HTML5 web-based VSAN management is pretty cool and enjoyable. VMware is also working hard to make the HTML5 web-based management to be finished (so far 90% the management features is included, but latest "fling" has more…).
More from ESX Virtualization:
Subscribe to RSS, and social media channels (Twitter, FB, YouTube)