For IT pros, this might be the book of your choice as it brings some deep insights into Windows Server 2016 and W10 system architecture, processes, threads, memory. Check it out. Whether you are a developer or an IT professional, you'll get critical, insider perspectives on how Windows operates.
And through hands-on experiments, you'll experience its internal behavior firsthand–knowledge you can apply to improve application design, debugging, system performance, and support. There are seven chapters each focusing on different elements to bring you deep knowledge of the system.
The book is already the 7th edition. Led by a team of internals experts, this classic guide has been fully updated for Windows 10 and Windows Server 2016.
Quote from Technet:
*********************************************************************
Shop for vSphere licenses at VMware Store:
*********************************************************************
System administrators can benefit from this information as well, because understanding how the operating system works "under the hood" facilitates an understanding of the performance behavior of the system and makes troubleshooting system problems much easier when things go wrong. Security researchers can figure out how software applications and the operating system can misbehave and be misused, causing undesirable behavior, while also understanding the mitigations and security features modern Windows offers against such scenarios. After reading this book, you should have a better understanding of how Windows works and why it behaves as it does.
This book will help you:
Understand the Window system architecture and its most important entities, such as processes and threads
Examine how processes manage resources and threads scheduled for execution inside processes
Observe how Windows manages virtual and physical memory
Dig into the Windows I/O system and see how device drivers work and integrate with the rest of the system
Go inside the Windows security model to see how it manages access, auditing, and authorization, and learn about the new mechanisms in Windows 10 and Server 2016

The Content:
Chapter 1   Concepts and tools
Chapter 2   System architecture
Chapter 3   Processes and jobs
Chapter 4   Threads
Chapter 5   Memory management
Chapter 6   I/O system
Chapter 7   Security
Get more details about the book – Windows Internals 7th Edition. Check it out.
For example, one of the chapters teaches details of processes visible via Task manager. The Details TAB shows process but more compact.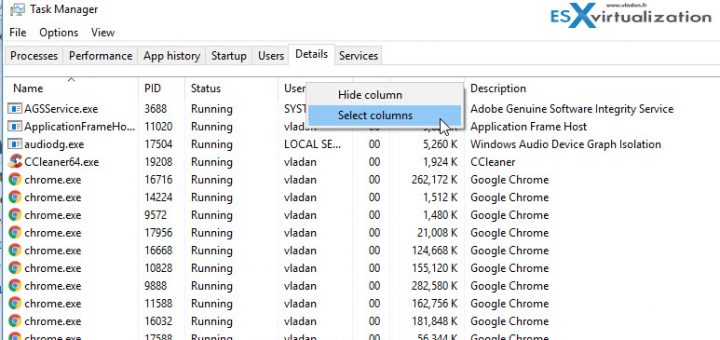 In order to display additional details, you can right-click a column and select some additional selections of columns.
The book makes also reference to Freeware tools from Sysinternals, developed by Mark Russinovich (co-author of this book). Most popular from Sysinternals were always Process Explorer and Process Monitor. The book has some examples on using those tools in real life.
Get more details about the book – Windows Internals 7th Edition. Check it out.
More posts from ESX Virtualization:
Stay tuned through RSS, and social media channels (Twitter, FB, YouTube)