Zerto Virtual Replication product gets more robust with more features for VMware administrators wanting to protect their workflows by replicating to the DR sites. Zerto 3.5 Integrates Offsite Backup To The Replication Capabilities which shows that it's possible to protect workflows different ways.
The offsite backup feature of Zerto 3.5 is one of many enhancements of Zerto's product. There are other new features and enhancements introduced as well and we'll see each one of those in this article. Here is the list.
Offsite backup
VMware VSAN support
Contact Zerto directly from GUI
Tolerant failover (if some VMs fails to start, it does not affect the  failover as a whole)
GUI Enhancements
New VPG Statuses
Tasks view enhancements
Datastore management view
Action APIs
Datastore cluster support in VC environent
Change Datastore to use Storage vMotion
Alerts and notifications enhancements
Offsite Backup in Zerto – How it works?
It's a new way to do a data protection. The process is a combination of replication, continuous data protection and long-term retention at the target site. The fact that only 5 days of a journal of recovery points were kept in Zerto up to now did not allow to think of long-term backups, but now the protection time is extended to more than 5 days of retention and is able to keep daily, weekly and monthly copies of data. It does not replace existing backup solutions but it does the protection of workloads different way.
Zerto has the lowest RPO and RTO because compared to the traditional backups, it does not use snapshots. Zerto is installed directly inside the virtual infrastructure, where the Virtual Replication Appliance (VRA) is able to tap into a virtual machine's IO stream.
Therefore, each time the virtual machine writes to its virtual disks, the write command is captured, cloned, and sent to the recovery site. So it is block-level application-consistent data protection. There is no additional load or additional pressure to the underlying storage array like in traditional snapshot based replications where a copy of datas has to be made when creating snapshots.
At the DR site there is a new service running called Zerto Virtual Backup Appliance.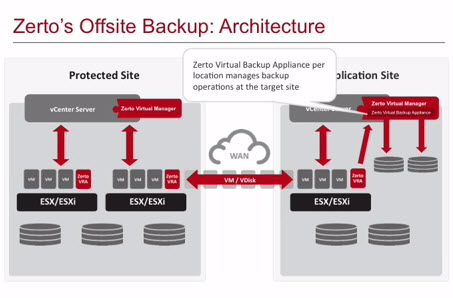 Benefits of Zerto Offsite backup.
Simplify data protection with DR and backup in single solution
Configurable backup – daily, weekly, monthly
Reducing load on the production site – Backup operations with Zerto are executed at the replication site so the source site isn't affected from the performance point of view.
Ability to recover in different locations (portability)
Uses existing configuration through Virtual Protection Groups (VPGs)
Structure of backups – A ZVR packages are created, where each inside of individual backup package there is a full backup. But no individual VMs are backed up but individual Zerto virtual protection groups. As you know each ZPG can have multiple VMs. Inside you'll find a backup
The backup packages are portable and can be stored elsewhere in case you need to, so even if you are only to configure A public cloud for example. No need to use the original Zerto virtual manager for restoring either as if there is a problem with ZVM you can use any other ZVM to restore from the backup package.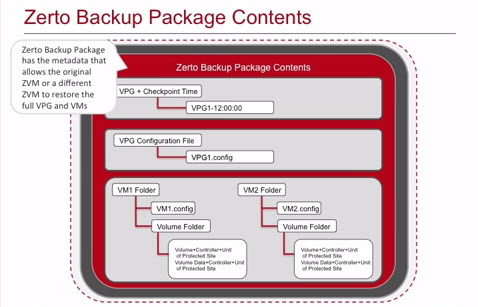 The backup packages are created the same way as VPG, where one of the options gives you a possibility to configure backup through option called Extended Recovery. This gives you the options for configuring the backup and the backup options including backup repository (can be DAS, NAS, SAN or network share).
Zerto Offsite Backup is not:
Full backup product
Not able to recover individual files (no file level restore)
No deduplication
Not an archiving possibility
 Zerto 3.5 other enhancements details.
Task view now has an action button allowing to execute several actions:
Stopping failover test
Commit/rollback failover
Commit/rollback move
Resume VPG
Stop Backup
Stop Clone
There has been also a Notes field added which allows taking notes.
Contact Zerto support from GUI – you can do it by clicking the little gear which brings an option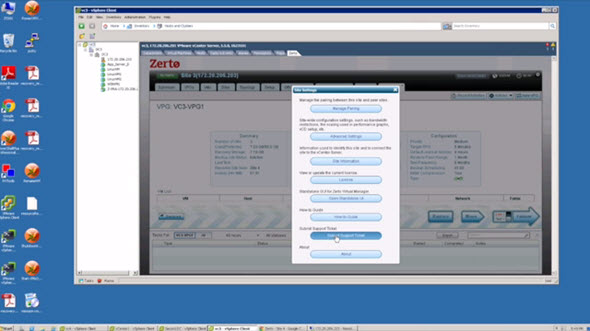 Tolerant failover – allows situations where VMs fully recovered does not come up in a correct state. Situations where:
Reserved MAC address range
IP conflict
IP selection out of IP pool – pool exhaustion
Guest OS name longer than 15 chars
HA admission control
Not enough resources in resource pool
Change VM's Hardware version while already protected
Folder not found during Failover Test
Hostname can't be null in vCD
Stored/running VMs limit in VCD.
Restore Operations allow customizing options of individual VMs like MAC address, static or dynamic IP address, DNS information or Power On options.
Download Zerto Trial from their website.
More from ESX Virtualization:
Stay tuned through RSS, and social media channels (Twitter, FB, YouTube)