Zerto 7 has brought a new streamlined UI with analytics accessible directly from the UI. Zerto 7 is a major release that has been announcing for a long time. We have a detailed blog post here, but we also know the Zerto roadmap which has v7.5 as well during 2019.
Zerto's technology differs as they don't use hypervisor's snapshots for replication. Instead, the Zerto's Virtual Replication Appliance (VRA) is able to tap into a virtual machine's IO stream causing no overhead or performance problems compared to traditional hypervisor snapshots that other backup vendors are leveraging.
It captures and copies the IOs from a particular VM to the remote site where a journal system keeps those data sorted for 30 days in short term retention and up to 7 years with long-term retention.  The new Elastic Journal is actually composed of short-term retention (seconds) and long-term retention.
Until now, Zerto was only able to "rewind" back 30 days, however with Zerto 7 and the new Elastic journal they are also able to give you long-term retention and also Grandfather-Father-Son backup strategy, so their product has become a hybrid backup product allowing you to not only replicated your VMs without overhead and with very low RTO, but also keep your long-term backup at different repository during years.
Zerto 7 – The Features
Elastic Journal – One of the first new features announced from the Zerto 7 is the Elastic Journal which:
Combines the short and long-term retention into a continuous stream of recovery points with search and recovery across data, files or VMs from any point in time from 7 seconds to 70 years.
Screenshot from Zerto showing the new UI. As you can see, the target repository for long-term retention is configured at Amazon in this example, so cheaper. And this is the idea behind this. To have a possibility to store restore points during a longer period and cheaper.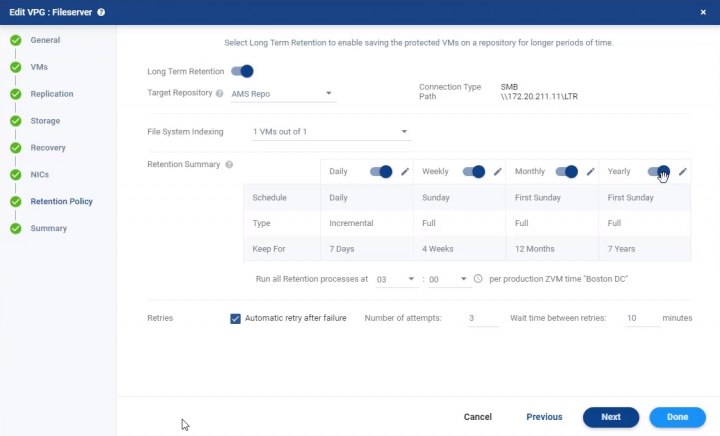 Indexing and search – The indexing and search across on-premises or cloud will allow recovery for long and short-term retention. Whether you're replicating to another on-premises datacenter room or to the cloud, the search is global.
You can activate indexing on specific VMs only. Usually file servers. But for other VMs you can leave it unchecked as indexing, as you imagine, takes longer to process.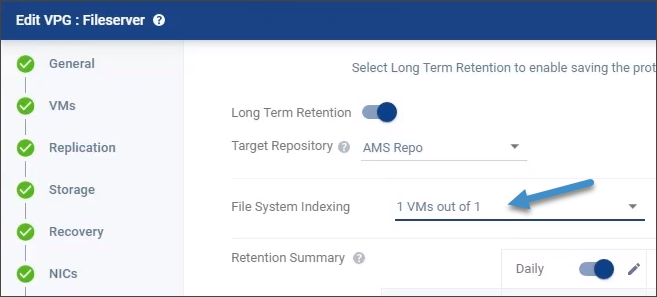 Retention Status shows which VPGs are enabled with long-term retentions and how many restore points are available, how big is that VPG and how much
How to recover from Long term retention?
A very simple workflow that has been redesigned since the previous release. You simply go to the Action menu on the right.
Actions menu allows you to trigger restore operation. Basically, just go to the actions menu and click Restore.

This opens an overlay window with a completely new workflow where you can restore from VPG and you select the VM you want to restore.

The next step is the retention point.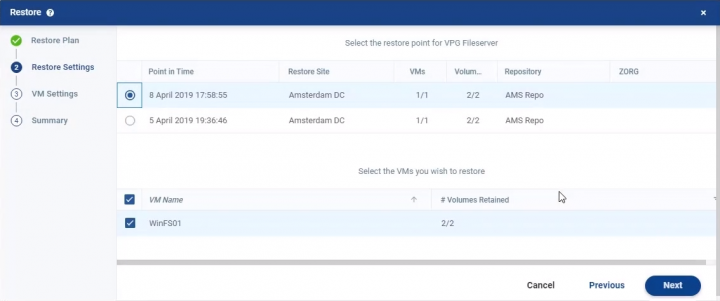 And then you select the VM settings (can be edited/changed what you want to restore). This screen allows you to chose a host to which you'll be restoring. By default you'll be always restoring on the Restore site (Recovery site) so this will not impact the performance of your production site.
Select the VM > Select Restore on Host > Select the Datastore.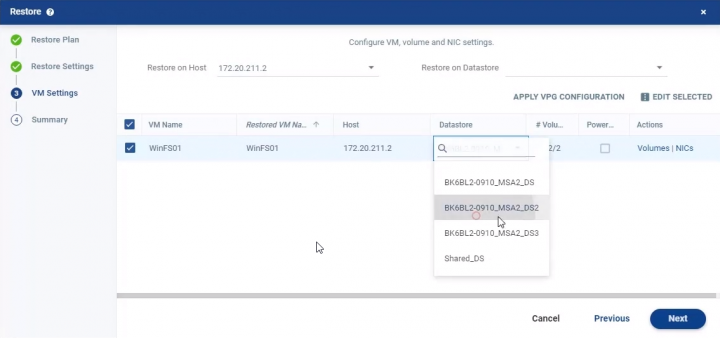 And finally, you'll see the recap window.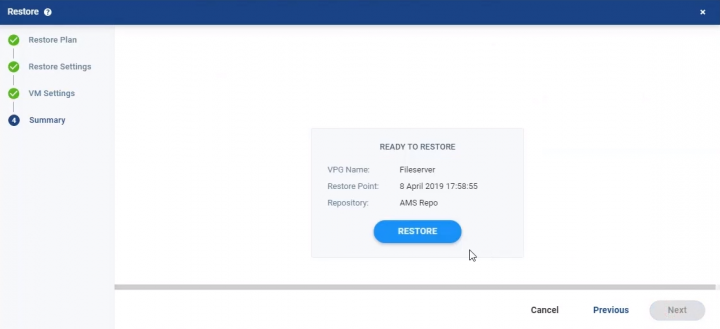 The indexing allows searching through files on a particular VM, so if you're looking for a particular version of a particular file this Search and Restore action allows you to do so. The system shows actually two points in time version and we have a choice to restore the one we need.
To access that, you again use the Action > Search and Restore.

Repositories
There are many different storage types supported and backup appliances:
HPE StoreOnce
ExaGrid
Dell EMC Data Domain
Other De-duplicated Storage Appliance
Network share
SMB and NFS are supported right now, other protocols will be added.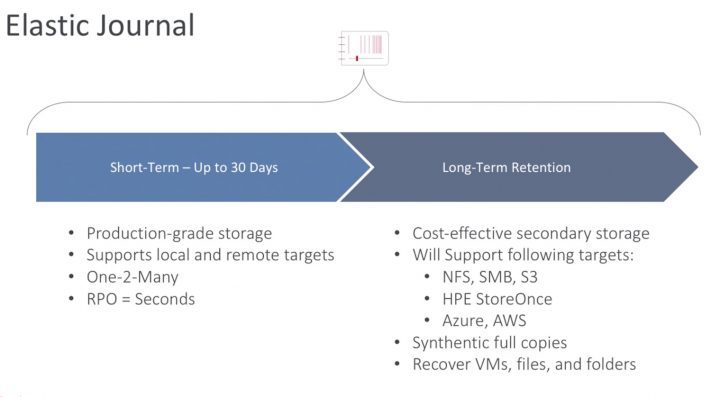 The short-term journal will be located on-site for fast restores where long-term retention will be located in more cost-effective storage. For the long-term retention, there will be many options, many storage targets, which will be supported. Here are the principal ones: NFS, SMB, S3, HPE StoreOnce, Azure, AWS.
More from the Release notes:
Converged DR & Backup: Replacing periodic backup with continuous data protection combined with powerful journaling technology for both short-term and long-term data retention.
Cloud Enhancements: Increased Microsoft Azure RTO performance and new AWS encryption features.
Advanced Analytics: New Resource planning and 'what-if' scenario modeling to create plans for network, storage and compute resource requirements.
Platform Enhancements: Delivering ease of use, operational enhancements and additional flexibility for users
New GUI & Improved User Experience: New GUI and simplified workflows to further enhance ease of use and enable intuitive and scalable operations
Enhanced Retention Settings – Retention settings can now be configured for Long Term Retention per VPG. The available Retention periods are:
Daily Incremental Retention
Weekly and Monthly Full or Incremental Retention. Either Weekly or Monthly Retentions must be set to Full.
Yearly Full Retention
Check out the full Release notes here.
I invite you to watch this demo video of Zerto 7 (from which those screenshots were taken actually).
We can expect that 2019 will be a big year for Zerto as they're planning two major releases. 7.0 and 7.5 where the latter one would complete the product cycle.
We'll be writing more articles on Zerto 7 soon. Stay Tuned. This was an introductory post that showed some details from the new workflow windows, but there is way more to show.
Check out Zerto's website here.
Other posts about Zerto:
More from ESX Virtualization
Stay tuned through RSS, and social media channels (Twitter, FB, YouTube)