StarWind VSAN can take advantage of the fiber channels too, in case you did not know. If you're maintaining your fiber channel infrastructure and want to improve your high availability there is a way to do it with StarWind VSAN instead of buying a new fiber channel SAN device.
In fact, StarWind itself is able to handle HA and can utilize the existing Fibre Channel infrastructure. What StarWind does is active-active storage replication. This way, the existing Fibre Channel-based infrastructure remains intact, providing shared storage for clients, while StarWind handles synchronous replication. As a result, there is no need to invest in new hardware and reconstruct the exciting infrastructure to implement alternative storage protocols.
The problem with a SAN is that it is the device that is the single point of failure. If you have only a single SAN array, and the motherboard fails, you lose access to your VMs stored on the datastores that are on the SAN.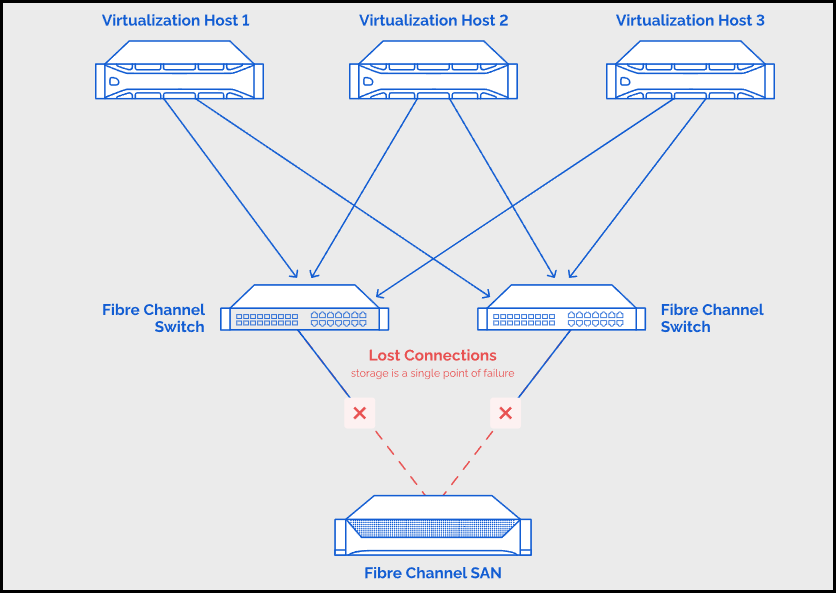 StarWind's solution is highly available by design. It replicates the storage between nodes, via synchronous replication.
StarWind first creates an HA device on the first node and then on the second node. Redundant network links are used between the StarWind hosts to maintain storage resilience. Those links are used for monitoring and failures.
In case you have a failure on one node, there is still the second node providing access to your VMs.
If any of the nodes fail or stop processing requests properly, the failover is instantly initiated from the client OS/Hypervisor side. StarWind has also an internal heartbeat mechanism, which ensures proper storage path isolation in the event of synchronization network failures and prevents the so-called storage "split-brain".
When configuring a heartbeat, you avoid so-called "split-brain", situations when the HA cluster nodes are unable to synchronize but continue to accept written commands from the initiators. With StarWind Heartbeat technology, if the synchronization channel fails, StarWind attempts to ping the partner nodes using the provided heartbeat links. If the partner nodes do not respond, StarWind assumes that they are offline. In this case, StarWind marks the other nodes as not synchronized, and all HA devices on the node flush the write cache to the disk to preserve data integrity in case the node goes out of service unexpectedly.
Here is an architectural screenshot from StarWind showing the node's replication within fiber channel storage infrastructure.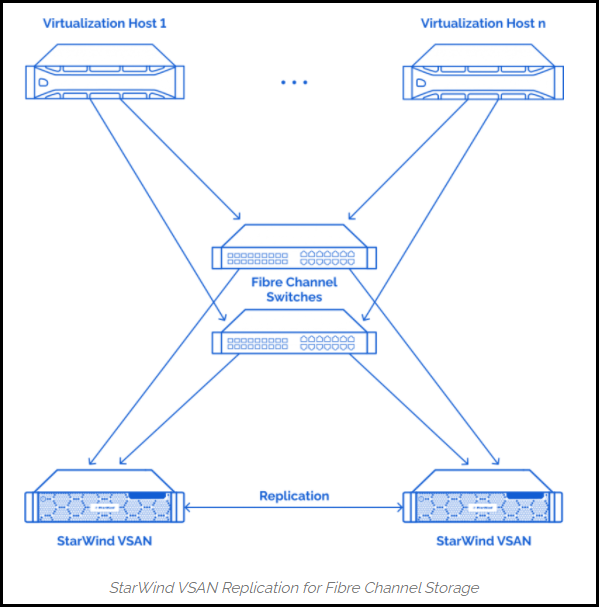 StarWind itself has many more features present in SAN devices. One of the features is multi-tiered server-side caching.
Multi-Tiered Server Side caching – For over a decade, storage devices are loaded with a cache. The cache can be RAM, SSD of a different kind (SAS, SATA, NVMe…). Write-back cache data is written to the underlying storage through RAM, usually. If there is a failure, the RAM content is gone, lost.
StarWind VSAN can be configured with a cache on SSD. The data are protected and in case a host goes down, the full resync does not even have to be triggered as the logs stored in the SSD pool are not lost. (They would be in the case of RAM only). That's why StarWind with cache stored on SSD is an interesting and flexible solution. The RAM is still used for caching, but the time the data stays in RAM is fairly small, so the risk is minimized here. StarWind calls it Log-Structured Write Cache.
StarWind just updated their technical page (also available as PDF) StarWind Virtual SAN for vSphere Configuring Fibre Channel with Qlogic HBAs.
There is still many fiber channel infrastructure around. They are very reliable indeed, but when your capacity needs grow more than likely your older FC SAN device can't keep and invest a lot of money into new FC SAN while still willing to have high available storage, which might cost more than you think. StarWind VSAN might be the solution with StarWind appliances using commodity hardware. Check the details with StarWind.
Source: StarWind and Fibre Channel
More posts about StarWind on ESX Virtualization:
More posts from ESX Virtualization:
Stay tuned through RSS, and social media channels (Twitter, FB, YouTube)