As you might notice, StarWind VSAN now supports VMware VVOLS. If you're new into VMware VVOLS, you should perhaps check some VMware documentation, or we have an article about storage and  VMware VVOLS as well.
Virtual volumes are object exported by a compliant storage system. vVOLs correspond one-to-one with a VMs disk and other VM related files. No more datastore management.
vVOLs are mapping virtual disk, snapshots, and replicas, directly to objects, which we call virtual volumes, on a storage system. This mapping allows vSphere to offload intensive storage operations (snapshots, cloning, replication) to the storage system.
When creating a volume for each individual virtual disk, it is possible to set policies more granularly, more optimal.
StarWind VVOLs allows you to create two capability profiles. There are a standalone embedded preconfigured profile and highly available profile. Capability profiles define performance and capacity specifications of the VVols datastores.
Information like the type of storage, caching and provisioning method can be found at profiles.
StarWind VVols provides the VVols functionality to VMware vSphere Cluster interacting as Storage Provider. VVols Datastores connected to vSphere Cluster are presented by StarWind Cluster Service that handles all the storage operations.
Overview of the architecture. Screenshot from StarWind.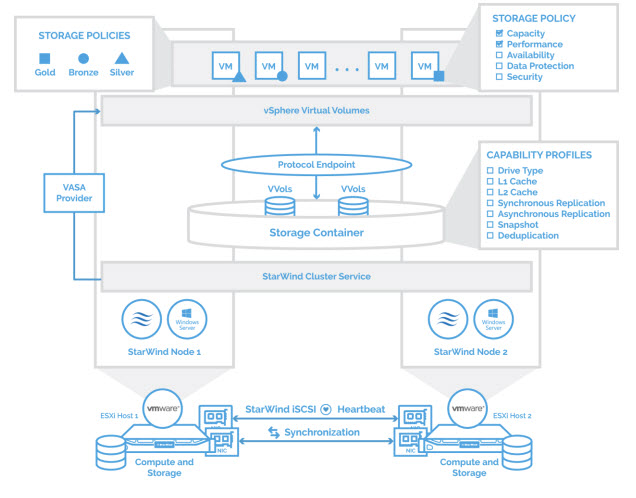 When a virtual volume is created, it is assigned a storage policy profile. The VVols datastore will show as compatible storage in vCenter or the vSphere Web Client if the associated capability profiles meet VMware storage policy requirements.
There is a step-by-step guide at StarWind website. We can show a screenshot from that guide below. Link.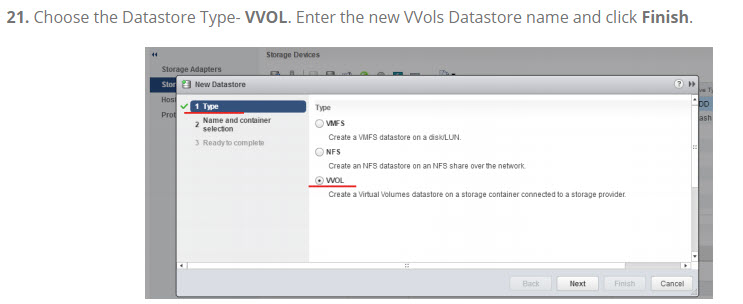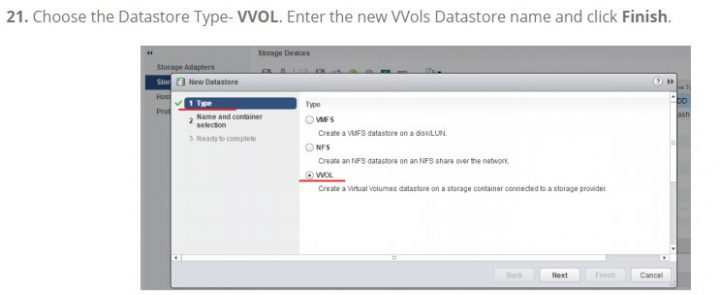 Quote:
StarWind VVols makes storage management and provisioning highly efficient, transparent and automated by presenting each virtual machine and its disks as an atomic manageable infrastructure unit. With the integration of vSphere storage management technologies, StarWind Appliances provide VMware administrators with full capabilities of enterprise storage management.
About StarWind
StarWind's new offering (quote):
StarWind Virtual SAN for Hyper-V – is a Software-Defined-Storage stack designed specifically for implementation on the Microsoft's virtualization platform. VSAN installs as a bare metal Windows application directly on the Hyper-V cluster nodes intended for the virtualization. Once installed, it creates a highly available storage pool for the entire cluster. StarWind VSAN for Hyper-V smoothly integrates with Windows Server management and security tools to provide administrators with a centralized user-friendly StarWind Management Console.
StarWind Virtual SAN for vSphere -is a VMware-only Software-Defined-Storage stack. A ready-to-go Linux VM installs on the cluster nodes to share their storage resources.
Once installed, Virtual SAN creates a fault-tolerant storage pool available to the entire vSphere cluster. VSAN users get limitless virtualization capabilities in terms of features, storage capacity, and cost-efficiency. Enterprise-level functionality and performance are available in the infrastructure of your choice.
StarWind Virtual SAN FREE Version Features:
StarWind Virtual SAN Free is completely unrestricted: it is allowed for production use, supports all usage scenarios of the commercial version, has a perpetual license, and is not feature- or functionality-limited version of StarWind VSAN.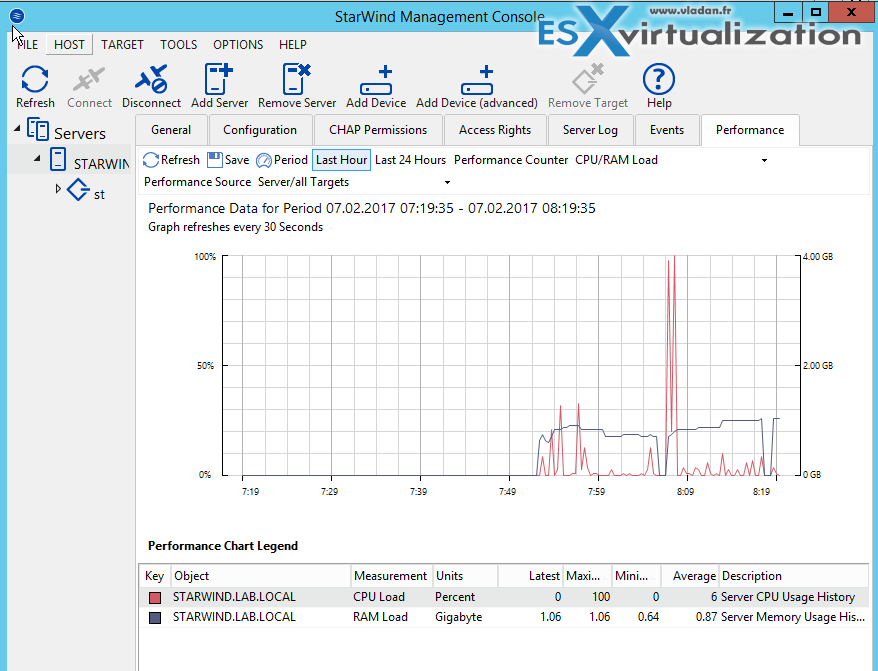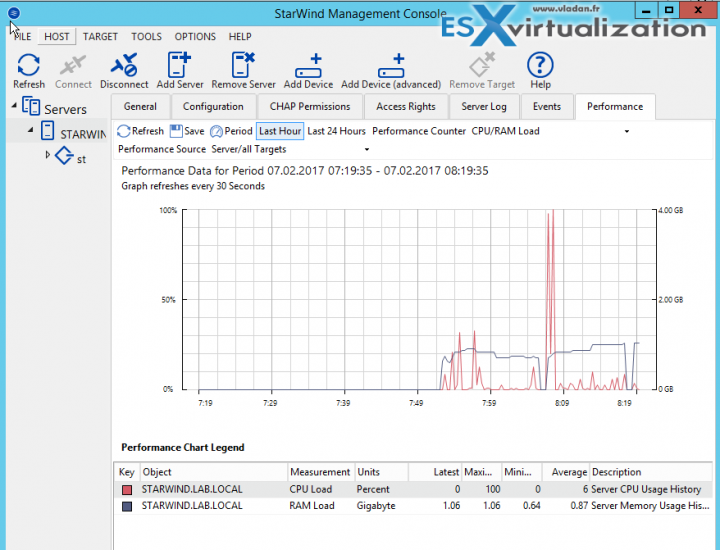 No Capacity Restrictions – you can use as many capacities for your mirrors, as you like (previously restricted)
No Scalability Restrictions – as many nodes as you like. (previously limited to 2-nodes only)
No Time Limit on License – The Free license if for life. After 30 days, the only management option you'll have is PowerShell or CLI.
Production use – can be used in production, but if anything goes wrong, you will only find support through community forums.
PowerShell Scripts – StarWind Virtual SAN Free is shipped with a set of ready to use PowerShell scripts allowing users to quickly deploy the Virtual SAN infrastructure.
No StarWind Support – only community-based support.
StarWind HA – The shared Logical Unit is basically "mirrored" between the hosts, maintaining data integrity and continuous operation even if one or more nodes fail. Every active host acts as a storage controller and every Logical Unit has duplicated or triplicated data back-end.
No virtual tape library VTL as on the paid version.
Wrap UP:
By creating VVOL datastore you'll be able to assign performance and availability capabilities to your VMs (disks) on more granular fashion. With StarWind VSAN you are able to configure HA VVols Datastore by registering a StarWind VASA Provider in VMware vCenter Server.
So vCenter and StarWind storage can better communicate and better use the provided storage.
Source: StarWind
More posts about StarWind on ESX Virtualization:
More from ESX Virtualization
Stay tuned through RSS, and social media channels (Twitter, FB, YouTube)