If you're Snagit user then you might stick with Snagit as it's a very good software. But Snagit is not free. When looking for Freeware application then you might be interested by ShareX which is a Free Screen Capture Utility with some huge amount of options. In fact, the tool has several built-in utilities in one.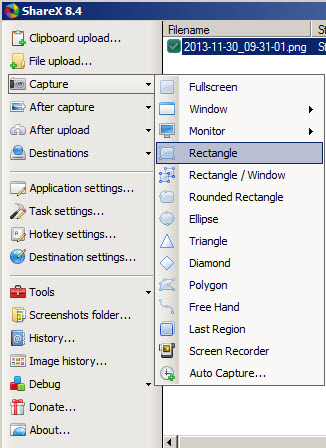 To  start first, the software is also available as Portable application if you don't want to install it. It support watermarking, direct uploading after capture and many more options. Let's see…
ShareX can capture fixed areas, full application windows, full screen (of course) and even freehand regions. Look at the picture on the left to give you an ideea. With the built-in editor you can annotate the images you capture. As being said, the tool support watermarks which can be added each time you take a screen capture.
The auto-upload can be configured to upload directly to some online repository or to post to Twitter, Facebook or other quick sharing on social media networks.
ShareX also has to possibility to record videos, via built-in screen recorder, and those videos can be saved as an animated Gifs or MP4 videos… I haven't tested this feature yet…
Also there is a built-in timer, which allows taking screenshots as Auto Capture, during periodic time periods. You can set up a region or full screen.
Built-in screen color picker might be handy as well.
The possibilities and endless so there is certainly a learning curve. You'll have to spend some time to configure, learn how to do stuff and to master this piece of software, but I think it's quite outstanding.
It's available as a Freeware, where you can donate few dollars (Euros) to the authors…
ShareX can be downloaded from this link.
Enjoy.. -:)
The article was published first at ESX Virtualization website. Feel free to subscribe via RSS or by e-mail to get the latest news to be delivered via weekly newsletter.