This is a new offer from the VMware Learning Zone. You'll get a 6 Month FREE access to a huge number of learning courses and videos. VMware Learning Zone is an online digital library including over 1500 videos, 65 self-paced courses, and 12 certification exam prep courses across all VMware solutions. This is a must register. Free VMware Learning Zone Access!
It is 6-month free access to the VMware Learning Zone. Your subscription will expire 182 days from the date you register for the promotion. You can register until November 6th 2020.
VMware has recently updated and improved VMware Learning Zone User Interface and they're adding content on a regular basis.
Learning new skills is hard and needs motivation. During those difficult times one can take advantage of free learning as at least it does not cost you a dime.
What courses can be found?
Digital training options include online courses, labs, and videos that help build your VMware knowledge and skills
Access to training that spans the VMware product portfolio including VMware Workspace ONE, NSX, vRealize Suite, vSphere, and more
Expert-level instruction helps you configure, deploy, and troubleshoot your VMware solution
The FREE Premium Subscription includes access to valuable content such as:
The full Learning Zone video library
Advanced troubleshooting, configuration, and solution-oriented best practice videos
12 Exam Preps (over 650 videos)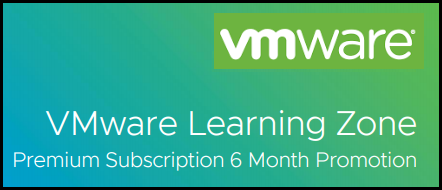 Quote from VMware blog post:
We are all facing different needs currently. If digital learning is not top of mind right now, we get it. However, if it can help you grow the skills you need to better meet your or your organizations current IT challenges, take a look at the learning available as part of the VLZ Premium Subscription and sign up for complimentary access today.
Checkout our vSphere 7 page below where you'll find the latest vSphere 7.0 related articles I'm publishing on ESX Virtualization Blog but also posts which gets published on a partner site at 4sysops.com -:).
Enjoy…
Source: VMware Blog post
More from ESX Virtualization
Stay tuned through RSS, and social media channels (Twitter, FB, YouTube)