Popular storage operating system (OS) that many administrators are using within their IT environment for storage, has released a new update. FreeNAS 11.3 has quite a few new improvements which are worth to look at.
The OS uses FreeBSD distro and  ZFS as a file system allowing you to set up snapshots and replication to another location with another FreeNAS box to have a DR solution.
However the File sharing is the main goal here and here we can find all main protocols such as SMB/CIFS (Windows File shares), NFS (Unix File shares) and AFP (Apple File Shares), FTP, iSCSI (block sharing) etc.
The UI is web-based so you have a real pleasure to configure and maintain this solution via a web browser. It got a nice facelift since I last time I was playing with it.
I've used FreeNAS when I was learning for passing VCP and one of the interesting things to do was to set up an iSCSI connection from VMware ESXi to the FreeNAS box (or VM). You can actually build a cheap lab with VMware Workstation and use FreeNAS as shared storage for all your lab VMs, connect multiple ESXi to it, create vSphere cluster, test vSphere High Availability, vMotion etc.
FreeNAS (or other storage appliance) is the preferred method when your environment does not have enough RAM or CPU power to configure VMware VSAN (which needs 3 hosts).
Let's have a look what's new in FreeNAS 11.3 this time. Freenas Installation takes about 15 min of your time. Screenshot from my lab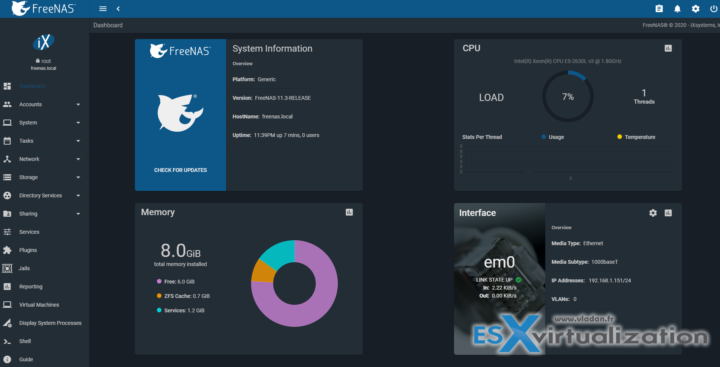 FreeNAS 11.3 new features and improvements: (from the release notes)
Re-implemented Replication Engine, allows up to 10Gb replication speeds (a 10x improvement), resume support on failed transfers, as well as ability to replicate locally.
ACL Manager – Allows setup and management of SMB ACL's directly via the FreeNAS web interface.
SMB Shadow Copies are now enabled by default for new shares – Note: Snapshots will only show up in Windows "Previous Versions Tab" if the snapshot USED size shows changes to the file.
A repository of Community plugins has been created, users can now create and distribute 3rd party plugins which are not officially iXsystems supported.
Updated translations for Czech, French, Japanese, Russian, and Simplified Chinese. Additionally, the process to add additional translations has been greatly improved.
iSCSI Wizard – Streamlines the process of creating new iSCSI targets down to a few clicks.
Alert System Overhaul – More granular alerts, as well as controls to set alert thresholds.
Dashboard Updates – The initial dashboard now shows a live view of system status, including network traffic, CPU / memory utilization and more.
NAT Support for Plugins – Eliminates the need for each plugin to have a dedicated IP address on your network.
Full featured 2.0 API – Includes both REST and Websocket connections, allowing FreeNAS to be fully scripted and driven via the same API used by the web-interface.
Large Pool Creation Assistance – When creating ZFS pools with large number of disks, the UI provides an automated way to repeat a VDEV layout across all remaining disks.
ZFS Performance optimizations across the board for many different workloads.
FreeNAS is evolving with every release. I'd like to highlight also the traductions to many languages as well which is great for spreading to different countries.
Get your copy here – FreeNAS.org
As being said, FreeNAS is definitely one of the Freebies I'm keeping on hand, installed as a VM in the lab to quickly test stuff.
The lab setup is now fully nested with only a single system having 128Gb of RAM, with VMware Workstation.
As I moved to a smaller apartment at the sea level, the heat generated by the lab would have been quite unsupportable. -:)
More from ESX Virtualization
Stay tuned through RSS, and social media channels (Twitter, FB, YouTube)