I'm sure that everyone knows about this tip anyway, but…. You know, folks working with other hypervisors or the ones which do not manage VMware ESXi and vSphere on daily basis, do not know about it so they need help. In this post, we will learn How To Disable Timeout on your ESXi Host Client – The Easy Way.
The previous version of VMware ESXi did allow to disable completely the timeout through an advanced host parameter and we have reported on it here. This was for ESXi 6.5.
In this post, we'll show the same but on the latest ESXi 6.7 Update 1. We do not need SSH access or go to an advanced section of the host to modify some parameters. It's really simply accessible through vSphere Host client.
This is applicable on individual ESXi host, which can be running in a lab or an isolated. Not connected to a vCenter server. Because If you would have ESXi host client connected to vCenter server, you'd probably manage that host and its resource, through vSphere Web Client (and not the ESXi host client).
How To Disable Timeout on your ESXi Host Client – The Easy Way [Tip]
Connect to
Note: It's not really recommended to put this setting on unless you're running a lab or non-production workloads.
Here is the screenshot.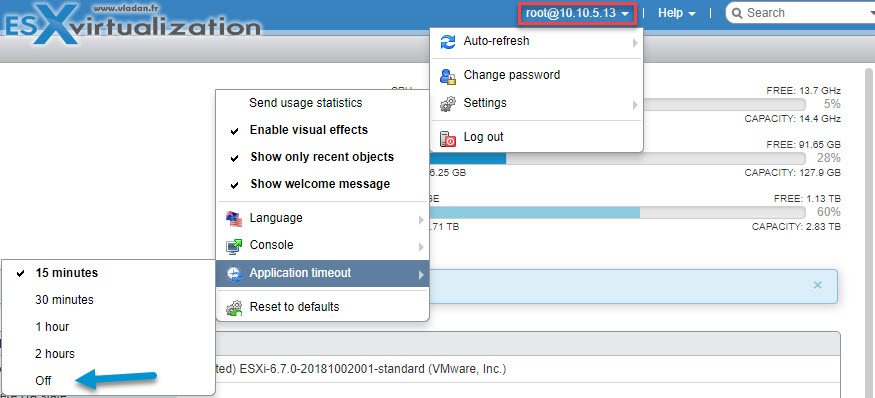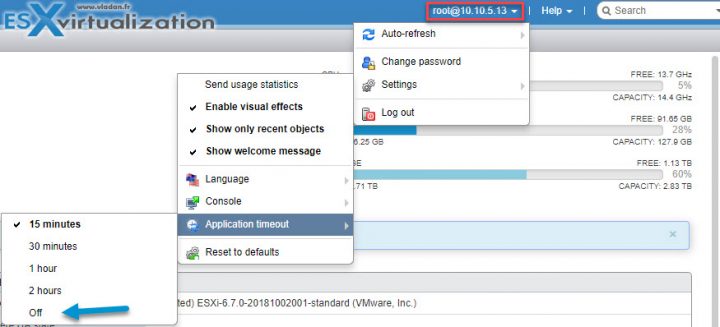 And VMware warns you when you just click on the "Off" menu. Right after, you'll receive a pop-up window telling you that the
"Disabling session timeout could leave your ESXi host vulnerable to malicious activity. Are you sure you want to disable the session timeout?

Check this tip.
Tip: Check our vSphere 6.7 page where you'll find other tips, upgrades, installs and other useful information.
As you know, the host client evolves over time. Each new version of ESXi brings usually a new version of the host client. VMware folks are continuously improving the user's experience and they also listen to the customers. So if you have a feature or function which you would like to implement, don't hesitate to comment or send an email directly to VMware.
The usage of ESXi Free is obvious. You can use it for learning, testing workflows, small DR tests, validating architectural decisions.
The next step would obviously be one of the entry-level VMware packages like vSphere Essentials or Essentials Plus, where the Essentials Plus offers not only vCenter Foundation but also many other products within the bundle, including backup solution vSphere Data Protection (VDP).
Shop for vSphere licenses at VMware Store:
The Essentials Term can be useful for a lab project which yoiu know that it will end, but you still wants some features which are NOT available in the ESXi Free version. (Cloning, for example).
Essentials Plus which has vSphere High Availability, is an obviously better choice. Because, if you have an unplanned hardware failure, vSphere HA can restart automatically those VMs which failed with the host. Those VMs are automatically restarted on other hosts which are part of VMware cluster.
There is small downtime during which the system figures out which host has failed and which are the hosts that are able to start the failed VMs. Once this automatic decision is taken, the VM boots up. The whole process is completely automatic and acts without the admin's intervention.
Requirements of vSphere HA?
A shared SAN/NAS storage
An IP address of a Gateway which you can ping and which has some kind of resiliency.
VMware vCenter Server (part of Essentials and Essentials Plus bundles)
Also recommended:
More from ESX Virtualization:
Stay tuned through RSS, and social media channels (Twitter, FB, YouTube)