This is another post for our series of VMware Mirage. There are plenty of people actually not knowing that VMware Mirage is not only a backup product, application management product but also a migration product. You'll see it later in our series where we plan to do a migration of W7 to W10. This post is called How to Install VMware Mirage Server.
VMware Mirage is All In One hybrid product for endpoint management. Today we will install another piece of the suite – a single instance of Mirage Server which role is to manage the storage and delivery of base layers, application layers and Centralized Virtual Desktops (CVDs) to clients.
VMware Mirage divides OS, Applications and User data into different layers which can all be updated or restored individually and reduces the difficulty of maintaining a consistent corporate image on physical devices.
Mirage has been designed from the ground up for a highly distributed environment. Network compression of up to 30 to 40 percent, data deduplication, and Branch Reflectors also reduce the network traffic load.
VMware Mirage Server also consolidates the monitoring and management communications. This instance can further scale out by adding more nodes to form a cluster in order to handle the load for larger environments.
How to Install VMware Mirage Server
Step 0: Connect to your server where you'll be installing Mirage Server as "MirageAdmin" user we have created in the pre-requis post.
Step 1: While we could install VMware Mirage Management Server with "run as" command, the Mirage Server install needs a little bit more attention. We will stress little bit the UAC and launch of an elevated command prompt to start with.
We are stressing this because in the lab deployment we had problems with privileges and failed installations because of that. If you're having problems during installation of Mirage Management
Note: If you're having problems during installation of Mirage Management Server, do the same as below to launch the Installation MSI package.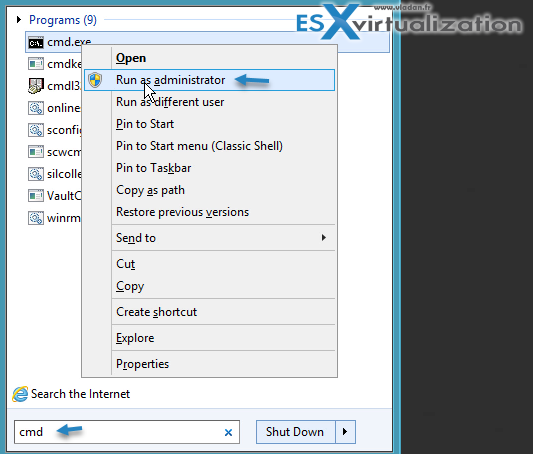 You should normally see a UAC prompt.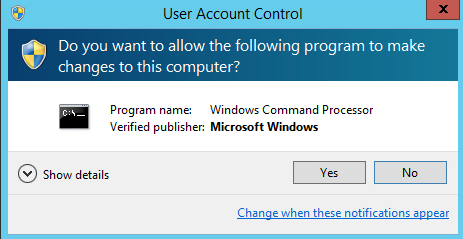 Note that we have left the UAC settings at their default settings.
Step 2: Open a Windows Explorer and locate your VMware Mirage server installer > do a Right click > select Copy as Path.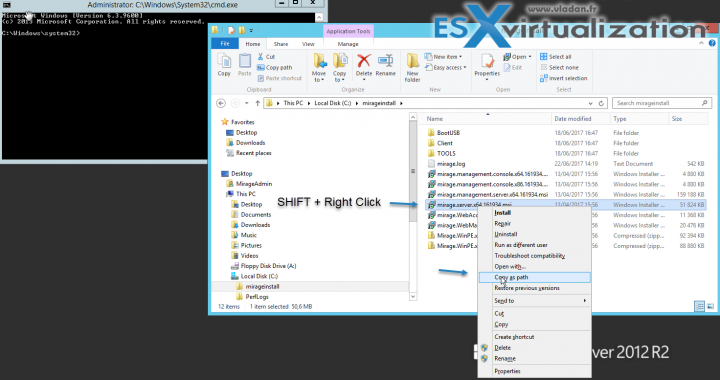 Step 3: Do a right-click within the command line window > select Paste.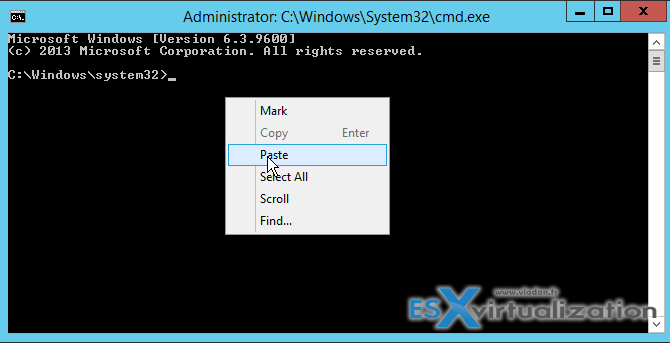 Step 4: Then hit enter and start the installer. From there it is quite simple. Just follow the assistant > Accept the license agreement and then indicate the same SQL server and instance as during the installation of Mirage Management Server.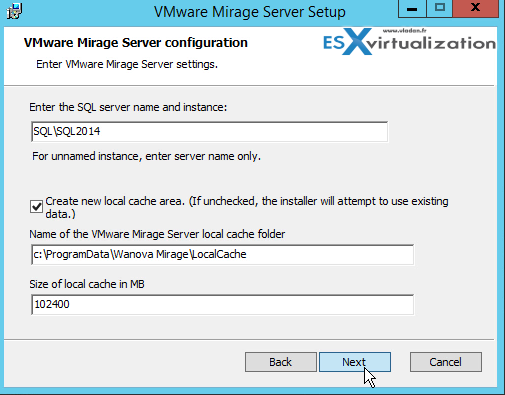 Note that we increased the capacity of the system disk (to keep things simple) to about 200 Gb. You might want to add a separate disk to your VM for the Local cache, to keep things separate.
We don't use certificates in our lab test, so we skip this.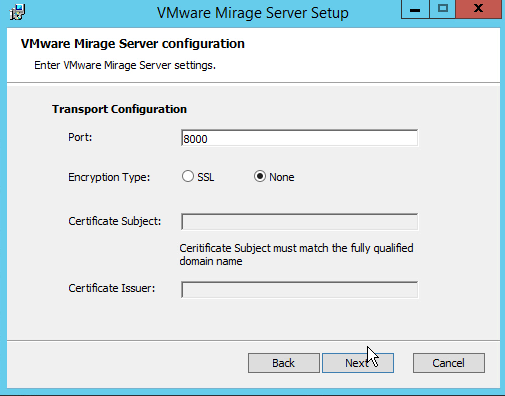 Step 5: We have the Mirage Service account configuration. We're still using the MirageAdmin login and password.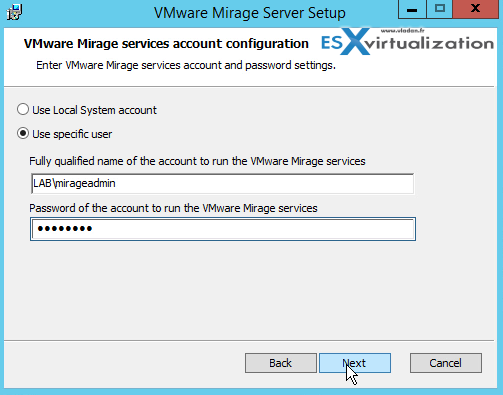 Completed…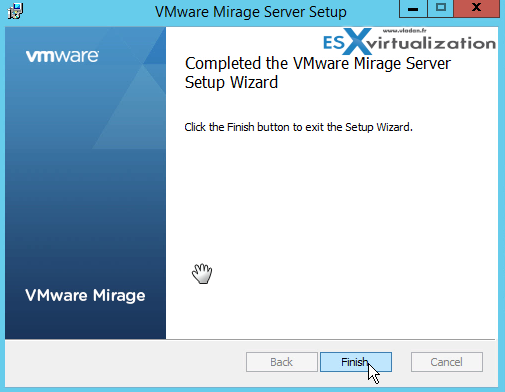 Note that you'll have another prompt after that. You'll be asked to reboot the server to finish the installation.
We have done a video of the whole process too. You might be interested in checking it out. It's a Full HD video you can watch in Full Screen. Enjoy…
VMware Mirage Guide
Server Installation and Configuration
How To Install VMware Mirage Server – [This Post]
Image Management (through Mirage console)
VMware Endpoint Management
VMware Mirage Licensing and pricing
VMware Mirage has a simple licensing system. You can buy it either as:
Standalone VMware Mirage product
Horizon View Advanced or Horizon Enterprise.
VMware Mirage standalone sells in a package of 10. (or 100 licenses). So if you buy 1 copy and it allows you to manage 10 endpoints.
There is an option only to license the Windows migration feature. In this case, you're buying a 6-month term license focused on subscription.
With the VMware Mirage system, you have centralized control of a full desktop instance in a distributed infrastructure. You can update a single base layer in the data center, and automatically synchronize the full image with all associated endpoints when they connect to the network. You can enforce all layers without overwriting user-installed applications, data, or preferences. With VMware Mirage, you can migrate operating systems while preserving user profile and data.
Stay tuned through RSS, and social media channels (Twitter, FB, YouTube)