VMware Mirage series continues today with a new post called How to Apply a VMware Mirage Base Layer. The workflow is simple. Previously we have deployed our Mirage cluster with Two Mirage Management servers, one Mirage Server, Separate SQL server, File Server. We have also created a base layer with the essential corporate applications and settings. In this base image layer there are also all Windows patches and any other configurations, such as VPN clients and settings.
Now, what we do today, we will use a new system. It can be a new laptop/desktop preinstalled from a reseller or an Online shop. It can be also any other device. We will apply our Base Image to it. Our base layer has all the corporate applications, Windows patches, VPN configurations etc.
How to Provision a New Endpoint with VMware Mirage Base Layer? – The steps
Step 0: Go to the endpoint and Install VMware Mirage Client specifying the mirage server. In our case it is:
miragesrv01.lab.local
[Optional] Reboot the machine.
Step 1: Go to the VMware Mirage Admin Web console and select Pending Devices > Select the endpoint which should appear in the list of Pending devices > Provision Endpoint.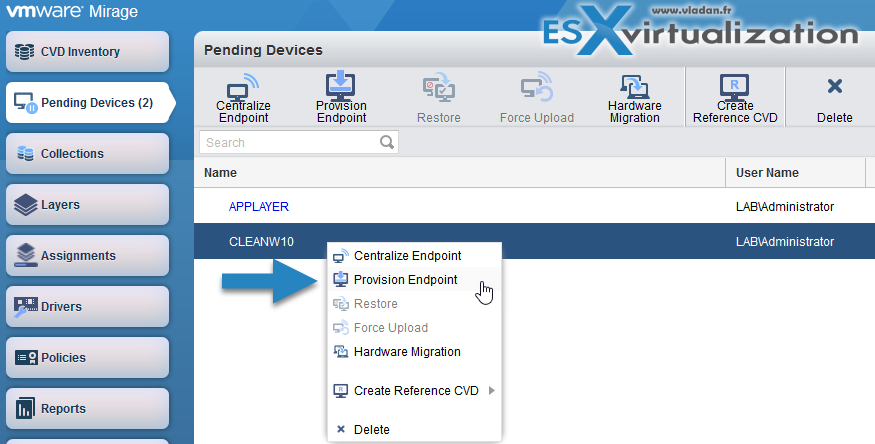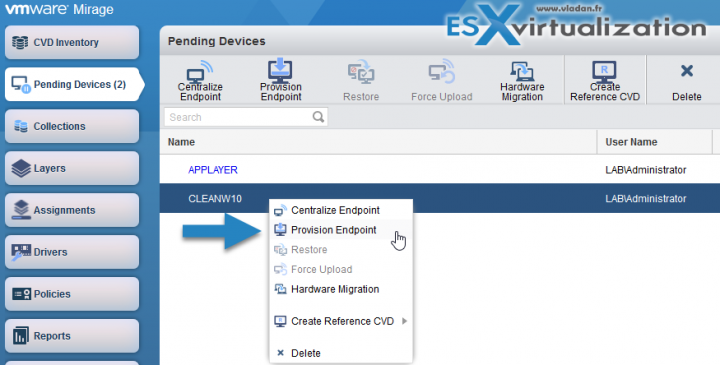 Then follow the assistant. Again, we only have the default CVD policy which we're using for this demo.


Then select the option you like to do. Either you can Download and apply Layer OR just Only Download Layer. The latter one simply just downloads the layer to the endpoint, but does not start the deployment just yet, which can be launched at a later state.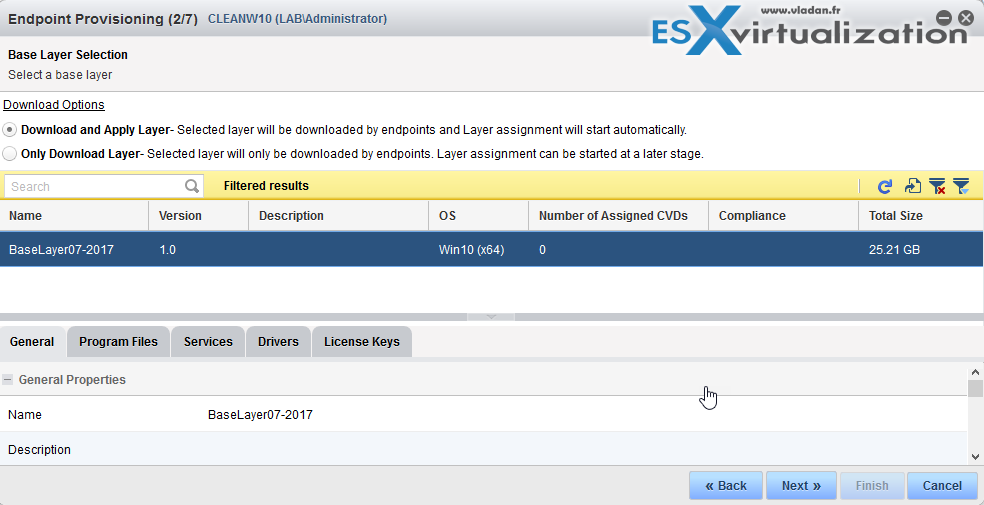 Now very cool. We have the possibility to assign an application layer. In case you have already prepared an application layer (we did – check our post on it here How to Capture an App Layer?)
But for the purpose of our demonstration, we will only assign the Base layer.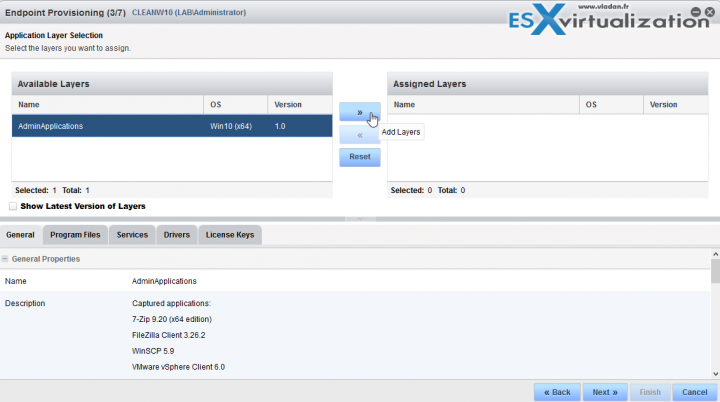 Now, just to pick a volume where we store our layer. We have only single 800Gb Volume within our test lab.


We can assign a new name to the endpoint if we want to. And also we can join the device to our corporate domain.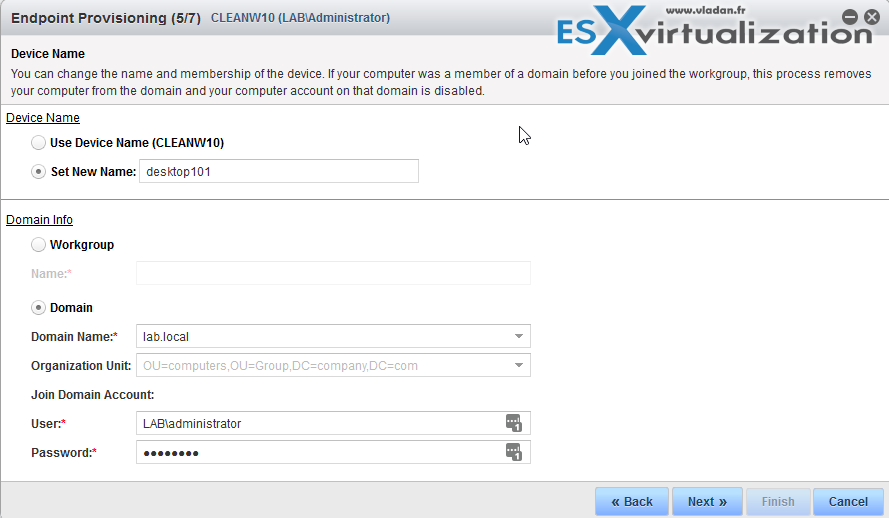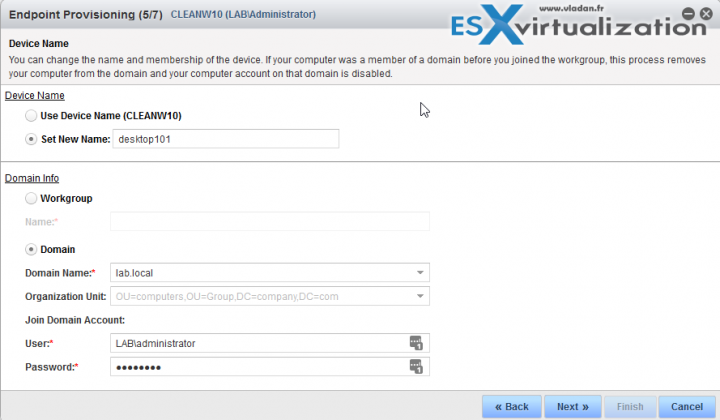 Validation screen showing us how many devices we're provisioning.


And final, summary screen.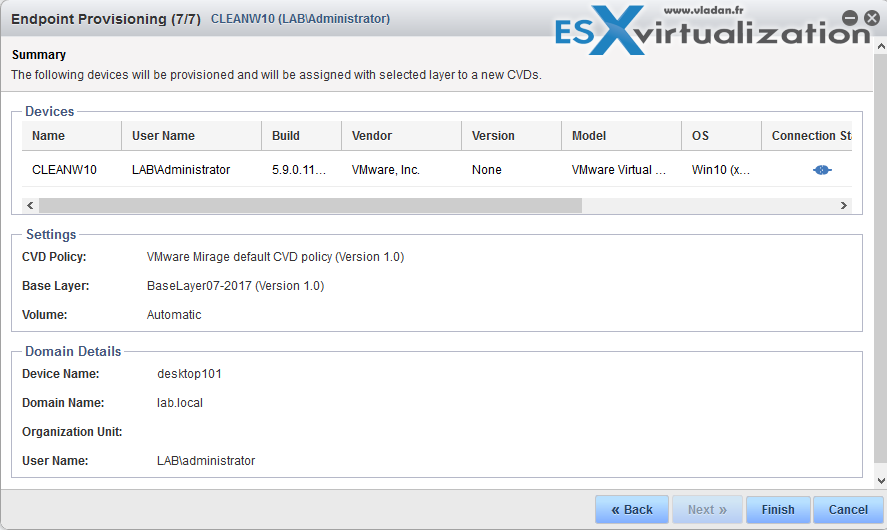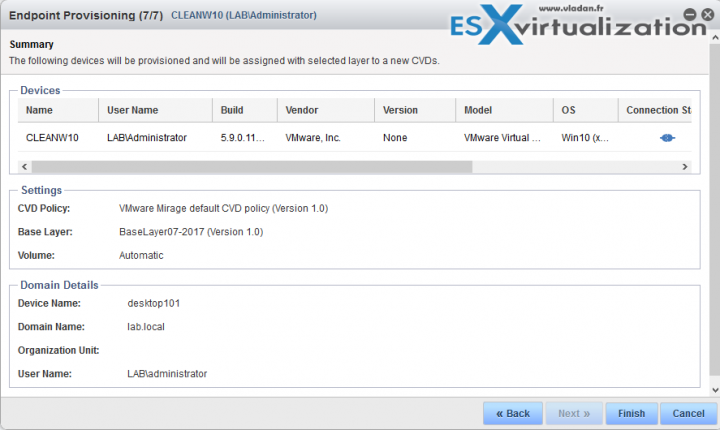 We can go to check our endpoint for progress…. Looking good.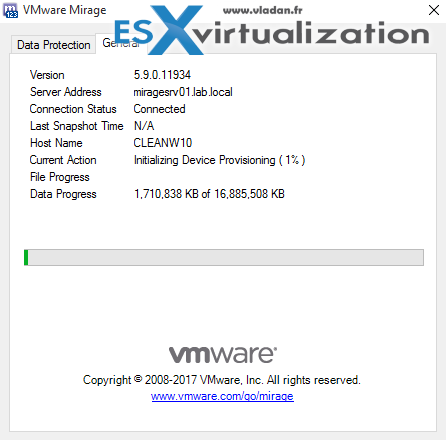 Well, that's about it. Afterward, we'll have a pop-up window within our endpoint, asking us to reboot. After reboot, we'll have our base layer applied with the base application we have installed and the options we have configured when we first Created a Reference CVD for Base Layer Capture.
There is a short video showing how does it looks like …. (no voice this time).
And finally, one more reboot is necessary

to complete the update.
Wrap Up:
We only provision new endpoint this way as the process erases all users data. In our case the system was new, coming from an online shop or from our hardware reseller.
VMware Mirage Guide
Server Installation and Configuration
Image Management (through Mirage console)
VMware Endpoint Management
How to Provision a New Endpoint with VMware Mirage Base Layer? – [This Post]
Stay tuned for the rest of the articles. They're coming….
VMware Mirage Licensing and pricing
VMware Mirage has a simple licensing system. You can buy it either as:
Standalone VMware Mirage product
Horizon View Advanced or Horizon Enterprise. (ex. 100 licenses of Horizon Advanced entitles you for 100 Mirage Users).
VMware Mirage standalone sells in a package of 10 licenses. (or 100 licenses). So if you buy 1 copy and it allows you to manage 10 endpoints. There is also an option only to license the Windows migration feature. In this case, you're buying a 6-month term license focused on subscription.
More from ESX Virtualization
Stay tuned through RSS, and social media channels (Twitter, FB, YouTube)