VMware Mirage series continues today with a bit strange topic. Strange just because I did not know much about this topic just few weeks ago. This proves that I'm far from knowing everything even if I follow close VMware technology and hold several VMware certifications. But let's move forward as VMware Mirage is a very cool backup and management product for desktops and laptops with also a possibility to mass migrate end users from Windows 7 (or XP, Vista) to Windows 10. Today's topic is What is VMware Mirage Driver Library?
Again, thanks again to VMware and Didier Danloy with the help on this series. The goal is simple. To popularize VMware Mirage which is a product that VMware acquired a few years back from Wanova and which provides centralized, single-image management through a unique layering technology that enables IT to manage, patch and ensure compliance of a single copy of Windows and a single copy of each application – instead of trying to manage thousands of diverse endpoints
VMware Mirage Driver Library is used to build a hardware agnostic Base Layer (master image) and highly reduce the amount of Base Layer that is needed to manage all the endpoints. With the driver library, you don't need to inject drivers into the Master image which highly reduce the size of the Base Image. Even critical boot drivers such as disk controller and network adapter will be automatically handled by the Mirage Driver Library.
The driver library is used during the following operations:
Centralization
Migration
Hardware migration and restore
Machine cleanup – Enforce layers
Base layer update
Set driver library
Endpoint Provisioning
Without configuring the driver library, you will face various type of issue such as problem to boot the endpoint, BSOD or network connectivity for any of the Mirage operations above.
VMware Mirage does not install the drivers, but delivers the driver to the endpoint and Windows determines whether to install the driver using Windows Plug and Play (PnP) mechanism which means problematic devices or outdated drivers won't be installed with the default Mirage Driver Library. There is, however, a driver library script that can be used to enforce drivers installation.
Below are the drivers that MUST be used when working with Mirage or any other OS deployment software such as MDT or SCCM. Regular drivers will work 95% of the time but not all the time and this is why OEM takes time to develop and publish specific drivers for deployment.
How to collect drivers:
Below is a list of available resources. I recommend you to search them in the order below:
Official OEM package:
Specific for VMware Virtual Machines:
Extracting the drivers from VMware Tools bundled with VMware Workstation (VMware KB2032184)
PowerShell script to export driver when the OEM does not provide drivers made for deployment:
Export-WindowsDriver -Destination "C:\Drivers\$((Get-WmiObject -Class win32_computersystem).Model)" -Online
Once completed, you should verify the output of the command and remove drivers that are not needed in the driver library. For example, most Printer drivers will be in a folder that starts with prn.
Third party software to collect drivers
Please keep in mind that they might sometimes cause problems and only with specific drivers. (For example Double Driver).
Where to import drivers within VMware Mirage?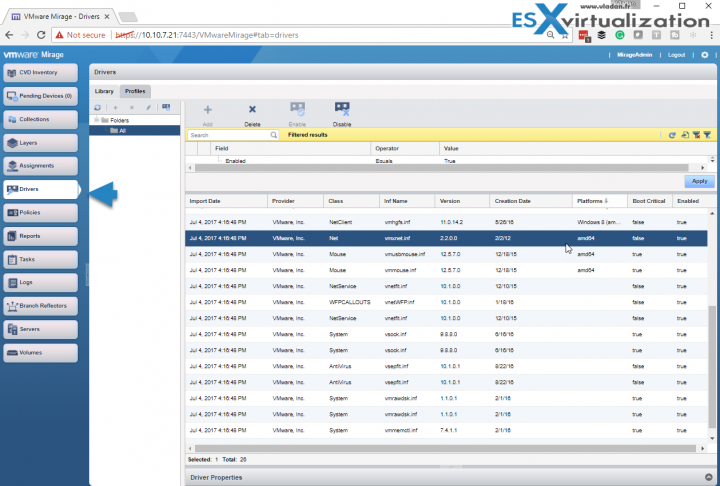 As you can see on the image above, I have imported drivers from within VMware tools into the Mirage Library. Connect to the VMware Mirage Web UI > Drivers >  Import.
You'll be asked to provide UNC path.
VMware Mirage Guide
Server Installation and Configuration
Image Management (through Mirage console)
What is VMware Mirage Driver Library? – [This Post]
VMware Endpoint Management
Next post will be actually doing the Installation of Mirage Management Server. (the biggest part).
VMware Mirage Licensing and pricing
VMware Mirage has a simple licensing system. You can buy it either as:
Standalone VMware Mirage product
Horizon View Advanced or Horizon Enterprise. (ex. 100 licenses of Horizon Advanced entitles you for 100 Mirage Users).
VMware Mirage standalone sells in a package of 10 licenses. (or 100 licenses). So if you buy 1 copy and it allows you to manage 10 endpoints. There is also an option only to license the Windows migration feature. In this case, you're buying a 6-month term license focused on subscription.
More from ESX Virtualization
Stay tuned through RSS, and social media channels (Twitter, FB, YouTube)