VMware Mirage system has built-in deduplication and compression. In a WAN environment which has remote sites usually with limited bandwidth connection to the main site, it is usefull to enable a feature called Branch Reflector and in this post we will detail Why and How Enable VMware Mirage Branch Reflector.
Using Mirage branch reflectors promotes efficient distribution to branch offices and remote sites where multiple users share the WAN link to the data center. You can enable the branch reflector peering service on endpoint devices that are installed with a Mirage client.
The branch reflector downloads base layer images, app layers, driver files, and USMT files from the Mirage server and makes them available for transfer to other Mirage clients in the site. Only files that reside on the branch reflector machine's disk are transferred and files are not requested from the Mirage server at all.
This way, files are downloaded to the branch reflector only once, and common files across base layers become readily available to other clients without duplicate downloads. There can be one or more branch reflectors activated on a remote site. The clients detects those branch reflectors automatically via proximity algoritm which checks several things such as if the IP address is on the same subnet or if it's the same AD as the client etc.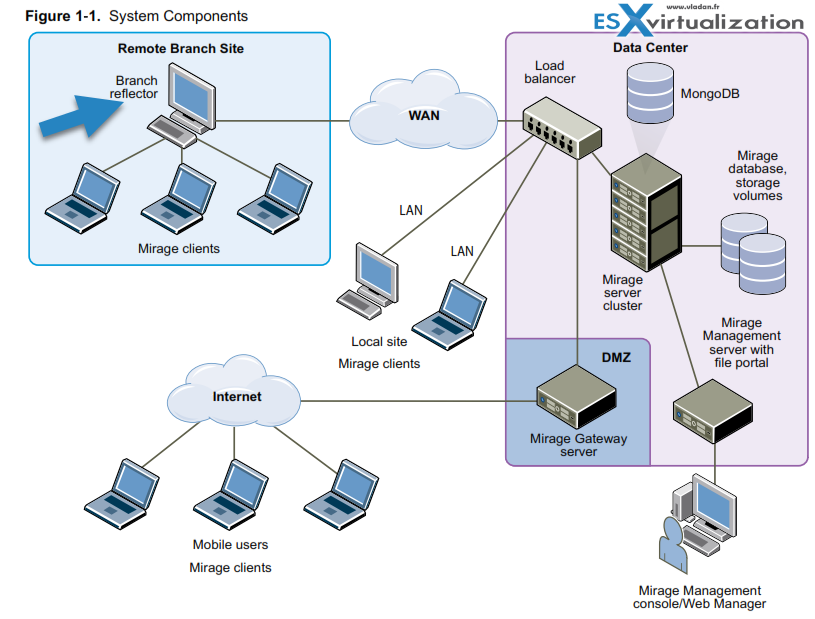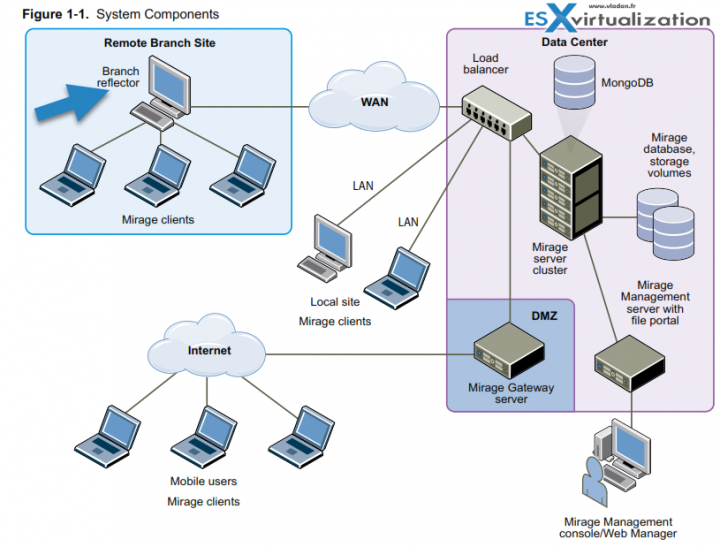 Any mirage client can be selected as branch reflector, with just a caution concerning disk space. You should check if the machine has enough disk space to store the base layers of the connected endpoints.
You should also check port 8081 is open so the near endpoints can connect in.
How Enable VMware Mirage Branch Reflector?
Go to the VMware Mirage Admin Web console and Click completely right on the double arrow >> select Show Potential Branch Reflectors.

You can also directly Select an endpoint via CVD Inventory > Right-Click an Endpoint > Enable Branch reflector.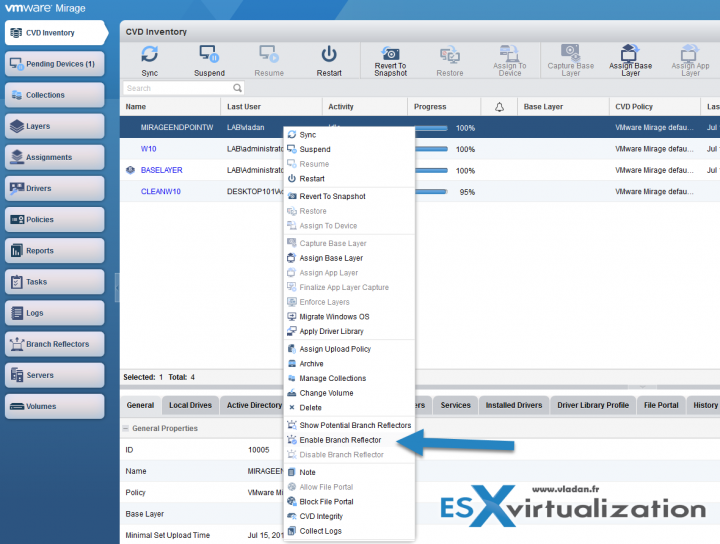 Then you'll see a pop-up layered window.

And when you select the Branch Reflectors > Configure > You'll get some configuration options.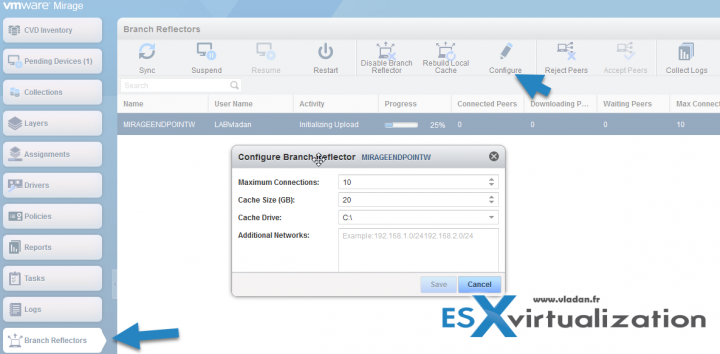 As you can see, there is a possibility to specify which disk drive to use for the caching (if the system has several), and the cache size. You see the defaults on our screnshot above.
You can also Disable branch reflector, Rebuild local cache or Reject Peers.
The general settings (the Gear icon) allows forcing Branch Reflectors for the whole Mirage Installation. It means that you can force the clients to not download files from the server if the branch reflectors are unavailable.

A certainly useful when we do not want to saturate our WAN links…
A branch reflector can significantly reduce bandwidth use in several situations, such as during mass base or app layer updates. The branch reflector also assists in downloading hardware drivers.
Simple to activate, simple to use.
VMware Mirage Guide
Server Installation and Configuration
Image Management (through Mirage console)
VMware Endpoint Management
How to Enable Branch Reflector on a device or endpoint? – [This Post]
Next post will be actually doing the Installation of Mirage Management Server. (the biggest part).
VMware Mirage Licensing and pricing
VMware Mirage has a simple licensing system. You can buy it either as:
Standalone VMware Mirage product
Horizon View Advanced or Horizon Enterprise. (ex. 100 licenses of Horizon Advanced entitles you for 100 Mirage Users).
VMware Mirage standalone sells in a package of 10 licenses. (or 100 licenses). So if you buy 1 copy and it allows you to manage 10 endpoints. There is also an option only to license the Windows migration feature. In this case, you're buying a 6-month term license focused on subscription.
More from ESX Virtualization
Stay tuned through RSS, and social media channels (Twitter, FB, YouTube)