When your boss asks you to report about the environmental impact of your infrastructure. What would you tell him? Well, the answer isn't simple. Most likely there is very little software out there that is able to analyze your virtual infrastructure and give you an overview of the environmental impact.
Server virtualization reduced the environmental impact of data centers. This impact was widely perceived when companies move their physical servers to virtual servers, using well-known virtualization technologies and hypervisors like VMware, Hyper-V, etc.
Today the reality is different, and in order to reduce the carbon footprint of data centers and virtualization, organizations face new and bigger challenges. DC Scope can help you to measure the CO2 impact of your VMware infrastructure, and provide you with recommendations to reduce the environmental impact.
To improve your infrastructure, you can make your servers last longer by raising their average age, you can move to a cloud provider that has a better PUE (which is a ratio that measures data center energy efficiency), or you can choose a low carbon source of energy.
With DC Scope, you can sort your server by efficiency. To do so, you need to sort servers by their TEE, which is a number that measures the server efficiency in function of its capacity and consumption. We can compare this number with the current use of the server. For instance, we have server 102 which is a very good server but which is not used a lot. We can conclude that there is a way to improve the infrastructure.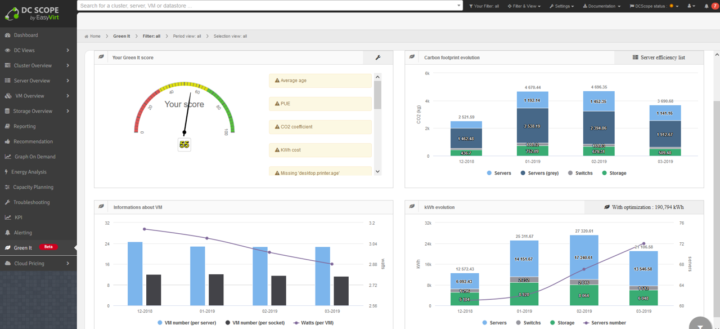 DC Scope has an optimization plan.
Here is a quick video from Easyvirt showing the Green IT feature within DC Scope.
Green IT – the Features
Classify the servers from Not Efficient to most efficient
Simulate changes
Increase the lifespan of your equipment
Follow the impact of replacing most consuming servers
Stopping and (or) removing inefficient hosts
Consolidation of hosts by reducing their numbers and increasing VM density
What is Grey energy?
Grey Energy – Intrinsic energy is the amount of energy consumed during the lifecycle of material or a product: phases like extraction, transformation, manufacturing, transport implementation, maintenance, and finally recycling.
PUE ou Power Usage Effectiveness – is used to qualify the energy efficiency of a computer operations center. It indicates the ratio between the total energy consumed by the entire operating center (with, among others, cooling, air treatment, UPS (inverters) …) and the part that is actually consumed by the computer systems that this center operates (servers, storage, network)
PUE = Total energy consumed by the Data Center / Total energy consumed by IT equipment.
DC Scope can also optimize the workloads by resizing your VMs.
Some admins were reporting that they were able to cut about 40-50 cores from their production cluster which was set up to 30% CPU contention rates on some VM's.
After rightsizing it they saw massive increases in performance across the boards, even on VM's they hadn't touched the number of cores on.
Check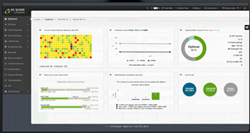 DC Scope for VMware vSphere – optimization, capacity planning, and cost management. Download FREE Trial Here.
Tracks the performance of VMs with a summary view of the resources and metrics in degradation.
Easily improve the performance of your infrastructure.
DC Scope is affordably priced per VM.
Download and test DC Scope FREE Trial Here.
Stay tuned through RSS, and social media channels (Twitter, FB, YouTube)
More from ESX Virtualization