Zerto Virtual Replication 5.0 U3 was released recently and as with every other upgrade, all the Zerto components has to be upgraded. The Zerto Virtual Manager which runs on Windows system upgrades normally with the Update package. However the Zerto Virtual Replication Appliances (VRAs) which runs on every host in the environment has to be upgraded as well. In this post we will learn How To Upgrade Zerto Virtual Replication Appliance (VRA).
Zerto does not use hypervisor's snapshot technology for replication purposes. Zerto's Virtual Replication Appliance (VRA) is able to tap into a virtual machine's IO stream causing no overhead or performance problems.
The VRA is a custom, very thin, a Linux-based virtual machine with a small footprint, disk – memory and CPU – and increased security since there are a minimum number of services installed.
The VRA uses the vSphere APIs to see the data flowing from the VM each time there is a read or write operation. Therefore, each time the virtual machine writes to its virtual disks, the write command is captured, cloned, and sent to the recovery site.
How To Upgrade Zerto Virtual Replication Appliance (VRA)
Before starting the upgrade, you should consider vMotioning VMs being protected by a VRA or upgrade the VRA without vMotioning the virtual machines and a Delta Sync will
be performed following the upgrade.
In the small lab environment where I run 3 ESXi hosts, I installed Zerto Virtual Manager in a dedicated VM (Windows Server 2012R2), and each ESXi hosts runs Zerto Virtual Replication Appliance (VRA).
Best practices concerning VRAs:
Install a VRA on every host in a cluster so that if protected virtual machines are moved from one host to another, there is always a VRA to protect the moved virtual machines. When protecting a vApp, you must install a VRA on every host in the cluster on both the protected and recovery sites and ensure that DRS is enabled for the clusters.
After the upgrade of the Zerto Virtual Manager to the 5.0 Update 3 I had this message on all Zerto VRAs:
VRA Version: Outdated
The upgrade of Zerto VRA can be done two ways:
Individual VRA's
All VRAs in once
Upgrade Individual VRA
Let's have a look how the individual VRA can be updated. First, connect to the Zerto site and go to Setup TAB where you will see your hosts and overview of VRAs..
Click the Link as on the image bellow.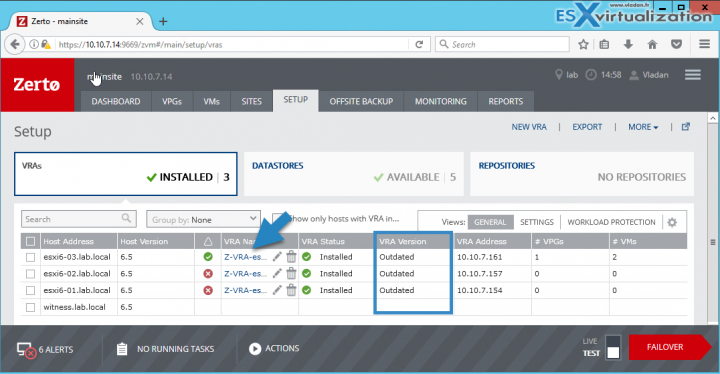 After doing that, you'll open a new TAB detailing the VRA….
You can see:
CPU usage
Local Memory
Remote Memory
Alerts, tasks…
Click the More Menu link to expand > Then click the Upgrade link.
All VRAs at once
This is obviously a way of doing it for larger environments. Check the check boxes on the left in order to select the ESXi hosts which you want to Zerto VRA upgrade.

And then on the next page you'll have an overview of what's gonna be upgraded > click Upgrade selected VRAs…

A confirmation window will pop up informing you which upgrade will be performed.

And then you'll see through the running tasks the progress bar each time a VRA is upgraded. Also, one by one, the message will change from Upgrading to Latest.

It took no longer than 30 seconds to upgrade all 3 VRAs in the lab. Nothing else to add. You do not need to upgrade VMware Tools on a VRA.
Note: The red alerts I have are that because the VRAs are running DHCP and not static IP (recommended for production environments).
Zerto best practice:
Install VRAs using static IP addresses and not DHCP for a production environment.
Wrap Up:
Zerto not only allows local or remote replication for private data centers but also partners with many service providers for Disaster Recovery As a Service (DRaaS). Zerto to provide cloud-based Disaster-Recovery-as-a-Service (DRaaS) that replicates data at the hypervisor-level using any tier of storage. This allows you to keep an up-to-date copy of your virtualized applications in
This allows you to keep an up-to-date copy of your virtualized applications in a service provider's cloud, recovering and testing them as needed on a self-service basis. The service provider Secure offers increased flexibility and boosts your ability to test recovery with a near-zero RTO so you have more control over your disaster recovery plan and faster failover with automated failover and failback.
The navigating through the product is a real pleasure. The web UI is fast and responsive. If you don't like vSphere web client you'd love Zerto web UI.
The latest version of Zerto 5.0 (5.0 Update 3 is the latest) can simultaneously replicate a VM to multiple target platforms that are supported, which includes local or remote VMware vSphere, Microsoft Hyper-V, AWS, Microsoft Azure, and Zerto Cloud Service Provider infrastructures.
Download Zerto trial from their website.
Other posts about Zerto Technology on ESX Virtualization:
Stay tuned through RSS, and social media channels (Twitter, FB, YouTube)