Hi all. This is a simple demo of installation of the latest build of ESXi 5.5 (build 1198610) in VMware Workstation, as the product will be released in couple of days. The latest improvements of VMware vSphere 5.5 offers twice as more (x2) everything (vCPU, Memory, storage), 62TB virtual disks, vSAN, vFlash, AppHA…. ++++.  The latest news concerning vSphere 5.5, ESXi 5.5 and other vCloud Suite 5.5 products are concentrated on my dedicated vSphere 5.5 page.  VMworld 2013 news are on dedicated VMworld 2013 page.
Installation of ESXi 5.5 in VMware Workstation does not require any special configuration or "hacking" VMX files any more. Just make sure that you configure 4Gb memory. If you leave default option 2Gb, the installer won't install the product.
If you need to install ESXi to flash memory key (and your server does not have CD drive) the easiest way is to use VMware Workstation for the job. During the installation process, just right click the USB flash drive icon and choose the connect option. The USB stick will show up in the VM as an option to install the ESXi onto.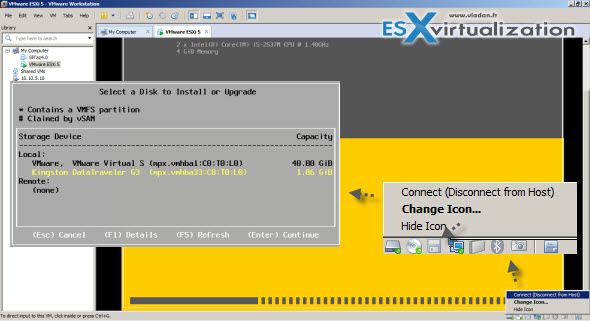 If your system has more memory (8, 16 or 32 Gb of RAM), then you can consider installing those hypervisors as "nested", and configure "all virtual nested lab", which is cheaper to build than go physical.
The release of vSphere 5.5 – check out my vSphere 5.5 page!
Enjoy the video below, showing:
The basic configuration of the VM, recognition of the ISO as ESXi hypervisor.
Installation of the VM as nested ESXi hypervisor
Powering on and connecting through the vSphere client
Configuring remote connection through SSh
Connecting through SSH and opening a remote console connection (by entering "dcui")
Best to watch in HD and in Full Screen.

Subscribe to my YouTube Channel for new videos! https://www.vladan.fr/youtube
Stay tuned via RSS or Twitter @vladan