Iperius backup is known for its small footprint and a possibility to backup VMs running on VMware ESXi. Iperius is the only backup software I know which is able to backup VMs running on the Free version of ESXi. This new release of Iperius Backup 7.0 brings also Incremental and differential Hyper-V backups, features that are really required in every data protection software. In this post, we'll have a look at Iperius Backup 7.0 and what's new in this release.
If you don't know Iperius Backup we invite you to check our full review of the product here.
Iperius is the only backup software I know which is able to backup VMs running on the Free version of ESXi. For physical systems, you can leverage Image backup possibility allowing you to perform bare-metal restores.
You only need a single license to protect all your production environment, so no per-socket licensing. With a single license, you protect an unlimited number of virtual machines that are running in your local environment. In case you have physical Workstations or servers, with some SQL DBs within your environment, you can opt for a full solution allowing you to do incremental backups of physical systems with a bare-metal restore.
Screenshot from the lab shows the Iperius Backup 7.0 console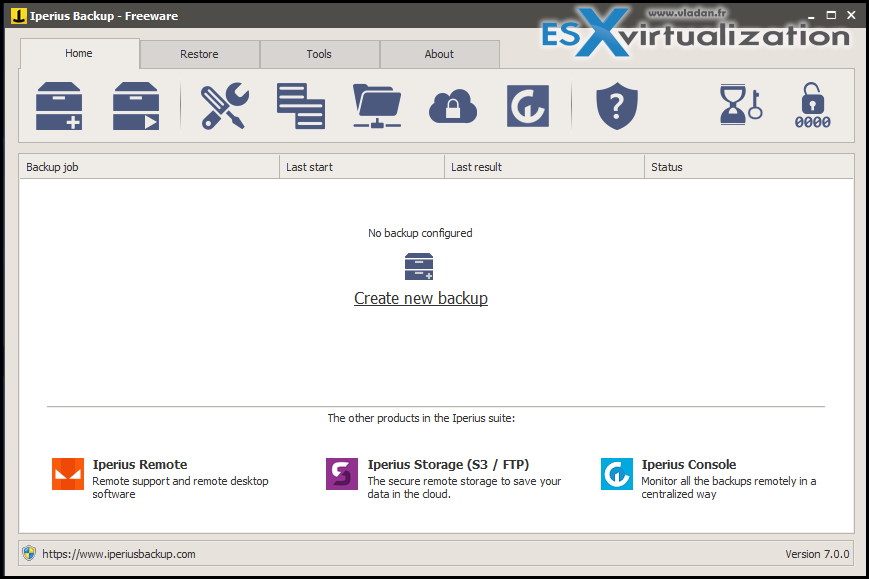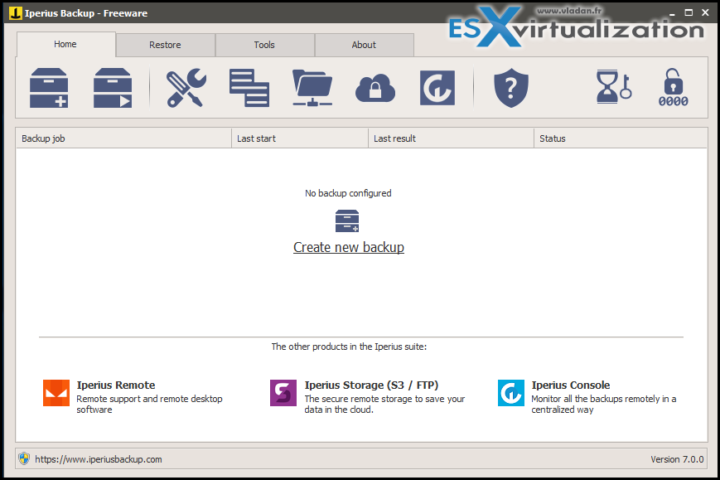 Iperius Backup 7.0 – What's New?
From the release notes:
Incremental and differential Hyper-V backup (RCT) for Windows 10, Server 2016 and Server 2019 – Exceptionally increase the efficiency and speed of your Hyper-V backups with the Resilient Change Tracking and the block-level backup. Maintain multiple restore points and perform automatic restores with a few clicks even on different hosts.
Direct disk-to-disk cloning on Iperius Recovery Environment.
Possibility to connect in remote desktop to Iperius Recovery Environment with Iperius Remote –  the only software that allows you to clone disks and make bare-metal restore of an image backup using the Iperius recovery media REMOTELY!
New SQL Server backup wizard – with multiselection of databases, which also includes the latest news for the backup and truncation of transaction logs
VMware ESXi: INCREMENTAL REPLICATION – virtual machines from host to host (without the need for vCenter). It also works for ESXi Free.
New wizard for restoring Hyper-V virtual machines – with compatibility check of the virtual machine with the host
Amazon S3 – added two new regions for Amazon China: Beijing and Ningxia
ESXi backup – now the size of the datastores is also shown in the selection tree of the virtual machines
Exchange Online –  (Office 365) backup improved and speeded up
Iperius Drive Image –  added the support to NTFS large clusters (cluster size > 64 K)
Several improvements and optimizations.
Iperius backup is a backup software which I think has a bright feature for small to a medium client as it is very cost-effective and quite simple to use. You simply chose what do you want to backup (ESXi VMs, Hyper-V VMs, files, folders, volumes, SQL DB, MySQL, PostreSQL or even Oracle DBs) and create a backup job.
The licensing goes from Free (including incremental backups) to Full where all options are active. Check out the different version and their differences between the versions on this page.
The fact that you only need a single license per site allows you to save on licensing costs. It would be interesting to know some performance tests with the medium environment and see some backup times without adding additional proxies to help the main software during the backup jobs.
The free version can backup XP, Vista, Windows 7, Windows 8, Windows 10. Server 2008, Server 2012, Server 2016, Server 2019. 
There is quite a huge value in this product which, so far, is not very well known among IT community. It's been also added to our Free Tools page as it is a valuable tool for IT admins. Check it out.
Check out the Iperius Backup site here.
More from ESX Virtualization
Stay tuned through RSS, and social media channels (Twitter, FB, YouTube)