VMXNET and VMXNET3 are the only adapters that works with Jumbo Frames.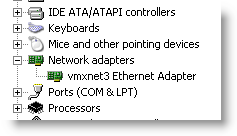 If you trying to configure and use Jumbo frames to optimize your VI infrastructure, you should only use vmxnet (and vmxnet3) virtual adapters for that.
The other adapters seems to accept the configuration for the MTU, but they're not actually working like they should be. They're dropping frames which are larger than 1500. It means that you not gaining any throughput, but you're LOOSING speed there !!
This applys to those VMware ESX server versions:

VMware ESX 4.0.x
VMware ESXi 4.0.x Embedded
VMware ESXi 4.0.x Installable
VMware vCenter Server 4.0.x
In VMware KB article 1015556 it's said:
Adapters other than enhanced vmxnet (and vmxnet3) adapters, for example the E1000 adapter, cannot be used with jumbo frames. >Attempts to change the MTU appear to succeed but the adapter always drops frames larger than 1500 bytes.
Source: VMware KB 1015556