We're in 2020 and it's perhaps a good time to recap which posts has performed well during the past 12 months. This post is not technical but rather informative for my long-time followers and readers which I would like to share. This post's name is Most Read Posts in 2019 on ESX Virtualization. -:) Enjoy.
When the blog has started, back in 2009, it wasn't easy to find clear information about the configuration and use of virtualization products. So I started to put some posts covering those topics to remember how to configure this or that product or feature. And over the years I kept writing and writing, improving my writing skills.
Today I write not only for my blog by also for few external publications such as TechTarget or 4sysops.com.
Let's have a look at which articles performed well in 2019. Month by month you'll get an insight into what I wrote each month that has been popular.
January: 
Veeam Backup Community Edition – Download Now – (direct link to the download is here) It's a "Standard" edition limited to protect 10 Virtual Machines (VMs). It means you can backup (including incremental or differential) your VMs as you would normally do with a Standard edition. This edition has incremental backups and scheduler which are a standard in virtualization backup and without which you can't really think of backing up production VMs. By having this, it's like having a full product with the limitation for 10 VMs.
February: 
Vembu BDR Suite 4.0 Product Review – A full-blown product review of Vembu BDR suite. (2140 words !!!) check it out. Yes, it was sponsored by Vembu Technologies. They sponsor other events such as VMUGs, Tech Field Day, VMworld…. There is nothing wrong with that. They do have an interesting product suite with an interesting file system. Vembu's file system called Vembu HIVE, and this system exposes every incremental backup as a virtual full backup. It means that not only that a restoration of a backup will not require a merging of all the changes to a previous full backup, but also that through Vembu Virtual Drive backup files get exposed as VHD, VHDX, VMDK-Flat, and RAW image files – at the same time. Those files are created (assembled from chunks) in seconds.
March:
VCP6.7-DCV Objective 1.1 – Identify the pre-requisites and components for vSphere implementation – Yes, I finished VCP-DCV 2019 Study Guide and it's available as a PDF at Nakivo's website. Check it out if you're preparing your VCP certification. In order to become VCP-DCV 2019 certified and pass the Professional vSphere 6.7 exam, we follow are the guidelines from the VMware Exam blueprint 2V0-21.19. The Professional vSphere 6.7 Exam 2019 (2V0-21.19) which leads to VMware Certified Professional – Data Center Virtualization 2019 (VCP-DCV 2019) certification is a 70-item exam, with a passing score of 300 using a scaled scoring method. Candidates are given 115 minutes to complete the exam.
April:
VMware vSphere 6.7 Update 2 Announced – The U2 not only fixes bugs but brings some significant improvements and support for Windows Server 2019 with VM hardware version 15. VM Hardware version 15 brings not only scalability improvements (you can configure up to 256 vCPUs) targeting SAP HANA and other enterprise intensive workloads. vSphere introduces also new support for 40 and 100 Gb Ethernet and RDMA giving you the possibility to run network-demanding applications and distributed computing smoother.
May:
Altaro Backup for Office 365 Now Available – As Microsoft does not offer any kind of backup of the content you generating at Azure, having your own backup strategy is a must. Altaro can help you with that.. Altaro Backup for Office 365 was recently released, allowing you to backup Office 365 Mailboxes and items. The Software as a service product (SaaS) is a subscription-based service includes backups, storage, 24/7 support and access to a central management console where you manage your backup and restore operations. You don't need to install anything locally as everything is managed from a central console online.
June:
Runecast Analyzer Product Review 2019 – If you don't know anything about Runecast, definitely check out our review. It allows you to check your virtual infrastructure on a regular basis, and let you know whether you're safe, or have some critical failure which has been just discovered. also analyzes the log issues detected based on the correlation of log entries with KB articles. Runecast Analyzer scans your infrastructure and compares the findings with those elements to let you know whether you have some critical, major or minor issues. You now have a possibility to add Multiple vCenters, analyze VMware vSAN, Horizon View or VMware NSX-V problems. 
July:
Homelab for cheap with new AMD CPUs? – My thoughts on some AMD CPUs. But as with the CPU business, the times go fast and the information here might not be as relevant as back in that date. I was always shopping Intel CPUs for the lab, but when I see the price/performance ratio for those new Ryzen CPUs, It is clearly the best option to go for right now.
August:
VMware vSphere 6.7 U3 Announced – What's New? – One of those features which have been added is, for example, a vCenter Server PNID change (PNID stands for Primary Network IDentifier of vCenter Server), and it is the "system name" set in the installer when deploying vCenter Server. Also, compatibility with the 2nd Generation of AMD EPYC™ processors has been announced. Dynamic DNS support – VCSA will have the ability to register itself dynamically on DNS servers. Previously a static DNS creation was required by the admin before the installation.
September:
Free VMware Kubernetes Academy Online Courses – Kubernetes academy is a completely free online training resource available to anyone. Kubernetes Academy courses are video lessons developed by expert instructors including Scott Lowe, which is known from the past as a successful author of Mastering VMware vSphere. Scott's blog has changed over the years as he switched a little bit of his content, but he's working at Cloud Native Apps Business Unit which rejoined VMware as part of the Heptio acquisition back in November 2018.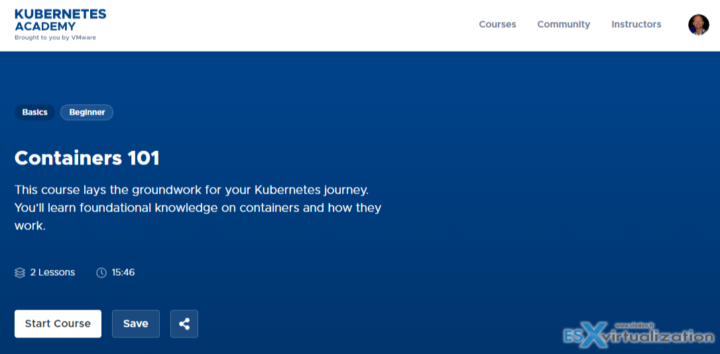 October: 
Top 5 Backup Solutions for Physical Servers – If you are looking into a backup solution for physical server (Windows or Linux) you might want to read this post. Many software vendors are providing not only backup for VMs but also for physical systems (desktop, servers, laptops…).
November:
Altaro Office 365 Backup New Features Added – There have been some updates to Altaro's product and apparently, my readers were interested in this. Altaro's solution will backup your Office 365 data (Outlook, files in your SharePoint Online and OneDrive for Business) to Azure infrastructure provided by Altaro. So you don't have have a separate Azure account for that. It is a "point-in-time" restoration so you can have long-term retention for SharePoint Online and One Drive for Business with a possibility to easily restore your files from any date you want.
December:
VMware vSphere 6.7 U3b Released – Yes of course. 6.7 U3b, the latest (maintenance) release from VMware.  Just before the end of the year release. And apparently to fix some major problems…. -:)… In this release there are no new features, however many bugfixes and security patches has been implemented. The Photon OS used for vCenter server appliance has many security patches included.
Final Words
I hope that you enjoy my blog and come back on a regular basis. I'm writing usually daily content here, but it can happen that there are no posts for several days. That's life. You can follow me on Twitter or other social media, but the best is to use Feedly and subscribe to the updates of the blog via Feedly. I wish you all a very successful year 2020. Without diseases and accidents please !!!
More from ESX Virtualization
Stay tuned through RSS, and social media channels (Twitter, FB, YouTube)