If you work with SSH and using a Putty software (which is great btw), you might miss out not using this awesome Add-on for Putty which creates a tabbed session with each connection. The software is called MTPuTTy and it works as an Add-on for Putty, which is a very popular and free SSH client. This post will be about Free Tabbed Add-On For Putty.
It does support all PuTTY protocols such as SSH, Telnet, Rlogin, Raw. It has the possibility to control and change PuTTY command line parameters. You can run PuTTY configuration, from within the program.
You have a possibility to automate the login/pass for your remote sessions. The software can automatically log in the remote servers and "type" your passwords for you. You have also a possibility to run any script after login.
Additionally, you can also "type" a script in several PuTTY tabs simultaneously. It has a clear tabbed user interface, and you have a possibility to organize your connection with folders. Servers are grouped in a sidebar.
You can also detach each TAB and have a floating Putty window, as normally.
Tip: Check our Free Tools page where you'll find a lot of free (and trial) softwares not only for VMware, but also for Microsoft and IT in general. This page is maintained on regular basis and we have the top of the top there…
Screenshot from the lab showing the MTPuTTy (Multi-Tabbed-Putty) Add-On…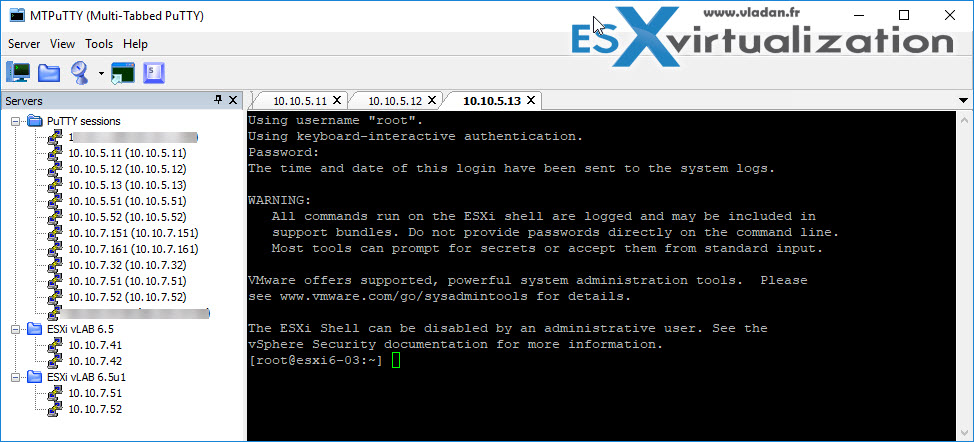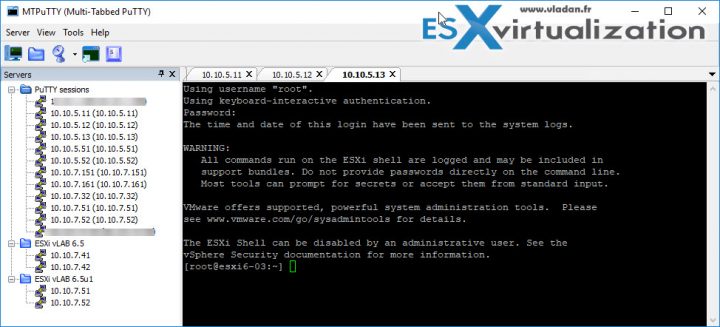 The MTPuTTy is Native Win32 code where you don't have to install any more software, such as .NET etc. No need to have any libraries. It has multithreaded automation tasks where for example freezing in one PuTTY tab will not freeze the other ones.
MTPuTTy Free Tabbed Add-On For Putty – How to install and use?
This section is for newbies. It basically explains how to set up the lab and connect via SSH.
Step 1: Download and Install Putty > Download and Install MTPuTTy.
Step 2: During the installation, you're asked about the directory where your Putty software is installed.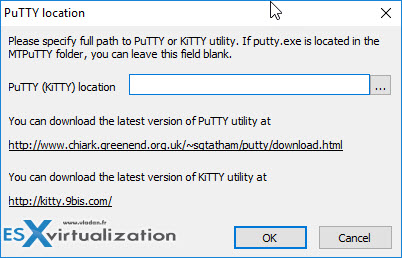 Step 3: Start using it.
In my lab, where Putty was installed and used previously, I had all my previous Putty sessions imported automatically.
Worth to note that you have a possibility to leave terminal window after disconnecting. You can configure that via the File Menu. Just go to Tools > Settings > Set "On unexpected session termination" to "Leave PuTTY window".
File Menu Tools
Putty Location – This one we know. Via this setting, you enter the path of your main Putty software.
Settings – Allows changing some general settings like the one we have talked about just within the paragraph above. You can also change the behavior on normal session termination from "show reconnect box" to "Close tab".
Hot Keys – You can remap existing shortcuts and for example, you can associate Ctrl+PgUp/Ctrl+PgDown to switch between sessions, if you want to. The defaults are modifiable via the Hotkeys menu.
Send Script – allows specifying a script or command which will be sent to multiple remote servers/hosts.
Duplicating a Session?
Yes, we can duplicate session via File menu. Select View > Duplicate. The session will inherit credentials and script from the source session.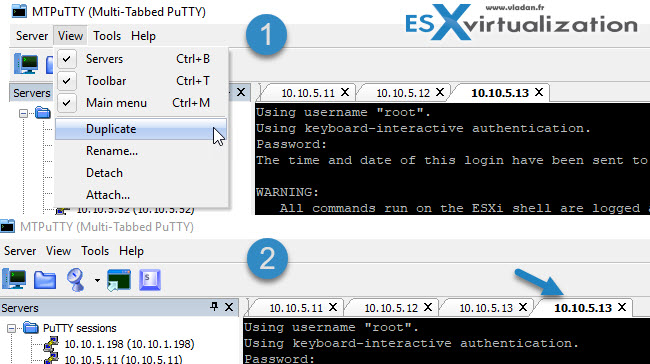 Portable Version?
You might wonder if there is a version which would run from USB flash drive. No, there is not a portable version, but you can run it from USB flash drive. Let's show you how.
It has a config file (mtputty.xml). The default location is:
%User Profile%\Application Data\TTYPlus\mtputty.xml
So if you want to use MTPuTTY on Flash USB, you should put mtputty.xml in the program folder. Simply copy ptputty.exe to your USB flash drive and run it with /P parameter in order to create a configuration file in the same folder.
Note: You can run it with /P parameter only once.
When you start MTPuTTY the next time, it will finds mtputty.xml in its folder and will use it and reads the config from it. But if you want to use your original mtputty.xml, just copy it to the flash drive (Note: you don't need to run MTPuTTY with /P parameter in this case).
Wrap up:
As PuTTY requires you to open up a new window every time you want to establish a new connection, your desktop might become pretty crowdy if you're working with many remote hosts. This MTPuTTy Add-on is a very nice Add-On for Putty. We'll definitely add this one to our Free Tools Page.
MTPuTTy is Free, and yes, it is free for both home and enterprise users. It is not Open Source, but it is free.
Source: MtPutty at TTyPlus.com
More from ESX Virtualization:
Stay tuned through RSS, and social media channels (Twitter, FB, YouTube)