Nakivo Backup and Replication 10.1 has been announced and released. The company is very dynamic and releasing new udates when new features become available, so we can see the continuous growth of the product every couple of months. We're following Nakivo since almost the day 1 when they started with an easy to use, web-based console, VMware backup product.
Now Nakivo is capable of backup not only workloads for VMware and Hyper-V, but also physical servers and desktops. A feature useful for every company which has virtualization, but also workers with laptops and desktops.
The product can be installed pretty much everywhere and you don't have to use a Windows server if you prefer Linux or virtual appliance. You can even install the software on many popular NAS devices or buy it directly as a backup appliance. Backup Appliance is based on QNAP, Synology, ASUSTOR, Western Digital or NETGEAR NAS.
What is new in Nakivo Backup and Replication 10.1?
OneDrive for Business Backup – Back up your OneDrive for Business user accounts to protect your documents, spreadsheets, presentations and other business data from ransomware attacks, accidental deletions and hardware malfunctions. Whenever anything is lost, you can recover the files and folders you need to their original location or another authorized account.
HPE StoreOnce Catalyst Integration – Integrate NAKIVO Backup & Replication with HPE StoreOnce Catalyst for powerful source-side deduplication to achieve faster backups, save storage space and reduce network load. Use the StoreOnce Catalyst protocol to send only deduplicated data to HPE StoreOnce backup appliances.
Nakivo 10.0 that was released a couple of months back, has brought vSphere 7 support and other features, listed below.
Support for vSphere 7 – long-awaited support for vSphere 7.0 . NAKIVO Backup & Replication now supports backup and replication for VMs running in vSphere 7, the latest version of VMware's server virtualization platform.
Backup to Wasabi – Wasabi is a very cost-effective cloud storage platform. You can now send backups and backup copies of virtual and physical machines, Oracle databases and Amazon EC2 instances to Wasabi. Check the detailed post about this feature here.
Full P2V Recovery – Recover physical machines from backups to VMware VMs or perform physical to virtual migrations. A full P2V recovery creates virtual copies of physical machines ready for production environments.
Linux Workstation Backup – Perform app-aware, incremental backups of Linux workstations running Ubuntu 18.04 Desktop and 20.04 Desktop. Quickly recover entire workstations or restore individual files and objects directly from backups.
revious release of Nakivo introduced backup to Amazon S3, so you can use Amazon S3 buckets for storing and recovering backups and backup copies of virtual and physical machines.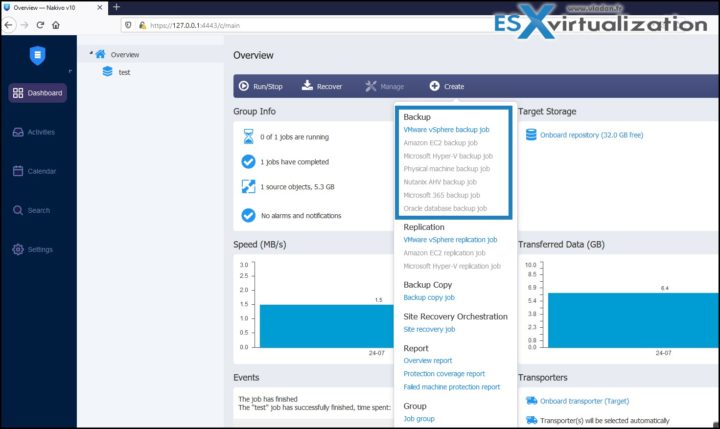 You can P2V (physical to virtual) from backup into a virtual machine (VM). The backup of your physical hardware can be recovered and started up as VMs.

You can get Nakivo 15 days trial (and you can extend this period if you want to, by e-mail).
More posts about Nakivo on ESX Virtualization
More from ESX Virtualization
Stay tuned through RSS, and social media channels (Twitter, FB, YouTube)