Nakivo just released a new version of their flagship software Nakivo backup and replication 10. This latest release brings long-awaited support for vSphere 7, the possibility to send offline backups to Wasabi cloud, provides full P2V recovery for physical machines, or adds a Linux Workstation backup.
Nakivo usually releases several new versions every year.
Right after the upgrade, we noticed a new, redesigned UI, which is still based on HTML 5 and you can use any of the supported web browsers to manage this product from anywhere. No external software needed, no plugins to install.
The installation takes only a couple of minutes. You can install Nakivo on the Windows machine, but not only. There is a Linux version, VMware vSphere OVF full solution, Nutanix AHV, NAS installation (for different popular hardware NAS models on the market), for Raspberry Pi or for Amazon AWS EC2 machine image. A very large specter indeed.
Previous release of Nakivo introduced backup to Amazon S3, so you can use Amazon S3 buckets for storing and recovering backups and backup copies of virtual and physical machines.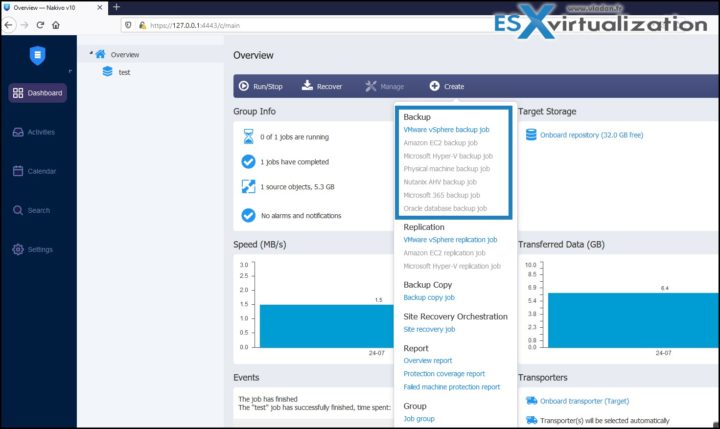 What's new in Nakivo Backup and Replication v10?
Support for vSphere 7 – a long-awaited support for vSphere 7.0 is finally here. NAKIVO Backup & Replication now supports backup and replication for VMs running in vSphere 7, the latest version of VMware's server virtualization platform.
Backup to Wasabi – Wasabi is a very cost effective cloud storage platform. You can now send backups and backup copies of virtual and physical machines, Oracle databases and Amazon EC2 instances to Wasabi.
Full P2V Recovery – Recover physical machines from backups to VMware VMs or perform physical to virtual migrations. A full P2V recovery creates virtual copies of physical machines ready for production environments.
Linux Workstation Backup – Perform app-aware, incremental backups of Linux workstations running Ubuntu 18.04 Desktop and 20.04 Desktop. Quickly recover entire workstations or restore individual files and objects directly from backups.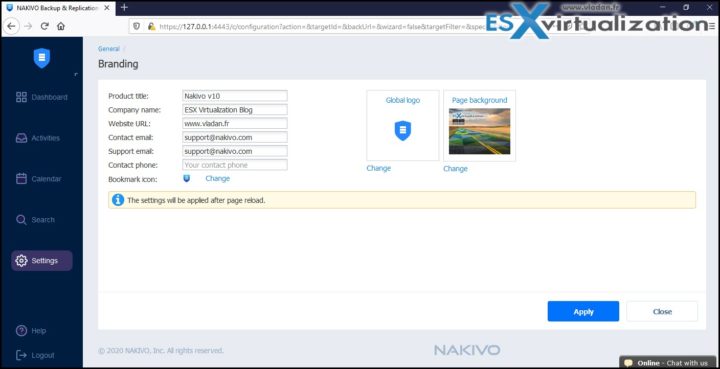 There are also some improvements over previous release:
Improvements
Application permissions for Microsoft 365 accounts have been updated. Make sure you make the necessary changes to prevent backup and recovery jobs from failure.
CentOS v7.0-7.6 support
Linux workstation support
Improvements for Backup to Amazon S3
Check the full Release Notes of v10 Here.
Previous release of Nakivo provided a possibility to backup physical server and export as VM. Here is a screenshot.


You can P2V (physical to virtual) from backup into a virtual machine (VM). The backup of your physical hardware can be recovered and started up as VMs.

The previous 9.4 release of Nakivo has brought in Users/Roles an Cross-platform flash boot for VMs.
Cross-Platform Flash Boot for Physical Machines

Instantly boot VMware VMs from physical machine backups without actually recovering the virtual disks. Supported destination – VMware VMs.
Users & Roles
Create custom roles, give them a unique set of permissions, and assign them to local or Active Directory users. Manage users and their roles from one place in the product.
NAKIVO Backup & Replication provides data protection for the following platforms:
AWS EC2
Microsoft Hyper-V 2019, 2016, 2012R2, 2012
Nutanix AHV 5.10 (LTS)
Physical Windows Server 2019, 2016, 2012R2, 2012, 2008R2
VMware vSphere v4.1 – v7.0
You can get Nakivo 15 days trial (and you can extend this period if you want to, by e-mail).
More posts about Nakivo on ESX Virtualization
More from ESX Virtualization
Stay tuned through RSS, and social media channels (Twitter, FB, YouTube)