Nakivo Backup and Replication 10 released recently (see our post) has brought an interesting feature allowing to send backups and backup copies to Wasabi cloud storage. This is a great option when you're think of costs as Wasabi claims to be 80% cheaper than other cloud storage options from other vendors such as Amazon AWS, Microsoft Azure or Google cloud storage.
In fact, Wasabi does not charge for egress traffic or API requests, which means you're not charged when you're accessing your storage via API requests or downloading your backups to restore your VM(s). Wasabi has no egress fee and can avoid you paying the $.09/GB AWS egress fee. If your monthly downloads (egress) are less than or equal to your active storage volume, then your storage use case is a good fit for Wasabi's free egress policy.
With Nakivo Backup and Replication 10 the Wasabi Object storage is now supported. Backup and Backup Copies (both VM and physical servers) can now be sent to Wasabi cloud object storage. You can restore VMs, individual files and application objects directly from Wasabi.
How to get started with Wasabi and Nakivo?
If you don't have a Wasabi account, create a new one at wasabi.com/sign-up/
Log in to your Wasabi account.
Navigate to the main menu and click Access Keys.
Click Create New Access Key.

You'll have a new pop-up where you'll enter

Then simply click Download CSV and save the key.
To Add Wasabi to Nakivo
 In order to add a Wasabi account to the NAKIVO Backup & Replication inventory, just do this:
Connect to your Nakivo Backup server.
Click Settings in the main menu.
Go to the Inventory tab and click Add New.

In the dialog that opens, click AWS/Wasabi Account.
In the dialog box that opens:

Enter the name in the Display name box.
Select a Wasabi account from the Type drop-down list.
Select a Wasabi region from the Region(s) drop-down list.
Enter the Access Key ID and Secret Access Key in the corresponding fields.

Click Add.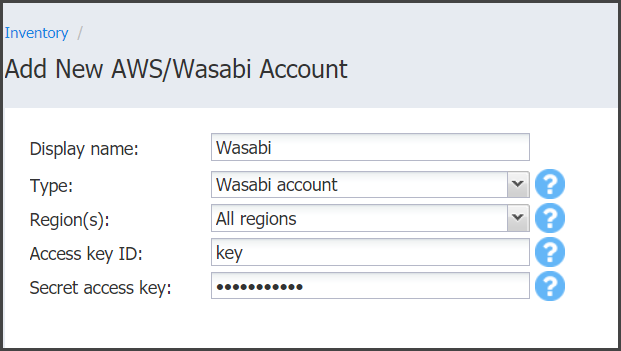 .
To create a new Nakivo repository to store your Wasabi Backups
Just do this: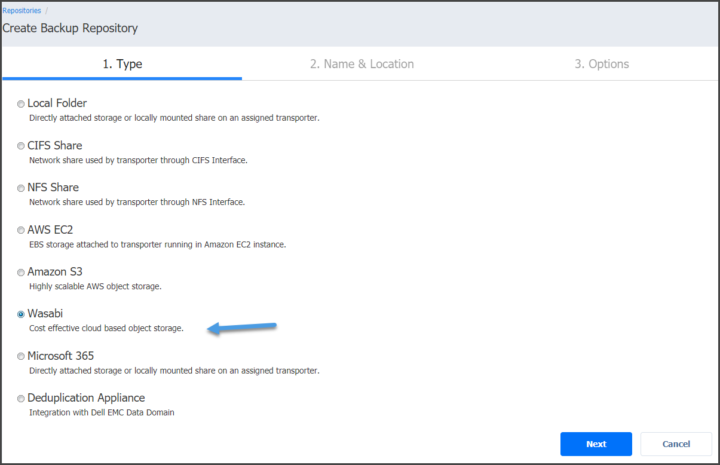 then you'll have a new page, where you'll:
Put some meaningful name.
Select the Transporter from the Assigned transporter drop-down list. (If you don't know what is transporter, you might want to read our post here).
Select a Wasabi account from the Account drop-down list.
Select the Wasabi region connected to the bucket where you want to store your backups.
Select the bucket where you want to store your backups from the Bucket drop-down list.
Click Next to go to the next page of the wizard.

At this moment you have done all the necessary steps.
Note: Screenshots above came from Nakivo Help center. A very good and up-to-date help if you need it.
Final Words
Well, that's about it. The new Nakivo Backup and replication v10 has just become more mature, more robust product. Over the time, year after year, Nakivo releases frequent updates. When it comes to installation, you can install it pretty much everywhere. You're not tightened to only a Windows system, but have plenty of other choices including Installation directly on a NAS device.
One might think that there is not much benefit to having a backup software installed on a NAS device rather than a separate VM or dedicated (physical) server. But when you have a production environment, you must think globally about your data protection strategy.
By having the backup software physically separated from a virtual infrastructure you are basically saying hey, I'm not having all eggs in the same basket. This is crucial, this is important, but there is more. Your backup software and backup workloads do not consume any resources from your virtual infrastructure.
Quote from Nakivo:
However, you can achieve up to double the backup speeds vs. VM-based backup solutions when the product is installed on a Synology NAS. This is because backup data is written directly to NAS disks, bypassing network protocols such as NFS and CIFS.
Previous release of Nakivo introduced backup to Amazon S3, so you can use Amazon S3 buckets for storing and recovering backups and backup copies of virtual and physical machines. However, it seems that Wasabi is a cheaper alternative.
Nakivo 10 also alows Full P2V. You can recover physical machines from backups to VMware VMs or perform physical to virtual migrations. A full P2V recovery creates virtual copies of physical machines ready for production environments.
Nakivo Product Website is here. Trials and NFRs also available there.
More posts about Nakivo on ESX Virtualization
More from ESX Virtualization
Stay tuned through RSS, and social media channels (Twitter, FB, YouTube)