Nakivo is one of the data protection vendors who are very active in what they do. They are pushing often new releases to stay up to date with the latest VMware vSphere and Microsoft Hyper-V environments, but they also add new features with every release. With the latest beta, they step into the backup of physical systems as the new beta can backup physical Windows server systems and has full support for Hyper-V 2019.
The latest release of Nakivo Backup and Replication 8.5.2 has been certified compatible with latest VMware vSphere 6.7 Update 2 recently.
Today we'll talk about their new Nakivo Backup and Replication Beta v9.0 which was just released and where you can participate by downloading your copy. The new innovation is that it is possible to backup physical Windows servers where in many enterprises you have Microsoft Exchange, Active Directory, and SQL. Enterprise applications which in smaller environments are still physical and which needs to be backed up.
Nakivo Backup and Replication 9.0 Beta – What's New?
Windows Server Backup – NAKIVO Backup & Replication v9.0 Beta tackles the challenge of protecting a physical or hybrid environment by allowing for incremental Windows Server backup and recovery. With the application-aware backup mode, you can be sure that applications and databases, such as Microsoft Exchange, Active Directory, and SQL, running on your physical servers are backed up in a transactionally consistent state.
You can also improve your backup performance with Network Acceleration and save storage space with global deduplication and compression. To improve reliability, NAKIVO Backup & Replication can truncate MS Exchange and MS SQL logs, thus preventing them from taking up space on the server.
Hyper-V 2019 Support –  NAKIVO Backup & Replication v9.0 Beta fully supports Microsoft Hyper-V 2019.
NAKIVO keeps up with new industry releases, so if you have decided to upgrade your environment and take advantage of the new Hyper-V 2019 features such as Windows Admin Center and ReFS Deduplication, we have got you covered.
Try out Windows Server Backup in your own environment. Download NAKIVO Backup & Replication v9.0 Beta now!
Either you can just test the program by yourself or you can test along some guidelines and provide some log files to Nakivo to get 20$ Amazon eGift card.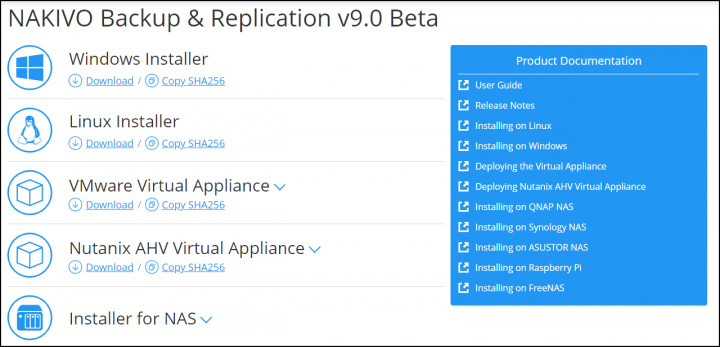 Here are the rules:
Get an Amazon eGift Card
Test NAKIVO Backup & Replication v9.0 Beta and get an Amazon eGift card!
Install NAKIVO Backup & Replication v9.0 Beta
Discover your VMware, Hyper-V, or Nutanix AHV environment
Add a Windows Server to the inventory and run a successful backup job
Send the support bundle to [email protected] by July 10, 2019
Provide your feedback by filling out a short survey
NOTE: Make sure to use your business email to download the product, send the support bundle, and fill out the survey. For more information, read the v9.0 Beta Program Terms & Conditions.
As you can see, Nakivo keeps innovating and provides very good price/performance ratio for enterprises which has the needs for backing up their virtual infrastructure. Their product can be installed on the physical or virtual system, Windows or Linux. Or you can also install their software on many popular NAS devices.
You may wonder whether is it good to have such an environment? Well, there are certainly some advantages to have a NAS device with backup software integrated. With the Nakivo Backup appliance, all VM data protection components are together, in a single system. One of the first advantages is fast to deploy and easy to manage. Another advantage might be the fact, that the system does not consume its own resources within your environment.
Also to consider is the fact that you are getting an all-in-one (hardware, backup software, backup storage, and data deduplication) in a single box which means that things work out with more efficiency and with lower bottlenecks other than sending the bits over via the network.
Off-Site Backups – Nakivo can also send the backups to offsite, such as Amazon, through AWS Marketplace which is simple, reliable, and affordable way to backup or replication of paid AWS EC2 instances, sold through the AWS Marketplace. There is also a possibility to set up a Cross-Region and Cross-account backup where AWS EC2 instances can be backed up to the same AWS region, a different AWS region, or to an on-premises location.
Try out Windows Server Backup in your own environment. Download NAKIVO Backup & Replication v9.0 Beta now!
Check at Nakivo.com and download the free trial version or a qualifying NFR license for your lab.
More about Nakivo from ESX Virtualization:
More from ESX Virtualization
Stay tuned through RSS, and social media channels (Twitter, FB, YouTube)