Not a long time after 7.1 release which brought protection for Hyper-V clusters, Nakivo software has another release. Nakivo 7.2 released a few days back, enhances the already packed product with other features and functions. And this is today's post name – Nakivo Backup and Replication 7.2.
One of the new features is support for Asustor NAS products allowing to install Nakivo directly on the device, as an app. As a result, you'll have the storage and data deduplication within the same device which increases, according to Nakivo, a VM backup and replication speed by up to 2X compared to a traditional approach, for a VM-based backup solution.
Nakivo's release cycles are quite fast and this year so far we had many releases covered. You might not be aware of their Free Edition. Their product can be deployed as a virtual appliance, pre-configured.
You can also install Nakivo on Windows (or Linux) server. It is 1-click Windows installer, 1-command Linux installer. Or as mentioned earlier on one of the supported NAS device (currently they support some QNAP, Synology, Western Digital and Asustor NAS devices). Very flexible.
What's new in Nakivo Backup and Replication 7.2?
Support for ASUSTOR NAS – On selected Asustor NAS devices, you can directly install Nakivo and separate physically your backup from a production environment. To have a secondary location, you can backup copy to the cloud.
Transaction Log Truncation for Microsoft SQL Server – the function automatically remove (truncate) transaction log files after a successful VM backup or replica is made
Instant Object Recovery for Microsoft SQL Server – you can recover SQL databases and tables, back to the source SQL Server (or a different server)
Calendar Dashboard – new view of scheduled jobs.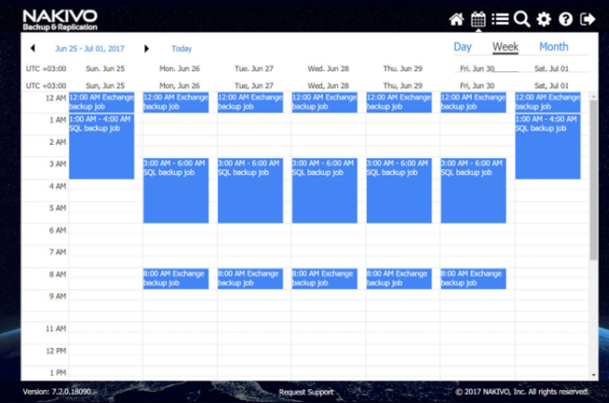 Quote:
You can view all your jobs on a calendar (just like your meetings or tasks in a calendar application) and quickly find free slots in a backup window. This feature also enables you to schedule new jobs right from the calendar, provides a birds-eye view of all your jobs, and shows the duration of each of them. To make this feature even more useful, calendars are integrated right into the job wizard, so you can schedule a job right in the job wizard.
Flexible Job Scheduler – enhances job scheduling, allowing you to add multiple schedules to a single job. This can enable you, to run your jobs at night during the week and during the on weekends.
You can find more about Nakivo v7.2 at https://www.nakivo.com/resources/releases/v7.2/ .
Nakivo has very fast releasing cycles. Their product has also good potential for service providers and large enterprises providing possibilities for multi-tenancy,  distributed deployment options or back up AWS EC2 instances.
The product does incremental backups, so only changed data are transferred to your backup repository. It is possible to keep your AWS EC2 backups in the same Amazon EC2 region, in a different region, or even at your main site.
Nakivo Backup and Replication on ESX Virtualization:
Stay tuned through RSS, and social media channels (Twitter, FB, YouTube)