Afi.ai is the youngest Microsoft 365 backup vendor. Its platform is built from the ground-up to support Microsoft 365 (formerly Office 365) cloud applications and deliver 2-3x faster performance compared to older vendors.
On 23 October 2020 Afi released a new version of Afi Microsoft 365 Backup. The update includes performance improvements as well as a number of new features.
Improved Microsoft Teams Backup
The new version features improved support of the Microsoft Team backup. In October 2020 Microsoft changed the location of Teams compliance records and their availability via API. The new version of Afi Microsoft 365 Backup takes into account this recent change, in order to provide uninterrupted service and granular backup of Microsoft Teams components. You can now use Afi to backup Teams private and public channels, 1-1 conversations, and their attachments.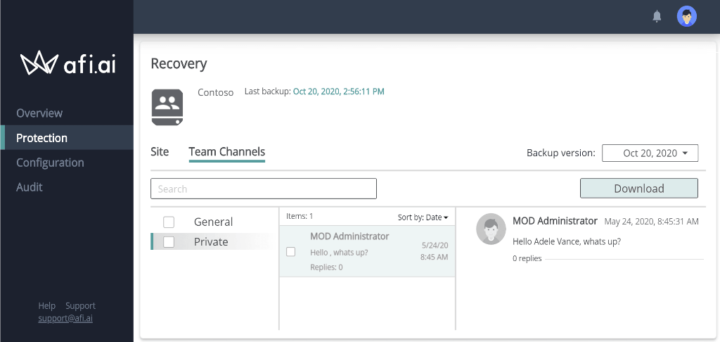 Microsoft 365 Admin Roles
The new release also features extended admin roles. While older Microsoft 365 backup vendors provide little or no custom administrative roles, Afi enables to fully customize Microsoft 365 backup access permissions. Afi customers can now limit or revoke access to the platform even for Microsoft 365 super admins. The platform also allows to create custom backup operator roles with limited privileges, helping implement the least privileged access model for helpdesk staff and IT technicians in large organizations.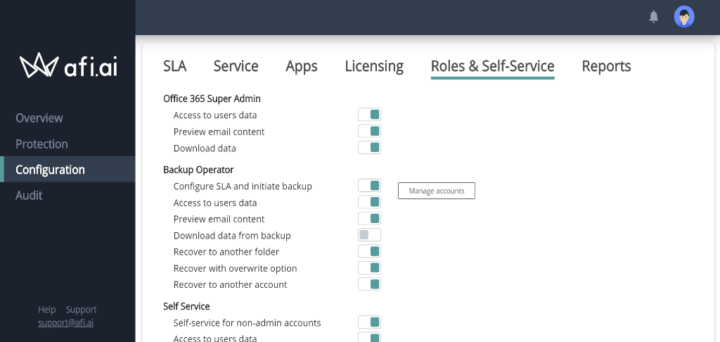 Full-text-search for Exchange Online Backup
The new release also improves the performance of Afi search capabilities for Exchange Online backup data. Afi platform provides unique full-text-search feature for Microsoft 365 backup data, enabling IT administrators to leverage their backups for compliance and legal needs. Administrators can now find all emails containing a specific search phrase and restore or export the data in bulk.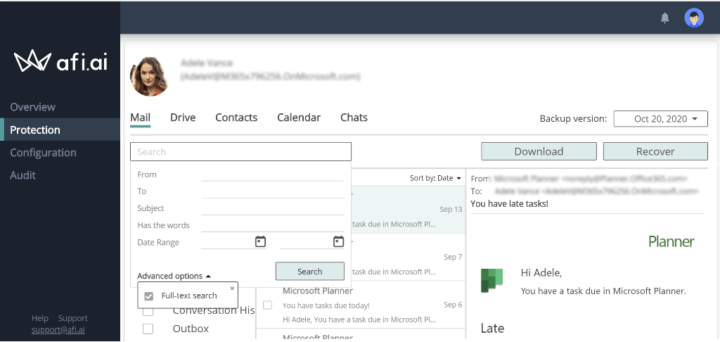 SharePoint Lists Support
In September 2020 Microsoft announced the general availability of Microsoft Lists in Microsoft Teams. Afi leverages the tighter integration of the two services and supports the gradual backup and restore of Lists. When Microsoft Lists are created within Teams application, the Lists files are stored on SharePoint online document libraries linked to the respective Teams. Afi enables backup of SharePoint Online sites linked to Microsoft Teams, including all sub-sites and SharePoint document libraries attached to private Teams Channels. The lists can be recovered to the same team document library or any SharePoint site and OneDrive within the company Microsoft 365 tenant.
Exchange Online Backup
The update improves the performance and granularity of Exchange Online backup, in addition to the inbox email messages, contacts, and calendar events, Afi now also backs up messages stored in Exchange online archive (previously known as an inline archive).
The online archive data is available via Exchange Web Services (EWS), an older version of Microsoft 365 API. The updated version of the Afi Microsoft 365 Backup platform now works with both EWS (in order to backup and restore Exchange online archive data) as well as the Graph API, the newer Microsoft 365 API.
The support of Exchange online archive backup is critical for large organizations that often use the archiving capabilities to manage storage footprint of the primary mailboxes. The support of online archive now enables Afi customers to fully automate their archiving workflows. Afi can now be configured to perform full backups of Exchange Online mailboxes as part of the user deletion/offboarding process, helping businesses to realize savings on Microsoft 365 licensing costs.
Afi Microsoft 365 Backup main features
Backup of all Microsoft 365 data, including SharePoint sites sharing permissions, document libraries' files metadata, Exchange online system folders and Microsoft Teams conversations & attachments
Afi is the only cloud Microsoft 365 Backup that is integrated with Azure Active Directory (AAD) and enables administrators to leverage AAD to assign protection and navigate across the organization's users using the AAD structure
Instant data export capabilities, enabling system administrators to export data offline without a delay (unlike the legacy implementation in older vendors, requiring admins to request export and wait for hours or days until it is ready for download)
You can install Afi in less than 2 minutes here. All you need to do is to review and grant the application permissions that it needs to execute backup and restore operations. Afi uses modern authentication method, without using Microsoft 365 admin accounts to execute backup operations. Therefore, you can use any 365 admin account to install the application and it will continue to work even if that account is removed.
Check out the Google product documentation if you're also interested in Google Workspace backup.
More from ESX Virtualization
Stay tuned through RSS, and social media channels (Twitter, FB, YouTube)