Vembu Backup and Replication product is known to our readers. We have published quite a few articles about this Backup and Recovery suite and its possibilities for today's IT admins managing VMware, Hyper-V or KVM environments. Today we'll try to highlight one of the features that we did not talk too much. It is a cross-platform migration, such as P2V, V2V.
While Vembu BDR is mainly used to backup or restore VMs, physical computers, the fact that the backup files are stored in multiple formats, it makes this product well designed for migrations too.
Imagine your direction wants to cut on VMware or Hyper-V licensing and you're in a process to use KVM as your hypervisor for part of your workloads. How to manage the migrations? VMware or Microsoft converter tools does not help in this case (obviously). So here you go, Vembu can help.
Vembu BRD suite supports cross-platform data migration. Vembu protects your data and lets you perform all types of Migrations like P2V, V2V, V2P. Directly from the restore UI you can select the format you'll want at the destination. Simply pick the format and click restore.

Now if you have the need to migrate some VM or want to convert some physical hosts into VMs, you can do so. The only thing certainly is to reconfigure VM tools and to re-ip those VMs, but you might just want to save the IP config to a text file to the root of the C: drive in each VM before launching of the latest backup.
You might ask how it is possible? How can Vembu store the backup files in such a different formats without consuming more space?
Vembu Virtual Drive backup files get exposed as VHD, VHDX, VMDK-Flat and RAW image files – at the same time. There are several techniques available such as built-in compression, encryption, and deduplication, as well as auto error correction.
This is because of Vembu HIVE file system.
Quote from Vembu:
A Vembu HIVE file system has in-built version control, encryption, deduplication and in-built error correction. During the backup, the data present in the backup files or an image is separated from all the bookkeeping associated with it, i.e., its metadata and stored as objects.
Below a screenshot from the lab showing a backup of a small 2003 server VM being exposed through VembuHIVE file system as different formats of virtual disks.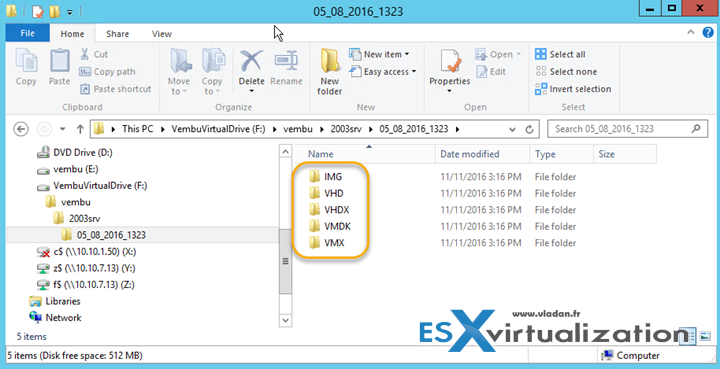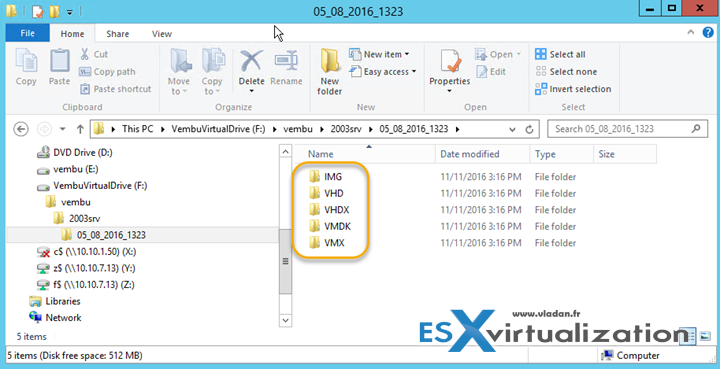 Vembu is able to use those different formats via this Virtual drive (the drive does not consume any storage by itself !!!) and initiate restore operations. VM restorations can also restore individual files after mounting a particular VM and accessing the required files.
The latest release is Vembu BDR 3.9 (U1)
Vembu BDR Suite 3.9.0
Native Tape Support – You can now implement more backup strategies as tape adds an additional media type to already supported disk. Tapes are still best for long-term archiving. You can backup directly to tape or transfer the latest full backups to tape on regular basis. You can create media pools for a specific set of backup jobs, with different scheduling (daily, weekly, monthly). Restoring from tapes is available to different virtual tape formats (VHD, VMDK, VHDX and RAW)
Backup Encryption – you can now encrypt your backups on a per-job basis. After defining a password, you'll be able to select this password during new job creation wizard or create also a new password for a specific job. Full and the incremental data of backups will be encrypted with AES-256 bit encryption algorithm. During restore operation, you'll be prompted to enter the encryption password.
Quick VM recovery on ESXi – previously, quick VM recovery was available for Hyper-V only. Now the recovering the backup data as a virtual machine happens in a matter of seconds by booting the backed up machine directly from the storage repository on any hypervisor of choice like Hyper-V or VMware ESXi or KVM.
Auto Authorization at OffsiteDR Server – The DR data is extremely vital and has to be protected, but in some cases, the replicated data is prone to corruption when it receives the data from an unknown backup server, causing the sensitive data to be vulnerable. Vembu's Auto Authorization for DR server will generate a unique passkey, using which only the authorized backup server can connect and replicate the backup data to the DR server for Disaster recovery.
Pre/Post Commands – Many businesses need to execute certain logics before or after a backup job and running these logics or scripts manually during a backup is difficult and it is not feasible for the organization having multiple backup jobs. With the separate wizard for prescripts and postscripts, you can add any number of executable scripts and Vembu lets you automatically run your own business logic at specific stages of a backup job based on the configuration. Available at  Settings tab > Advanced Options > Click Pre/Post commands.
Product website: Vembu Technologies.
Read more post about Vembu BDR at ESX Virtualization:
More from ESX Virtualization:
Stay tuned through RSS, and social media channels (Twitter, FB, YouTube)