There is a new PowerCLI Book which has been released recently. The author is Chris Halverson and the name of the book is PowerCLI Essentials and it is destined to beginners to intermediate administrators. Usual audiences are VMware Admins or Windows admins that are working with VMware virtualization technologies all the days long. The book covers where to get PowerCLI and its history, including version differences and their change logs. Developing single line scripts into longer ones, reusable code and how to document your scripting.
The book covers where to get PowerCLI, how to install, the history, including version differences and their change logs. You'll learn how to develop one-liners and then how to develop longer scripts which are re-usable. Also, you'll learn how to document your scripting work.
The author, Chris Halverson, is an Americas-based Professional Services Senior consultant, which focuses on the Software defined datacenter. Crossing several product boundaries (vSphere, SRM, vRO, vROps, and others) he helps customer's design, build and administer their environments; and uses PowerCLI as one of the ideal tools for the job.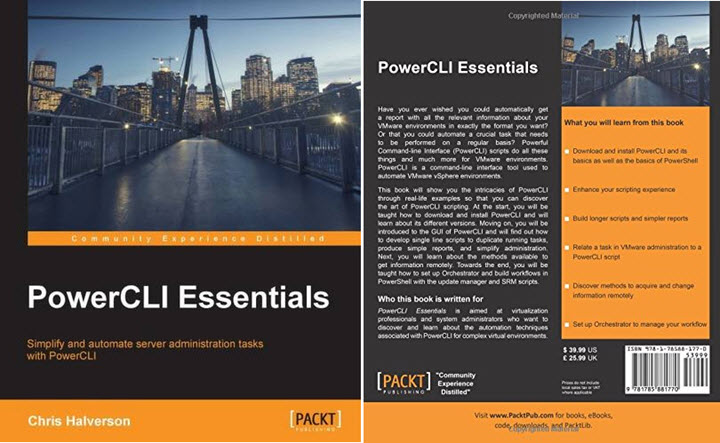 PowerCLI Essentials – What's in?
The amazon description says that:
The book covers real-life examples so that you can discover the art of PowerCLI scripting. At the start, you will be taught to download and install PowerCLI and will learn about the different versions of it. Moving further, you will be introduced to the GUI of PowerCLI and will find out how to develop single line scripts to duplicate running tasks, produce simple reports, and simplify administration. Next, you will learn about the methods available to get information remotely. Towards the end, you will be taught to set up orchestrator and build workflows in PowerShell with update manager and SRM scripts.
Table of Contents
An Introduction to Essential Administration with PowerCLI
Comparing Point and Click Administration to PowerCLI and Scripting
Enhancing the Scripting Experience
Windows Administration within VMware Administration
Workflows and vRealize Orchestrator
Running Workflows with Other VMware Products
Check it out here – PowerCLI Essentials (Paperback) | (Kindle)
Note that there is also a very good book by multiple authors that I covered in another post of mine – VMware vSphere PowerCLI Reference (recently updated with second release). One of them is Luc Dekens which is well known within the virtualization community.
Source: VMware Blog