Today a quick lab post which shows how simple is to upgrade VMware ESXi 6.x to 6.7 via ISO image. There are several ways of upgrading standalone ESXi hosts, and via the ISO image it's just so simple that I wanted to show this for the newcomers and people who just starting with VMware technology.
VMware ESXi is one of the most popular hypervisors around. The latest release brought some interesting new features which we had already reported in our vSphere 6.7 announce. We started a new WordPress page for vSphere 6.7 too. You'll find there all articles being published.
You don't have to fear of upgrades, especially when you know that you can revert back an upgrade. Yes, in case you having problems after upgrading, you can simply hold SHIFT + R and chose to roll back.
Here is a screenshot from the UI. But this is just a side information as this post is detailing the upgrade steps, with a short video.


Upgrade ESXi 6.x to 6.7 via ISO – The steps
Step 1 – Download the ESXi 6.7 Installation ISO from VMware and use clean CD-ROM to burn the ISO to the media and prepare ESXi 6.7 CD-ROM.
Note: If you have a server which supports remote connections such as ILO, iDrak or iPMI, you don't have to use physical CD-ROM. You can attach the ISO image directly and boot up your host.
Step 2 – Go to the BIOS of your ESXi host and set the boot sequence to boot from CD-ROM first. Like this, the server will boot from the CD-ROM. Boot up your server, follow the installer's instructions.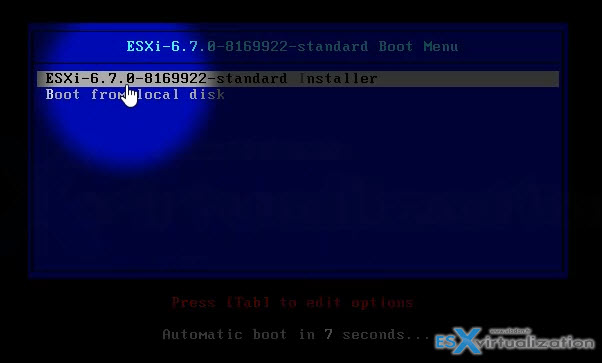 NOTE: You'll need to know the root password of the previous ESXi installation. If not, you won't be able to upgrade. I mean, it's quite logical, but we had some questions like "what if we do not have root password"…..
The installer continues, and then, when you'll be at the page where the installer founds an existing VMFS partition, leave the first option selected. It's the "Upgrade ESXi, preserve VMFS datastore". This is the option we need.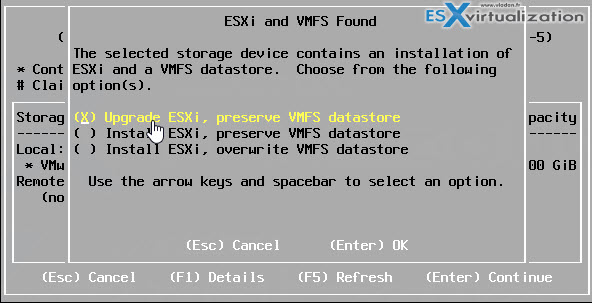 Hit OK and let the installer to upgrade your host.
After, you'll get a prompt to remove the ISO and reboot to finish the upgrade process. The ESXi will now boot and the new ESXi 6.7 will get loaded.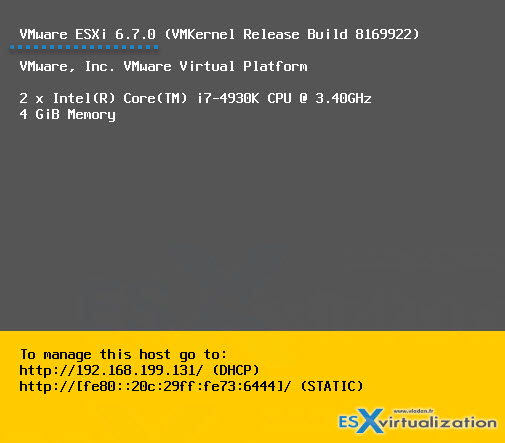 The whole process is very straightforward and simple to use.
For installation where you have managed ESXi hosts by a vCenter server, you might want to use other methods of an upgrade, but we will detail them in another post. This method is useful when you have a single or just a few standalone ESXi hosts to upgrade. Not dozens or hundreds.
Well, this is it. We have recorded a short video detailing the steps as well. Watch in HD and Full Screen for best results.
After the upgrade finished you can test the new HTML5 host client which brought significant improvements for VM and host management. I'm sure you know, but folks coming from earlier versions of ESXi and still perhaps using the old vSphere Windows client, might not know.
Simply connect to your host via IP address or FQDN, like this:
https://IP_or_FQDN/ui
To get to the login screen and the version of the ESXi.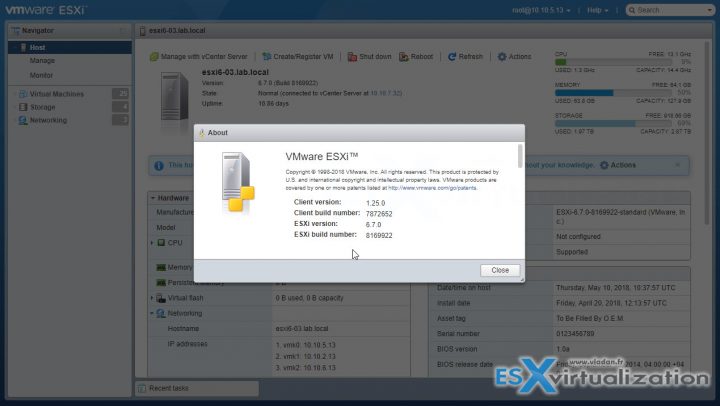 Wrap Up:
This method is simple and effective for upgrading standalone ESXi hosts. You still keep a possibility to revert back in case something goes wrong. For standalone ESXi, you obviously have to shut down your running VMs before an upgrade.
Note that at the moment, VMware does not supports upgrades from ESXi 6.5U2 so if you're on ESXi 6.5 do not install the U2 which has been released recently, but rather wait for an upcoming patch.
Stay tuned for more as we will detail other upgrade methods such as upgrade via Internet, via HTML host client, via vSphere Update Manager (VUM) and other methods. Some of those methods are used more than others in different situations you might be.
More about vSphere 6.7
More from ESX Virtualization
Subscribe to RSS, and social media channels (Twitter, FB, YouTube)