StarWind Virtual SAN which is a cost-effective hyper-converged software solution can be used across Hyper-V, vSphere, KVM and XenServer environments. The solution can be used with native integration (Windows) or running as a VM. We have detailed many times the architecture (see links below article), so today we'll look a little bit closer to StarWind ProActive Support.
Worth to note that StarWind Virtual SAN uses the features of the Windows platform (Integrating with Microsoft Windows Storage Spaces) in order to provide scale-out storage across multiple Windows servers or VMs. StarWind Virtual SAN software is also available in a free version that allows customers to evaluate before considering a purchase.
Virtual SAN has an additional support option – StarWind ProActive Support. ProActive support is composed of, on one side, a proprietary analytics, and a real-time Health Monitoring Service, and on the other side, the experienced team behind which acts and allows issues to be resolved before causing major issues.
Traditional support systems take longer to resolve. This isn't what's needed for production systems.  Many times you may not even know that you'll about to have serious problems with your infrastructure. Only when some serious issue occurs or the part of the environment goes down you realize that you'll need help. So you end up submitting support tickets and wait for vendor's response which may take a while.
And while you're losing time with those support tickets, with a vendor, and trying to determine where the problem is (firmware, driver, hardware, software, network…) you losing precious time as there might be also several hardware devices involved from different hardware vendors.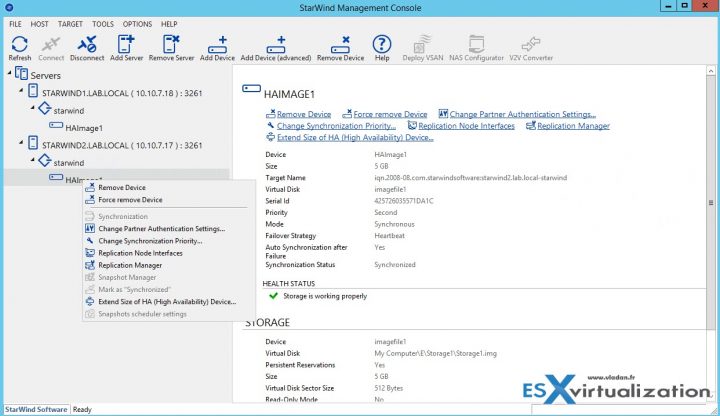 How is that process handled at StarWind?
StarWind has much simpler "support chain" compared to traditional support. StarWind monitors the infrastructure without waiting for issues to happen. If an issue is identified, the engineers resolve it without the need for customer's presence. And if it involves to reach out to a third-party vendor, it is StarWind engineers who reach this third-party vendor (it can be Mellanox, Microsoft, VMware… etc).
Concerning security. You don't have to worry about your sensitive data as StarWind has no need for it. No sensitive information is transmitted. StarWind has no benefit in.
Quote: 
While traditional support services require a lot of different stages to resolve an issue, StarWind ProActive Support simplifies the support chain and completely removes time and efforts involved from the customer's side. StarWind ProActive Support delivers significant benefits and resolves issues before they even occur, allowing customers to focus on innovation instead of monitoring their environment.
Which tools use StarWind to monitor the infrastructure?
StarWind uses Swordfish Provider. They can monitor StarWind Cluster functionality using Swordfish Provider. This integration allows you to control and monitor the StarWind storage infrastructure using Swordfish API.
Quote:
The SNIA Swordfish™ specification helps to provide a unified approach for the management of storage and servers in hyperscale and cloud infrastructure environments. The integration of Swordfish API allows configuring StarWind Virtual SAN resources as storage containers for
virtual machines and provides more efficient management for the architecture simplifying storage provisioning and consumption.

SNIA Swordfish is an extension of the DMTF Redfish specification, so the same easy-to-use RESTful interface, along with JavaScript Object Notation (JSON) and Open Data Protocol (OData), is used to seamlessly manage storage equipment and storage services in addition to servers.
You can check the details on this page here. They can also use many of the free and open source tools available out there.
The monitoring of the infrastructure is done by StarWind engineers and if any issues are detected, you'll get notified about it. StarWind monitors only the vital stats of the environment. No personal data.
Whether you're interested in the cost of the service, you should get their sales team to give you a quote. Both software and hardware are included in the Proactive support model. HCI systems, in general, are pretty much depending on proactive supports, but StarWind and their Proactive support can handle not only large enterprise customers but also small business or very small businesses.
A while back, StarWind also published a video where they discuss the different topics.
Check the video:
Check StarWind Proactive Support Page.
Just to remind you about the Free and Paid version features of StarWind:
StarWind Virtual SAN FREE Version Features:
StarWind Virtual SAN Free is completely unrestricted: it is allowed for production use, supports all usage scenarios of the commercial version, has a perpetual license, and is not feature- or functionality-limited version of StarWind VSAN.
No Capacity Restrictions – you can use as many capacities for your mirrors, as you like (previously restricted)
No Scalability Restrictions – as many nodes as you like. (previously limited to 2-nodes only)
No Time Limit on License – The Free license if for life. After 30 days, the only management option you'll have is PowerShell or CLI.
Production use – can be used in production, but if anything goes wrong, you will only find support through community forums.
PowerShell Scripts – StarWind Virtual SAN Free is shipped with a set of ready to use PowerShell scripts allowing users to quickly deploy the Virtual SAN infrastructure.
No StarWind Support – only community-based support.
StarWind HA – The shared Logical Unit is basically "mirrored" between the hosts, maintaining data integrity and continuous operation even if one or more nodes fail. Every active host acts as a storage controller and every Logical Unit has duplicated or triplicated data back-end.
No virtual tape library VTL as on the paid version.

StarWind Virtual SAN Free use cases:
Shared storage for Microsoft Hyper-V VMs and SQL Server DBs
Shared storage for Microsoft Failover Clusters, Exchange, Oracle and SAP DBs
Shared storage for KVM, Citrix XenServer and Xen Project VMs
HA file server
StarWind Virtual SAN Paid Version Features
Management Console – this is the traditional StarWind Management console, which allows the creation and management of storage devices, storage mirrors, etc… There are also other management possibilities and integration, such as StarWind thin clients, VMware vCenter through VASA-provider, and Microsoft SCVMM with SMI-S.
Virtual tape library VTL
Starwind Support – Full support which helps you to chose the accurate hardware, set things up and get you started without pain. In case something goes wrong, the guys know their stuff. They do it all days long… Support is something important IMHO. Look at VMware. Every paid license has at least 1 year of support. This is to prevent problems as new folks usually do things which they're not supposed to, and things can go wrong. Without a support, you're basically on your own, just community forums.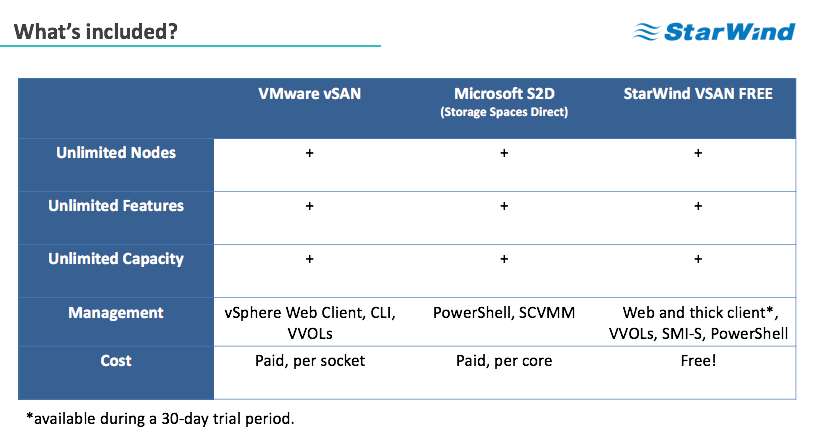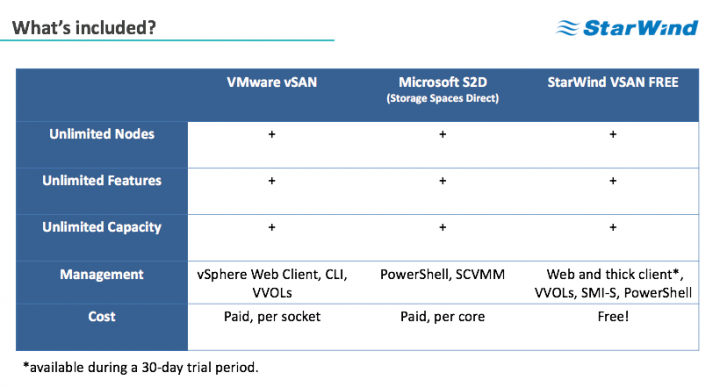 More from ESX Virtualization:
Stay tuned through RSS, and social media channels (Twitter, FB, YouTube)