With Stratoscale's Symphony product, users can create an AWS-compatible on-prem private or public cloud within your own datacenter and on your own hardware. The latest release of Stratoscale Symphony 4.2.6 has been recently released. We're here to cover the news.
To get you started, you'll need four or more bare metal servers, connected by Ethernet to one or more switches. These servers can be from any manufacturer as long as they meet certain specs. You then install Stratoscale software on each server, so each server becomes a node in a Symphony private cloud region.
Symphony has converged compute, storage and networking with automation and management. It is also multi-tenant. Think of it as a full VMware stack with ESXi, VSAN, and vCloud Director….. but running OpenStack and KVM Hypervisor based. It uses a local storage from each host to create a pooled datastore (similarly as VMware vSAN).
You may wonder if there is a way to transition from Hyper-V or VMware. Yes, there is. Just Keep reading. Basically, Symphony includes an operating system and a hypervisor, but you can also install it and run it on the top of vSphere.
For those who don't know Stratoscale and Symphony, you may want to read one of our previous posts:
Screenshot from the menu and Web-based UI….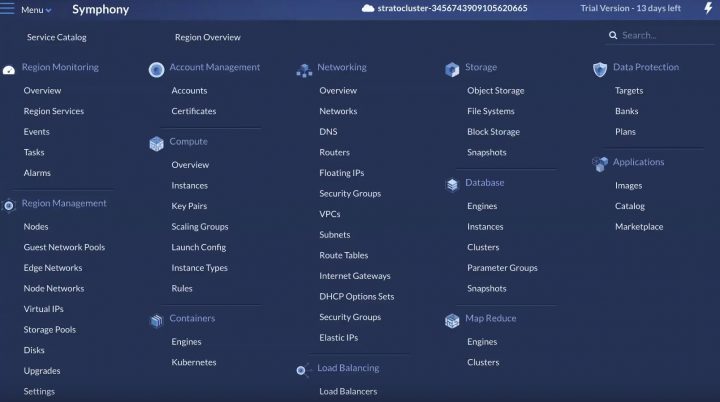 What's New in Stratoscale Symphony 4.6.0
Password policy enforcement – In addition to the standard LDAP integration capabilities, Symphony now enforces various password policies on locally created users. Now each password has to have at least 8 characters with at least one letter, one digit, and one special character. Default password expiry is 90 days.
GPU Support – Symphony VMs can now use GPU cards for increased processing speed. After physically installing a GPU card on a Symphony node, configure Symphony to see and use the card, create an instance type for the GPU card, then create a VM that uses the GPU instance type.
Database Service: SSL and Certificate Support – You can now use both SSL encryption and certificates to secure communication between database clients and the database server.
E-mail notification – system alerts via email.
Event Timeline – you'll get a new view of events in the system. Allows operational simplicity and understanding events during a period of time.
Screenshot from Stratoscale…



More new features include:
Kernel updates – Meltdown and Spectre security vulnerabilities. The Symphony node kernel has been aligned to the latest Centos7.5 kernel, in order to align with RHEL security recommendations.
Docker Registry – Users can now instantiate a docker image registry. Once the registry is instantiated, you can connect it to an existing Kubernetes cluster.
User interface –  Users can now drill down to see the snapshots used by each image. The new event timeline is now also a part of each individual object events screen.
And there is more. Check the full release notes here.
Two modes of deployment
Directly on bare-metal
On the top of VMware vSphere
Concerning the storage, you can either use the internal disks or external storage.
Quote: 
The ability to use both external storage (iSCSI, Fibre Channel, and NFS), as well as the ability to create a "virtual SAN" made up of nothing more than the solid state and magnetic hard disks held within the nodes themselves.
Networking:
There is a complete virtual networking layer allowing for the creation of objects ranging from internal private networks, external NAT communication networks, fixed IPs for specific VMs, and security groups to control what may flow across those networking objects and paths.
Why is the product called Symphony?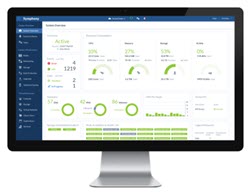 Check this another quote from Stratoscale:
We are calling our product Stratoscale Symphony because it orchestrates a lot of different components. We want to offer an AWS compatible capability that you can deploy in any data center. That means being able to compose your infrastructure from any hardware component of choice: servers, storage arrays, network infrastructure – and then aggregate them together to create cloud capacity.
You can get a demo without even downloading the solution. It's a Stratoscale's fully-featured sandbox environment – No Download Needed! In fact on their Stratoscale Symphony product page, you can simply enter your details and they'll send you a link to a test environment so you can have a look.
It's an interesting technology which allows you to use commodity hardware and install it on bare metal (without VMware ESXi) or on the top or VMware (if you're running vSphere or ESXi).
How to transition existing VMs?
Stratoscale has a solution. You can transition from VMware or Hyper-V into Stratoscale. They offer an agentless solution (V2V) which export existing VMs and volumes from the source platform and upload to Symphony without additional efforts or adjustments. It fully supports VMware OVA format, HyperV, OpenStack and KVM images.
It uses Virt-v2V – Virt-v2v converts guests from a foreign hypervisor to run on KVM. It can read Linux and Windows guests running on VMware, Xen, Hyper-V and some other hypervisors, and convert them to KVM managed by libvirt, OpenStack, oVirt, Red Hat Virtualisation (RHV) or several other targets.
The result of the conversion is a new format – QCOW image. This image can then be uploaded into your OpenStack deployment. After that, you will be able to create a VM using this image, connect it into your networking, security groups and floating IP.
Stratoscale Free Trial – Check it out!
Other blog posts about Stratoscale
More from ESX Virtualization
Stay tuned through RSS, and social media channels (Twitter, FB, YouTube)