During the second day of VMworld 2017 in Las Vegas VMware has announced an availability of VMware cloud on AWS. A service which has been announced during last year's VMworld along with VMware Cloud Foundation. VMware Cloud on AWS is actually powered by VMware Cloud Foundation which has vSphere, VMware vSAN, and VMware NSX.
Those are optimized to run on bare-metal AWS infrastructure. It is a service provided by VMware so VMware admin does not have to worry about versions, patching, upgrades etc. The operations are "elastic" which means you can provision new cluster on AWS within a very reasonable time.
Update: I have updated the post with some interesting FAQs.
The demo we have assisted during the second-day general session showed a provisioning assistant on AWS where the provisioning 4 hosts would take approximately two hours.
Your on-premises workloads can be migrated to VMware vCloud on AWS as if it was your own infrastructure. vMotion or cold migration do the job. You can purchase dedicated clusters that combine VMware software and AWS infrastructure, either on demand or as a subscription service.
Here is an overview of how this service works. You're managing two vCenter servers. One on-premises within your existing data center, and one at Amazon.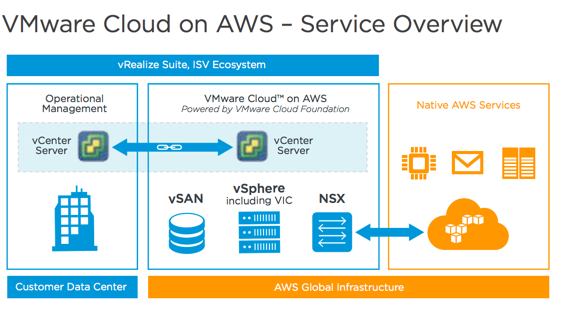 Part of the vCloud suite on AWS is also SDDC Manager which is a new innovative system management automation component specifically developed by VMware for Cloud Foundation. SDDC Manager complements the existing suite of VMware management software, such as VMware vCenter Server and vRealize Suite and allows a simplification of operational experience at the system level allowing customers to manage a highly distributed architecture as a single logical system.
What is the ESXi hosts configuration?
Each host is configured with 512GB of memory. Each host has dual CPU.  ( Intel Xeon Processor E5-2686 v4 CPU)  18 cores, 2.3GHz, so the physical cluster has 144 cores. Hyper-threading is enabled. VMs can consume up to 288 logical processors in the default config. Those settings are not possible to change at the moment. A single offering from the hardware perspective, for each host.
How about data protection?
Our readers might ask about what's the options for protecting the workloads? Yes, this is just in time for another announce which comes from Veeam. Actually, Veeam just announced a support for a vCloud suite on AWS.
Quote:
Veeam Availability Suite will soon be available to customers of VMware Cloud on AWS. This is a major game-changer because VMware Cloud on AWS technology partners enable customers to deploy the same proven solutions seamlessly in both the public and the private cloud.
Those are just a few exciting announcements from this year's VMworld 2017 in Las Vegas. Check out back for more at our dedicated VMworld 2017 page.
VMware Cloud on AWS – The FAQ
Here is a few FAQ pretty useful when learning about this new technology.
Q: World wide availability?
The service is initially available in the AWS US West (Oregon) region and will expand to AWS regions worldwide in 2018.
Q: What are the features included in VMware Cloud on AWS?
VMware vSphere with vSAN and NSX. Check the "Featues" page.
Q: Is it nested virtualization? (kind of like Ravello and Oracle cloud?)
No, ESXi is running directly on bare-metal AWS infrastructure – there is no nested virtualization.
Q: How many ESXi hosts do I need (minimum) in VMware Cloud on AWS?
The minimum cluster size you can provision is 4 ESXi hosts.
Q: Can I increase or decrease the size of my cluster after I provision an SDDC on VMware Cloud on AWS?
Yes. You can add additional hosts on-demand. You can also remove hosts on-demand down to the minimum of 4 ESXi hosts.
Q: Can I use the vCenter Server in my SDDC to manage my on-premises ESXi hosts?
Yes, with Hybrid Linked Mode, you can connect your vCenter Server running in VMware Cloud on AWS to your on-premises vCenter server to get a single inventory view of both your cloud and on-premises resources.
Q: What type of storage can I use with my SDDC on VMware Cloud on AWS?
Each ESXi host comes with NVMe storage. A minimal 4 ESXi host cluster running vSAN provides approximately 21 TB usable storage, with all virtual machines protected against a single host failure (FTT=1).
Q: Can I use Hybrid vSAN?
No.
Q: What vSAN policies can be configured?
The following subset of vSAN policies can be configured by the user on the SDDC vSAN cluster:
– Failures-To-Tolerate (FTT): Configured on a per Virtual Disk basis. The Fault Tolerance Method can be set to either RAID-1 (Mirroring) for Performance or RAID 5/6 (Erasure Coding) for Capacity.
FTT can be 0-3 for RAID-1 and 1-2 for RAID 5/6. Note that RAID 5 EC requires a 4 node cluster while RAID 6 EC requires a minimum of 6 nodes.
– QoS – IOPS Limits: Limit IOPS consumption per VM to better manage performance SLAs for different workloads. Eliminates noisy neighbor issues.
– Object Space Reservation: Allows varying levels of thin/thick provisioning.
– Checksum: Enabled by default but may be disabled for specific storage objects.
– Disk stripes: The number of disk stripes per object can be set to between 1 and 12. – Force provisioning: Enable provisioning of VMs even when the storage policy cannot be fully satisfied.
Networking FAQs:
Q: How do I connect to the vCenter Server in my SDDC on VMware Cloud on AWS?
By default, there is no external access to the vCenter Server system in your SDDC on VMware Cloud on AWS. Open access to your vCenter Server system by:
– Configuring a firewall rule to allow access to the vCenter Server system.
– Configuring an IPsec VPN between your on-premises data center and your SDDC
Further details:
https://cloud.vmware.com/vmc-aws/resources
More from ESX Virtualization:
Stay tuned through RSS, and social media channels (Twitter, FB, YouTube)