With Stratoscale you do not have to buy a hardware from a particular hardware vendor. Stratoscale can run on any Intel CPU so basically, you can go back to 4-5 years behind and re-use your own hardware to build hyper-converged environment with Stratoscale. One particularity before we move forward, you might not know that Statoscale's platform called Stratoscale Symphony supports VM and containers within the same product. (either you can create and run VMs or create and run containers).
Deployment of Stratoscale is easier to install and manage than traditional data center deployment. Stratoscale does not use (but can connect to) an external standalone storage array to connect to, but rather uses internal disks from each host to create pooled storage. Stratoscale Symphony allows you to configure and manage all from a single console (storage, compute, networking).
Stratoscale is API driven so developers and operational people can use vision control and they can re-build the environment at any time. The deployment is done via USB flash drive which you plugin into a server.
Stratoscale Symphony allows re-creating Amazon AWS environments on a commodity hardware.  Our detailed post about the latest version – Stratoscale Symphony 3 Generally Available – What's New?
The solution has converged compute, storage and networking with automation and management. It is also multi-tenant. Think of it as a full VMware stack with ESXi, VSAN, and vCloud Director….. but running OpenStack and KVM Hypervisor based.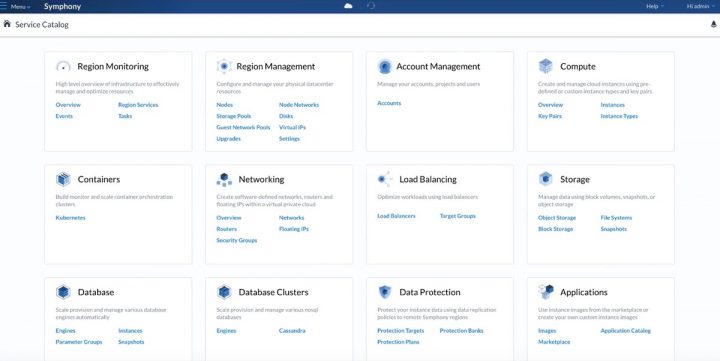 It has built-in VM management so you can create a VMs, manage storage, networks, and also manage tenants. You can run any types of VMs (Linux, Windows) or containers. Stratoscale Symphony UI (web-based) allows managing the whole cluster which needs at least 3 nodes to start with.
Two modes of deployment
Directly on bare-metal
On the top of VMware vSphere
Concerning the storage, you can either use the internal disks or external storage.
Quote: 
The ability to use both external storage (iSCSI, Fibre Channel, and NFS), as well as the ability to create a "virtual SAN" made up of nothing more than the solid state and magnetic hard disks held within the nodes themselves.
Networking:
There is a complete virtual networking layer; allowing for the creation of objects ranging from internal private networks, external NAT communication networks, fixed IPs for specific VMs, and security groups to control what may flow across those networking objects and paths.
Management
The management is built into each node so if you lose a node, you can still connect to another node to manage the environment.
Quote:
A fully distributed automation and control architecture that exists across all nodes. Management processes and state are replicated to every node in the region, so resources are not wasted on a single management server. In addition, you can lose one or more of your nodes to a planned or unplanned outage, but your region will still run, because each node has all it needs to manage the region.
An API and CLI for scripting, automation, and control. A fully-featured, browser-based GUI to handle all day-to-day operations without having to drop to the command line.
Stratoscale Symphony 3 – What's New?
Object Storage – cloud-driven storage in which objects storage resides side by side with block storage on the same hyper-converged infrastructure. You can move resources between the different storage types without managing multiple silos.
AWS Region – You can enable business units to use the same AWS DevOps tools and services which have been adopted for cloud-native applications and use them for on-premises workloads. Symphony has EC2, EBS, S3 and VPC services with additional AWS-compatible services which will be introduced in next release (check the image below).
Containers – Symphony's container service offers a fully managed Kubernetes-as-a-Service that removes the operational barriers of adopting a container-based strategy. Basically, it removes of the complexity of install/configures Kubernetes.
Apps, Apps, Apps – Over 130 pre-packaged stacks of a wide variety of enterprise applications. With a single-click, users can install and deploy the entire application stack.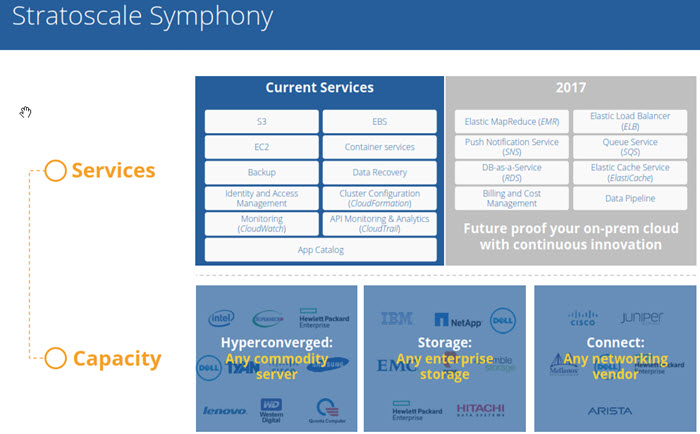 Quote:
Symphony enabled us to set up 100s of VMs in minutes, automatically customize them for specific project needs and scale up and out as needed. Symphony offers a minimal IT footprint solution and low staffing attention requirements by delivering a truly worry-free infrastructure and management. The result was a significant reduction in time-to-market and the lowest TCO.
Stratoscale has:
Self-service
Multi-tenancy and simple tenant management
Scale up, Scale-out and down if needed
API driven
Applications and services catalogs
Runs on Any x86 server
Software-only Hyperconverged
Linearly Expandable
Secure
Efficient utilization of all resources
Stratoscale was
Named a Visionary in 2018 Gartner Magic Quadrant
You might want to check other blog post we wrote about Stratoscale…
Other blog posts about Stratoscale
Stratoscale Free Trial – Check it out!
More from ESX Virtualization:
Stay tuned through RSS, and social media channels (Twitter, FB, YouTube)