TeraCopy 3.0 – A popular file transfer utility has been released a few days ago bringing better UI, faster copy speed, and easier usage. The product brought some significant improvements from the past releases and introduces also new file replace dialog, copy with elevated Windows Service and VSS or support for an unlimited number of files.
Since years, TeraCopy was the tool to use for large files. TeraCopy could do the task in minutes. By default, It skips bad files during copying and provides an error log after completion of transfer job. I was interested in the Windows explorer context menu integration, so that's why this post, but overall I usually stick just with the default Windows file copy.
There is also a Portable version proposed during the installation process. After installation, the default copy/move operations are proceeded via TeraCopy instead of Windows explorer. It is a very light weight software which is safe to install (no bloatware included).
Tera Copy 3.0 Compatibility:
The product is compatible with Windows Vista/7/8/8.1/10.
Windows XP support has been dropped.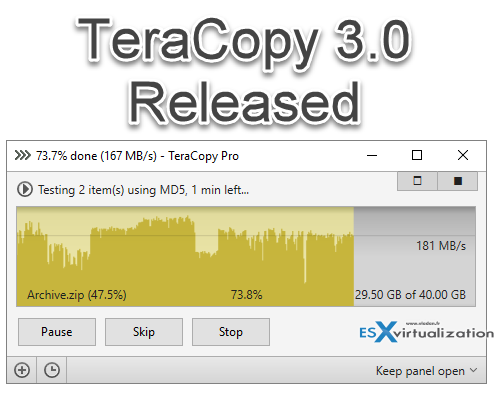 New features of Tera Copy 3.0, since version 2.3:
Faster copy (especially to and from network locations, and also with small files)
Test after copy option
Support for cloning files
Support for an unlimited number of files, the internal file list stored on disk instead of memory.
Copy files using an elevated Windows Service and Volume Shadow Copy if required.
Verify against hash in clipboard
Create a new folder with selected items using Explorer context menu
Queue transfers for the same physical drive.
A new file replace dialog.
Wait for network or device recovery.
Better reports (html and csv format).
Show skipped/failed/transferred items only.
New photos to new folder (like on MAC)
An option which allows you to move selected items to a new folder. The new folder is created giving you a hand directly so you just have to type a new name. Time saver when working with files or photos.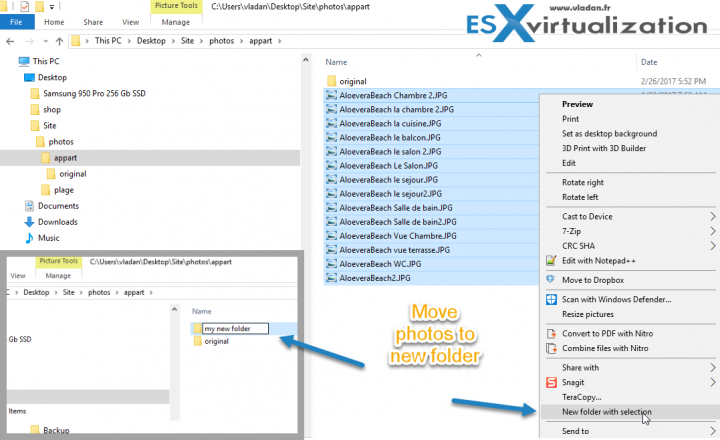 The first option through the context menu (TeraCopy) simply brings a TeraCopy window asking you what you want to do. Below is a view with the Main menu > About dialog box. There you also have an option to go to Preferences or create a new list of files you want to copy.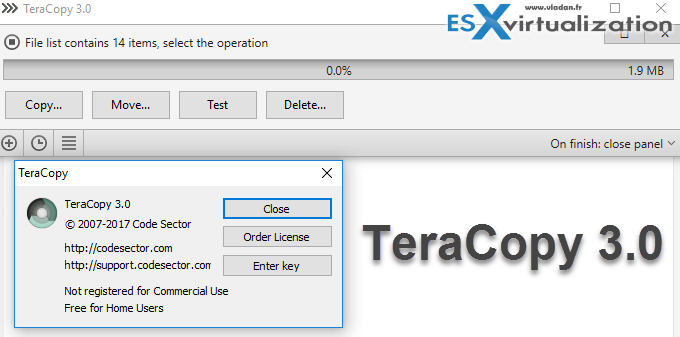 The Create New list brings another TeraCopy window and this window is "glued" below the first one. So once you do this several times you'll find yourself with few windows, one below another, but not overlapping. This is pretty handy as you don't see the multiplications of copy window all over your desktop.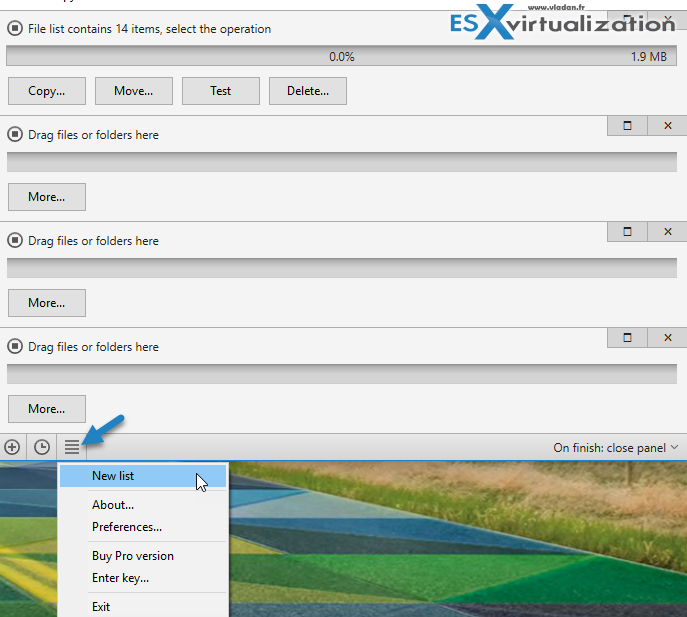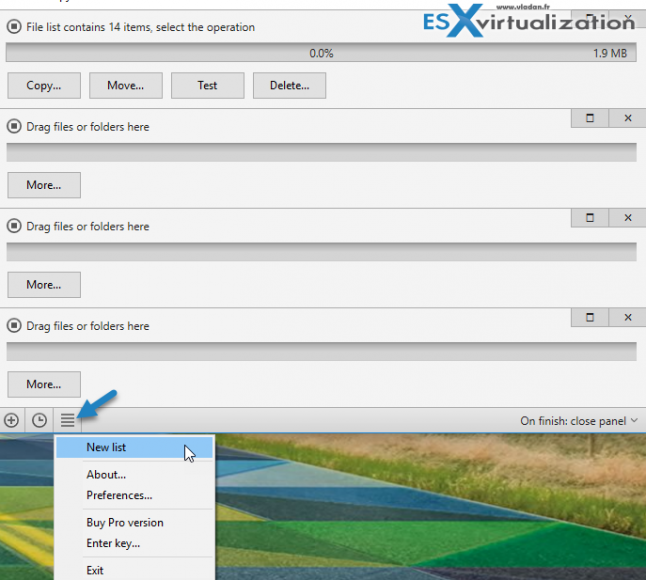 The Destination file already exists prompt
When copying some file to a destination where the same date and size files already exists, you'll receive a prompt allowing you do a selection on what you want to do.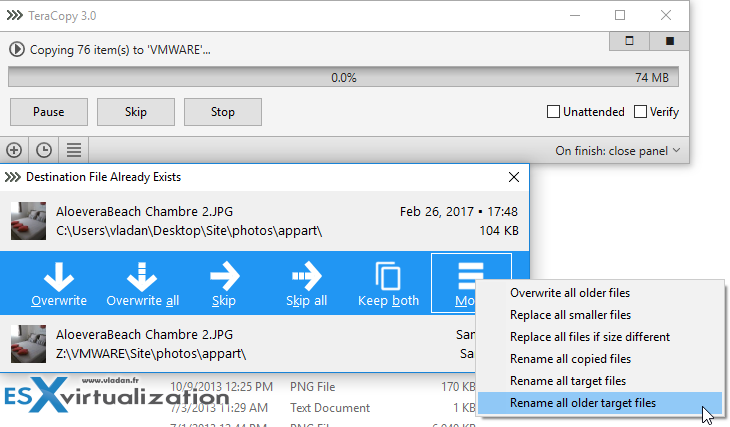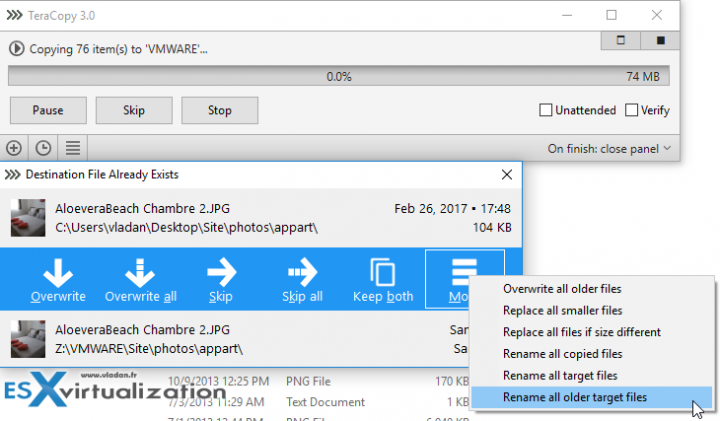 Disappointment for Homelab users?
At the end, I was at first a little bit disappointed as I wanted to test it on one of my backup servers in my lab. Unfortunately, TeraCopy 3.0 did threw a prompt saying that the free version cannot be executed on server systems.

But after closing the dialog box, the copy window opened just fine. So I quickly tested an ISO copy and it worked flawlessly. The prompt, however, stays whenever you want to use the TeraCopy 3.0 free version on a server system.
So every time you want to copy something and you're runnign Windows server as an OS you'll get a pop-up. Can you live with it? Up to you to judge, I'm just a reporter…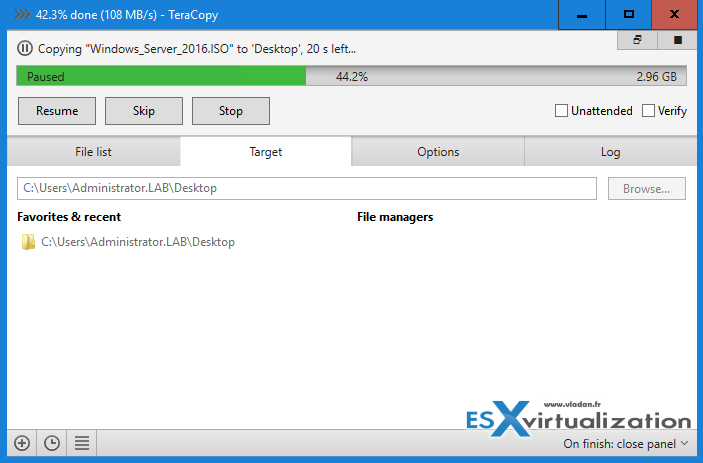 TeraCopy 3.0 Versions
The TeraCopy 3.0 software has free and paid version. Free version is for non-commercial use only. If you need it for commercial purposes, you can go for the Pro version. Download TeraCopy 3.0 from here.
The pro version adds:
Copy/move to your favorite folders.
Save reports as HTML and CSV files.
Select files with the same extension/folder.
Remove the selected files from the copy queue.
More features coming soon!
Thinner or larger view
The large progress bar view during the transfer, can be activated by double-clicking the transfer bar, or via right click when the transfer starts.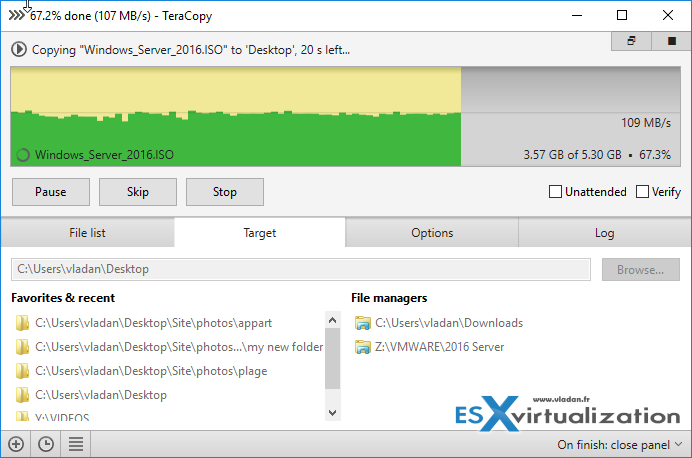 The right-click on the transfer bar screenshot is below. The options:
New List
Add folders
Expanded View
Large progress bar
Print/export
Save source checksums
Save target checksums
Open DB file
….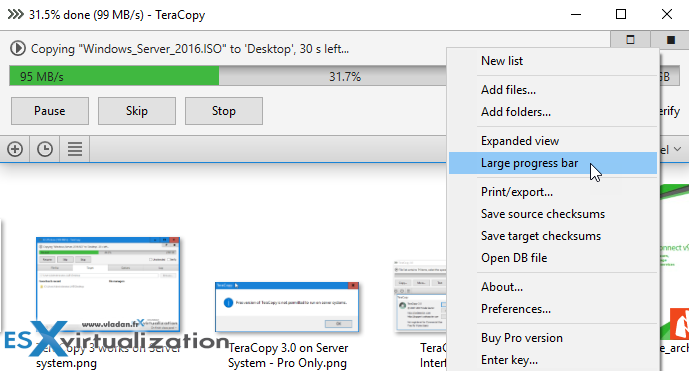 Final words:
TeraCopy 3.0 gives you more options than the default Windows explorer. Whether you can or cannot live without it's up to you. The larger copy bar is definitely sexy… -:). The software is build, packaged and sold by CodeSector.
TeraCopy alternatives? Yes, there are, for sure. One of them is Ultracopier which I already used in the past. Find it at http://ultracopier.first-world.info/
Check more articles from ESX Virtualization:
Stay tuned through RSS, and social media channels (Twitter, FB, YouTube)