The new vCenter Server Appliance (VCSA) 6.5 has a backup feature. Today's post is about VMware VCSA 6.5 Backup and Restore How-to. Note that it is an "out-of-the-box" feature which does a file level backup. It's "built-in" within the appliance itself, and it allows users to backup not only the vCenter Server but also Platform Services Controller (PSC) appliances directly. VCSA with embedded or external Platform Services Controller (PSC) is supported.
As you might imagine, the restore has to be launched from somewhere. When you're in a situation when your VCSA is broken, you'll have to first deploy clean VCSA via the Installation/deployment ISO, but you do that within the restore operation.
What is backed up? The minimum set of data needed is backed up by default. Those are for example the OS, vCenter services and Inventory. You can additionally backup also Inventory, configuration, and historical data (Statistics, events, and tasks) in vCenter server database
So during the restore operation, you deploy a clean VCSA (phase 1) and you restore from backup (phase 2).  The vCenter Server UUID and all configuration settings are restored. The backup file is stored elsewhere, not on the VCSA itself. VCSA backup can be backed and sent up to different location via different protocols:
Note that recently we covered deployment, migrations of vCenter to VCSA here:
VMware VCSA 6.5 Backup and Restore How-To
Browse to https://VCSA:5480 > Log in with the password you entered when you have deployed the solution. You'll see this nice new UI….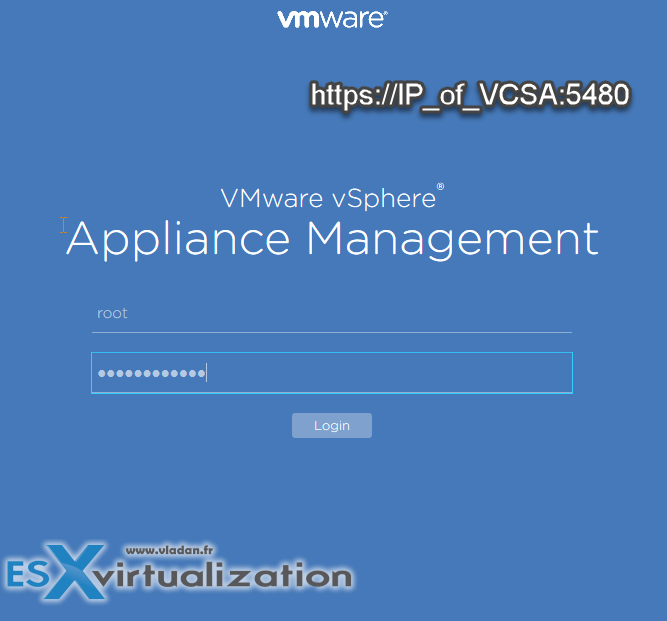 After you log in, then you can hit the big Backup button. A wizard will start…. (click to enlarge…)

There you'll be presented with a nice wizard which will allow you to specify where you want to send this backup. The location must be an empty folder. Note the option to encrypt your backup data, a simple check box.
Note the option to encrypt your backup data, a simple check box……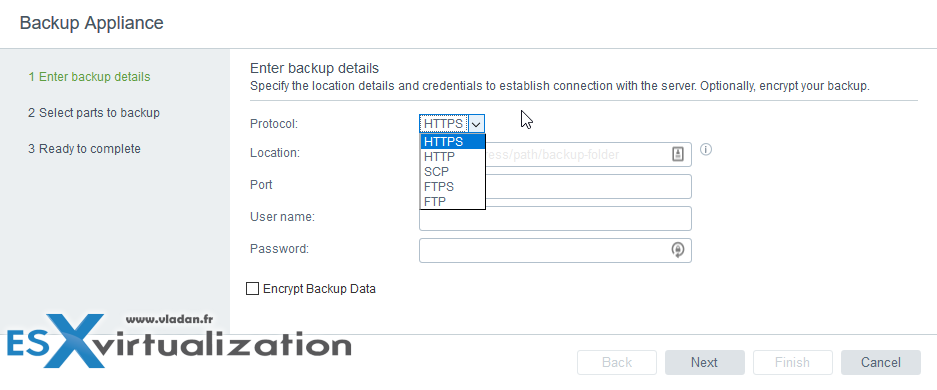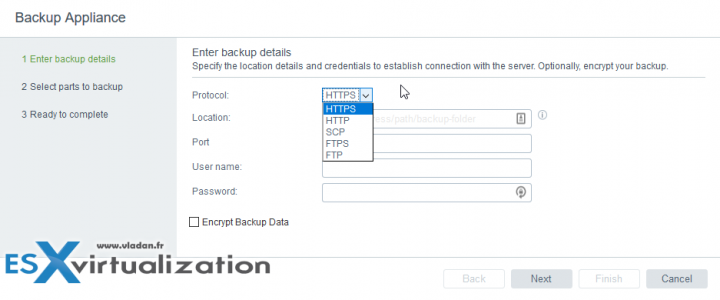 In my case I have setup a simple web server (IIS) on one of my lab file servers, to test the backup. I simply created a virtual directory where I'll be storing the backup…
Note, that If you use HTTP or HTTPS, you must enable WebDAV on the backup Web server.
The Encrypt Backup Data checkbox, when checked, a new section appears inviting you to put login/password combination. The password form is intelligently checking if you enter twice the same password. If not, you have a small notification telling you that your passwords do not match.
And then I entered the backup setting, such as protocol, login/password combination (make sure to give read/write rights on the folder where you're backing up) > and finished the wizard.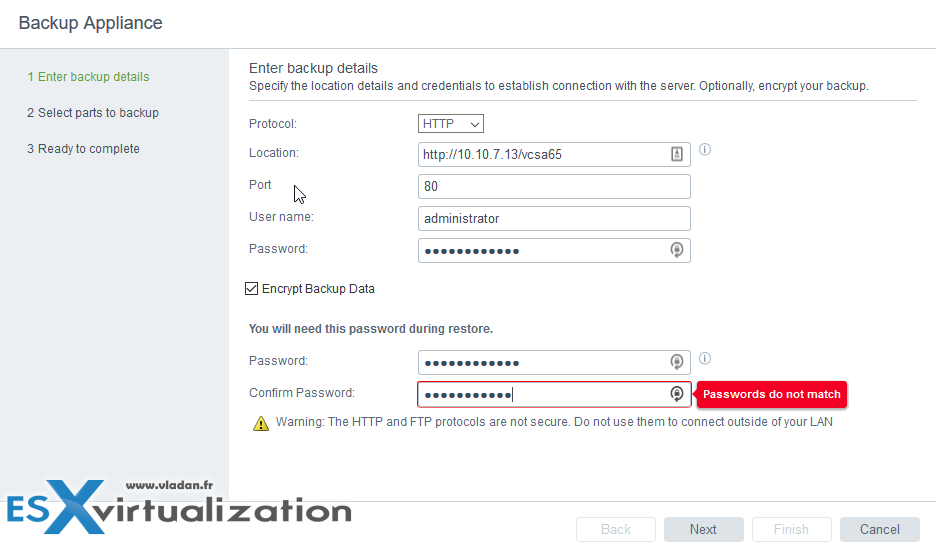 I had a problem during my test, as one of my VCSA 6.5 services wasn't running so the wizard was throwing an error.

After starting the service manually, the problem went away…
Note: To check which services are not running you go SSH to the VCSA 6.5 appliance and run
service-control — status
which gives you services which run on one line, and also services which are not running. The "vmware-stsd" service should be normally running (confirmed by @emad_younis).
to start the service:
service-control  — start vmware-stsd
Restore operation
Well, from then it is very straightforward. Just quickly…
Launch the setup application of the VCSA 6.5 (from the ISO) and hit the Restore button > Deploy a new appliance > Accept EULA > Enter Backup details > Review backup information > Enter appliance deployment target (ESXi host) ….. from them it is pretty similar to a clean deployment…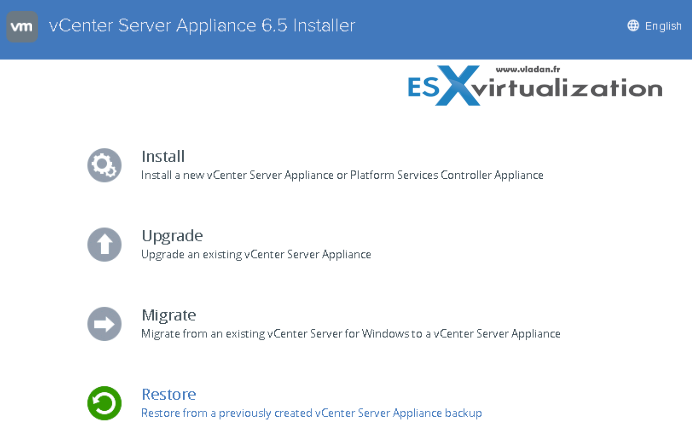 vSphere 6.5 ESX Virtualization Resources:
Installs, upgrades, migrations….
VMware VCSA 6.5 Backup and Restore How-To – [This post]
VMware vSphere 6.5
Stay tuned through RSS, and social media channels (Twitter, FB, YouTube)