StarWind software has been around for a very long time. Over the years, they've always kept some of their software and utilities free to download and use. In this post, we'll list Top 3 Free Software from StarWind where some of them might be useful in your environment. As an IT admin, I always like to have "the right tool for the right job" so I keep a list of free tools available for everyone.
StarWind has tools that you may be able to use when starting with virtualization or which might be useful from time to time. When converting from one hypervisor format to another etc, when P2V an old physical server, or other IT operations.
StarWind software is especially known for their StarWind VSAN software which transforms internal disks of servers into a pool of storage visible by all the hosts in the cluster. I think you already know that their offering has also a free version of StarWind VSAN, so I'll recap just the essential.
Even though StarWind software was mostly Windows shop, it's been a while since their VSAN software is also distributed as a virtual appliance for VMware vSphere so no need to pay for additional Microsoft license and still be able to build a resilient hyper-converged infrastructure (HCI).
Top 3 Free Software from StarWind – let's get started
StarWind VSAN FREE
StarWind VSAN FREE is a free edition of StarWind has no limitations in capacity or scalability. After deployment, you'll have 30 days during which you'll be able to use the management console. After 30 days, you'll have command line options or PowerShell.
VSAN Free from StarWind is shipped with a set of ready-to-use PowerShell scripts that would help users to quickly deploy the VSAN environment and configure most of its features quickly and simply. VSAN free product is designed for production purposes, POC (Proof of Concept), or test and development.
StarWind VSAN is able to virtualize the internal storage of the hyperconverged infrastructure by creating Virtual SAN between the clustered servers.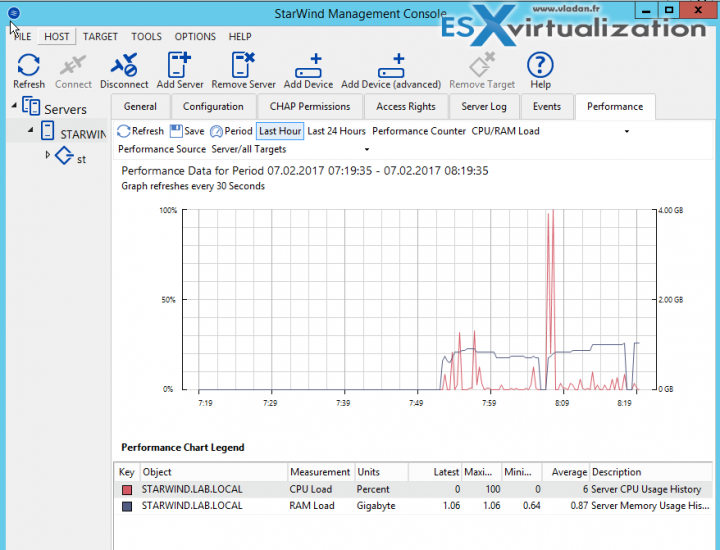 No Capacity Restrictions – you can use as many capacities for your mirrors, as you like (previously restricted)
No Scalability Restrictions – as many nodes as you like. (previously limited to 2-nodes only)
No Time Limit on License – The Free license if for life. After 30 days, the only management option you'll have is PowerShell or CLI.
Production use – can be used in production, but if anything goes wrong, you will only find support through community forums.
PowerShell Scripts – StarWind Virtual SAN Free is shipped with a set of ready to use PowerShell scripts allowing users to quickly deploy the Virtual SAN infrastructure.
No StarWind Support – only community-based support.
StarWind HA – The shared Logical Unit is basically "mirrored" between the hosts, maintaining data integrity and continuous operation even if one or more nodes fail. Every active host acts as a storage controller and every Logical Unit has duplicated or triplicated data back-end.
No virtual tape library VTL as on the paid version.
StarWind Virtual SAN Free also supports any deployment scenario, such as: "HyperConverged", "Compute and Storage Separated", and various combinations.
Download StarWind VSAN FREE Here.
StarWind V2V Converter
StarWind V2V Converter (which also does P2V) since recently – The tool can convert different kind of VM images from one hypervisor format to another. For example from Microsoft to VMware or the other way around.
Other hypervisors such as Citrix XenServer or QEMU are also supported. StarWind V2V Converter allows the conversion of VMs from one format to another, basically "cloning" them and keeping the original file intact.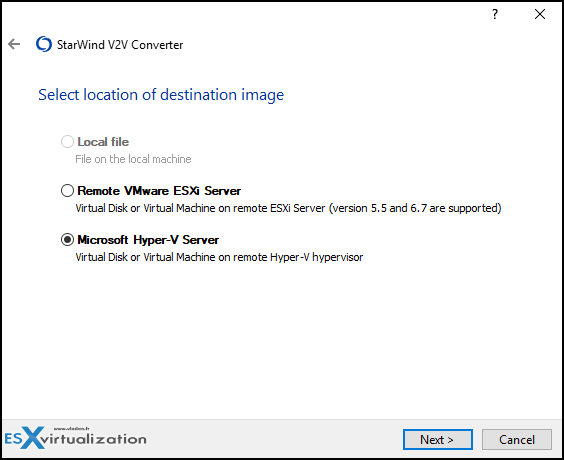 The latest release of the tool has:
*********************************************************************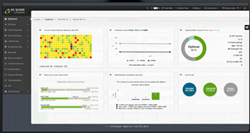 DC Scope for VMware vSphere – optimization, capacity planning, and cost management. Download FREE Trial Here.
Tracks the performance of VMs with a summary view of the resources and metrics in degradation.
Easily improve the performance of your infrastructure.
DC Scope is affordably priced per VM.
*********************************************************************
VMware ESXi and Hyper-V Bi-Directional Conversions – VMs can be migrated directly between Hyper-V and ESXi (in both directions please…)
Physical To Virtual (P2V) – Yes, new P2V function added. A whole physical machine can be converted into a virtual one.
ESXi 6.7 support – ESXi hosts from 5.5 to 6.7 can be remotely accessed with StarWind V2V and conversions can be launched. Virtual disks (VMDKs) from older ESXi versions are also supported.
New x64 Architecture – The utility is now built on x64 architecture and requires x64 OS to run.
The utility is compatible with major hypervisors like Microsoft Hyper-V, VMware ESXi, Citrix XenServer, and KVM.
Download StarWind V2V Converter Here.
StarWind iSCSI Accelerator FREE
StarWind iSCSI Accelerator FREE – StarWind comes up with a free solution called StarWind iSCSI Accelerator allowing you to quickly optimize and get maximum of IOPS for applications by optimizing and tuning the Microsoft iSCSI initiator to distribute the load across all CPU cores.
Quote:
The iSCSI protocol itself is hypersensitive to overloads and does not tolerate any latency. At the same time, high latency and, as a result, lower performance will certainly occur with an increase in the number of iSCSI sessions. At face value, Microsoft iSCSI Initiator would have to solve this problem. But there is one catch. Microsoft iSCSI Initiator doesn't keep up with server compute power growth. iSCSI was designed when there were maximum 2 physical cores per CPU, so it can balance workloads only between 2 cores.
StarWind iSCSI Accelerator is deployed into any Windows system in less than a minute. The script balances the load evenly across all CPU cores to optimize the load.

Advantages
Fast Deployment – You save your time to trying to fine-tune Microsoft iSCSI initiator for better performance. You'll be able to deploy the accelerator in less than a couple of mins.
Free of charge – Yes, it's a free tool, and you don't need any additional hardware for that.
Speed – You'll be able to accelerate Hyper-V VMs and Windows server applications by distributing iSCSI workloads by using all available CPU cores instead of just one or two.
As you can see, even iSCSI initiator can be optimized, via StarWind utility…
Download StarWind iSCSI Accelerator FREE Here.
StarWind has also other free tools, which are specific to different environments and usage. For example, they also have a free version of StarWind VTL allowing you to be safer when ransomware strikes by creating backups to tape (VTL) which disconnects after the backup is done. It secures offsite backup and archival by eliminating human process and the need to ship physical tapes offsite.
More about StarWind from ESX Virtualization:
More from ESX Virtualization
Stay tuned through RSS, and social media channels (Twitter, FB, YouTube)