New vCOPS training has been released by TrainSignal. As a teachers, Jason Nash and Joe Kelly. Both from Warrow. There is 18 learning lessons in this training course called VMware vCenter Operations Manager Implementation. You'll learn all about the Install, configure, about the vCOPS architecture, licensing… The vCOPS essential edition is available together with the VMware vSphere Essentials , Essentials Plus and Standard versions.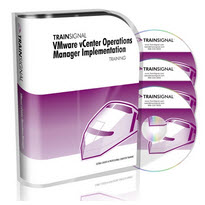 VMware vCOPS By using smart analytics tools and a scalable platform you will be able to manage everything in your VMware environment with comprehensive insight. This course will show you how to visualize data using heat maps, smart alerts and more.
A quote from the vCOPS page at VMware:
vCOPS is Patented, self-learning analytics enable a much higher degree of automation than traditional management tools, delivering nearly 70% productivity gains, 30% reduction in resource consumption…
The Instructors – Jason Nash, VCP4, CISSP, RHCE, CCNP, VCDX #49 and Joe Kelly, VCP5. EMC IE Symmetrix Solutions Specialist, EMC IE VNX Solution Specialist, IE NAS Solution Specialist, EMC Recoverpoint Data Replication and Recovery Specialist, VMware vExpert 2010, 2011 and 2012.
The training course is available through DVDs with Free Shipping World Wide, but also as an Online Media, where you can stream it to your connected devices. Also on the DVDs there are different video formats compatible with iPod, iPhone, iPod Touch and other.
The  training page at TrainSignal: VMware vCenter Operations Manager Implementation
What you'll learn about vCOPS?
Installation and Architecture
Using the Enterprise Dashboard and Badges
Application Relationships
Key Performance Indicators (KPI) and Super Metrics
Deploying and Using Infrastructure Navigator
vCOPS Training Lessons:
Lesson 1 – An Introduction to vCenter Operations Manager
Lesson 2 – Architecture and Data Collection
Lesson 3 – Installing vCenter Operations Manager
Lesson 4 – A Tour of the vCenter Operations Interface
Lesson 5 – The Health Badge
Lesson 6 – The Risk Badge
Lesson 7 – The Efficiency Badge
Lesson 8 – Visualizing Data Using Heat Maps
Lesson 9 – Predicting the Future of Your Environment
Lesson 10 – Using Smart Alerts
Lesson 11 – Management and Upgrades
Lesson 12 – Custom User Interface
Lesson 13 – Application Relationships
Lesson 14 – Key Performance Indicators and Super Metrics
Lesson 15 – Using Alerts in the Custom UI
Lesson 16 – Infrastructure Navigator
Lesson 17 – vCenter Operations Manager for View
Lesson 18 – Moving Forward with vCOPs
Read more details at the training page – VMware vCenter Operations Manager Implementation.
A Sample video from the vCOPS Training Course:
Other VMware Trainings by TrainSignal:
VMware vSphere 5 Training. My review is in this article – VMware vSphere 5 training – My review.
VMware vSphere Design Training – by Scott Lowe
VMware vSphere 5 Networking Training – Jason Nash and Lane Leverett.